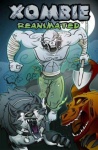 Dreamworks is in talks to acquire the live action feature rights to Xombie, created by James Farr, according to Hollywood Reporter. Xombie originated as a Flash-animated online series and was adapted into a Devil's Due comic. The Flash series, Xombie: Dead on Arrival was released on DVD by Halo 8 (see "Xombie to Get DVD Release").
The property is also being developed as an "illustrated film," which uses comic art, motion animation, 3D CGI, sound design, music, and voice performances in a motion comic-style production, by Halo 8.
The studio is looking at a Xombie script by L.A. cop/screenwriter Will Beall, with Alex Kurtzman and Roberto Orci (View-Master) in line to produce.