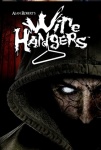 Of all the musicians who have crossed over into comics, Life of Agony bass player Alan Robert, who also fronts Spoiler NYC, has the most credentials. Robert, who will both write and draw the Wire Hangers miniseries from IDW, studied cartooning with Walt Simonson (The Mighty Thor) at the New York School of Visual Arts. Robert graduated with a Bachelor of Fine Arts degree and has provided illustrations and designs for ad campaigns and merchandise for a number of rock acts including 3 Doors Down, Puddle of Mudd, and Shinedown.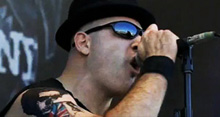 In
Wire Hangers
, which debuts in March, 2010 with a 32-pag ad-free first issue, investigative reporter Anna Davis goes undercover to try and get an exclusive on a wave of abductions plaguing
New York City
only to find traces of what could be the biggest government conspiracy of our time.
Robert had been working on this dark and gritty tale for several years before presenting it to IDW earlier this year.
While Robert is both writing and penciling Wire Hangers, Nelson DeCastro (Marvel Masterpieces) is providing the covers.
Given the success of My Chemical Romance frontman Gerard Way's The Umbrella Academy, which is published by Dark Horse, it appears that comics created by musicians who have a real feel for the comic book medium really can draw in new fans. IDW is hoping that Alan Robert can fashion something similar with Wire Hangers.