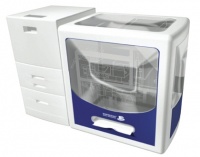 To a book business already rocked by the advent of digital delivery to handheld devices and subscription Websites for book content (see "Disney Makes Children's Books Avialable Online"), add two more trends with game-changing potential: piracy and store-based print-on-demand.
A story in Sunday's New York Times titled "Will Books Be Napsterized" raises the possibility that books end up like recorded music, where 95% of digital copies are unauthorized and industry revenues, including rapidly growing revenues from sales of digital copies, have dropped by half in the last ten years.
A site called RapidShare is the source of the most illegal copies, according to the article, which reported that of 166 illegal copies of Dan Brown's The Lost Symbol found on the Web, RapidShare was the source of 102 of them.
Another potential gamechanger is the Espresso Book Machine, currently selling for around $100,000, which can print, bind, and trim a 300-page b/w book with color covers in under four minutes. A new version of the EBM is currently being deployed to bookstores and libraries. The devices draw on about 1.6 million titles from On Demand Books, the creator of the machine, and another 2 million titles from Google's digitized book library.
A device that produces DVDs on demand is rapidly changing Blockbuster's business model. The company is closing nearly 1,000 stores as it deploys around 10,000 of the DVD-producing kiosks by the middle of next year (see "Blockbuster Closing Nearly 1,000 Stores"). To have a similar effect on the book business, the price of the EBM will have to come down significantly, but it's early in the life cycle of these devices.