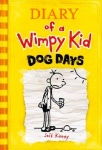 Abrams has announced that due to increasing demand it has raised the print run of Jeff Kinney's Diary of a Wimpy Kid: Dog Days from 3 million to 4 million copies, giving the 4th book in the Wimpy Kid series the largest initial print run for any children's book in 2009. So far Abrams has sold more than 25 million copies of the first three books in the series. With a Diary of a Wimpy Kid movie set to debut next April, sales of this illustrated diary/graphic novel show no sign of slackening, especially with Dog Days being the second Wimpy Kid of the year.
Abrams' Amulet Books imprint has kept Dog Days under wraps. Even buyers from the big chains were unable to see the new book until recently. It is the first of the Wimpy Kid series to take place in the summer months instead of during the school year. In the new volume Wimpy Kid protagonist Greg Heffley, rather than having to deal with schoolyard bullies, gets a pet and has to figure out how to handle a recalcitrant canine.
Wimpy Kid author Jeff Kinney is embarking on a major book tour that includes appearances on NPR and ABC's The View as well as at bookstores across the country. Abrams has planned launch events on October 12th at more than 2,000 bookstores across the country.