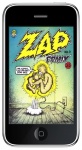 Genus Apps, which launched auspiciously with Will Eisner material for the iPhone (see "Contract with God on iPhone"), is expanding its offerings, and will soon begin releasing classic work by Robert Crumb, tentatively in November. The company has rights to Zap #0 and Zap #1 (all Crumb), among other works. Although acknowledging that Crumb material is adult in nature, the company says it is "interested in presenting the work in its initial form."
Next up from Eisner are the complete Contract with God (only a chapter was released initially) and Dropsie Avenue.
The company released Fahrenheit 451, from Hill and Wang, as a complete graphic novel, which was selected as a staff favorite by Apple.
Asked about Genus' progress in the increasingly crowded market for iPhone comic apps, co-founder Helen Cho Anthos told us, "We're very optimistic. We really believe in our platform, and we're finding that creators and publishers are responding quite well."
Co-founder Melissa Pope noted that "Some of our competitors are moving into features more like ours," asserting that genus has "a lot of surprises left as well.
"We've got a great relationship with creators and publishers,"she said, "and they feel like they can trust us with their material."