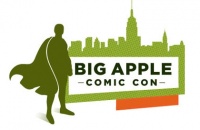 Wizard has announced at Big Apple Comic Con this past weekend that its 2010 show will be held on the same dates as New York Comic Con, October 8-10, 2010 (see "New York Comic Con, Anime Fest to Co-Habit"). New York Comic Con will inhabit the entire Javits Center, Wizard's show this year was held at Pier 94 (see "Wizard CEO Acquires Big Apple Con").
Wizard clearly intends this to be a thumb in the eye to New York Comic Con organizer Reed Exhibitions. If it wasn't clear from the schedule, Wizard had Reed's New York Comic Con representatives ejected from Big Apple, according to a post on NYCC show-runner Lance Fensterman's blog, which contrasted the event to past years when the two organizations would cordially meet at NYCC.
Things heated up between the two organizations when Reed announced its Chicago show (see "Reed Announces C2E2"), and Wizard scheduled a competing show in Anaheim for the same weekend (see "Wizard Returns to SoCal").
Then just this past week, both organizations announced conferences in association with their competing April shows (see "Wizard, Reed Announce Competing Conferences").
In a second post on the topic on Sunday, Reed's Fensterman summarized his response to the situation this way. "So what do I think of the Big Apple dates? Ask Marvel. Ask DC. Ask Sony. Ask an artist alley participant. Ask a creator. Ask a fan. You'll get a clear answer of just who these choices of dates are intended to serve."