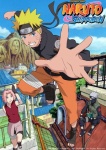 Disney XD will begin airing Naruto Shippuden episodes on October 28th with four back-to-back episodes beginning at 8:30 p.m. ET. Single episodes are scheduled for the following two nights at 10:30 ET.
Disney XD is a new home for Naruto after broadcasts of the original Naruto series ended earlier this year (see "Disney XD Gets Naruto Shippuden").
The Naruto Shippuden movie releases on DVD on November 10th (see "Naruto Shippuden the Movie"); the first of the anime TV sets began releasing in September, continuing in October.