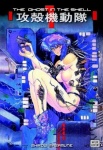 The Ghost in the Shell 3D live action movie (see "Ghost in the Shell Live Action Movie") took another step closer to fruition with the signing of Laeta Kalogridis to write the script, according to Variety.
Kalogridis has some geek cred; she was a producer and writer for Birds of Prey and Bionic Woman. She's also working on another anime adaptation script: she's listed as a screen writer on James Cameron's Battle Angel Alita adaptataion.
Avi Arad (along with Ari Arad and Steven Paul) is attached to produce.
Kodansha, which publishes the manga in Japan, has recently announced that it will release new editions of the manga here in the U.S. (it was formerly a Dark Horse title).