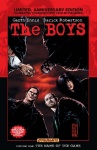 The Boys Vol. 1: The Name of the Game Limited Edition Hardcover
Release Date: November 4, 2009
Cover Price: $29.99
Writer: Garth Ennis
Penciller/Inker: Darick Robertson
Covers: Darick Robertson
Colorist: Tony Avina
Format: 192 pgs.; Full-Color; HC
Rating: Mature
In a world where costumed heroes soar through the sky and masked vigilantes prowl the night, someone's got to make sure the "supes" don't get out of line. And someone will.
Billy Butcher, Wee Hughie, Mother's Milk, The Frenchman and The Female are The Boys: a CIA-backed team of very dangerous people, each one dedicated to the struggle against the most lethal force on Earth- superpower. Some superheroes have to be watched. Some have to be controlled. And some of them--sometimes--need to be taken out of the picture.
That's when you call in The Boys.
Dynamite Entertainment presents, for their fifth anniversary, a limited edition hardcover collection of their controversial hit series. Written by Garth Ennis (
Preacher
,
The Punisher
) and drawn by Darick Robertson
(
Transmetropolitan
,
Wolverine
), this collection features the first six-issue story arc, all of the original covers, sketches by Darick Robertson and, for the first time, Garth Ennis' scripts for each and every issue!
Description of preview: 10 pages (pages 6-15). WARNING: This preview does contains Mature Content.
Next Page (Page 2)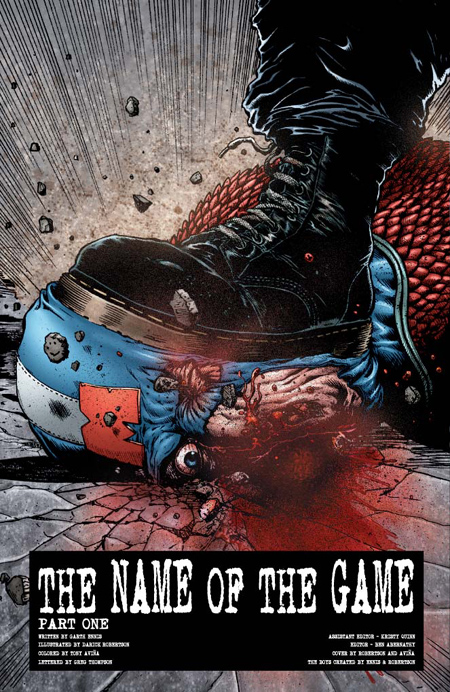 Next Page (Page 2)