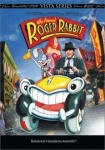 Jeffrey Price and Peter Seaman, who wrote the original 1988 Who Framed Roger Rabbit movie, are currently at work on a sequel with motion capture maven Robert Zemeckis, who directed the innovative film that blended live action and animation, on board to direct the film.
The original Roger Rabbit was the highest grossing film of 1988 ($325 million in 1988 dollars). But in spite of its success, no feature length sequel was ever made largely because of infighting between Disney studio head Michael Eisner and Steven Spielberg. Disney and Spielberg, who was brought on board to convince other studios to allow the use of their cartoon characters, shared the property equally and when Disney #2 Jeffrey Katzenberg split acrimoniously with Eisner and joined Spielberg at Dreamworks, a Roger Rabbit sequel, which had been delayed because of disputes over the use of the Roger Rabbit cartoon shorts, was toast. The first Roger Rabbit short, "Tummy Trouble," helped make Disney's mediocre Honey, I Shrunk the Kids a hit, and Spielberg wanted the second short featuring the famously flustered bunny, "Roller Coaster Rabbit," to debut in front of his horror/comedy Arachnophobia in 1990. But Eisner used it to help boost Warren Beatty's lame Dick Tracy movie into modest profitability, which earned Spielberg's ire, and Spielberg nixed a number of proposals for Roger Rabbit features over the next few years.
Now that Eisner is gone from Disney and Zemeckis is making motion capture movies (A Christmas Carol) at the mouse house conditions appear to be right for the revival of Roger Rabbit. According to MTV, it was Zemeckis who commissioned Price and Seaman to write the sequel. No word yet about which characters will figure in the sequel, or how Zemeckis may use his expertise in motion capture techniques to blend live action and animation, but it does appear that acrimonious disputes that held back the production of a feature length sequel to Who Framed Roger Rabbit have lost their relevancy. The question is, after 21 years, will the character still resonate and will anyone care about his revival?