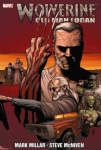 These are estimates of the sales on comic books by Diamond
U.S.
to comic specialty stores during October 2009.
For an overview and analysis of comic sales in October, see "DC Sweeps Top Spots."
For an analysis of the dollar trends in October, see "Comic Sales Sag in October."
For our estimates of actual sales by Diamond
U.S.
from comic specialty stores on comic books shipped during October, see "
Top 300 Comics Actual--October 2009
."
TOP 300 GNs -- October 2009

Rank

Index

Title

Price

Pub

Est.Qty

1

10.29

WOLVERINE HC OLD MAN LOGAN

$34.99

MAR

7,347

2

7.37

JACK OF FABLES TP VOL 06 THE BIG BOOK OF WAR (MR)

$14.99

DC

5,268

3

6.63

NARUTO TP VOL 46

$9.99

VIZ

4,735

4

5.69

FINAL CRISIS LEGION OF THREE WORLDS HC

$19.99

DC

4,061

5

5.59

NOIR TP VOL 01

$12.95

DAR

3,992

6

5.46

BPRD TP VOL 11 BLACK GODDESS

$17.95

DAR

3,897

7

5.21

SCALPED TP VOL 05 HIGH LONESOME (MR)

$14.99

DC

3,719

8

5.10

DAREDEVIL RETURN OF KING TP

$17.99

MAR

3,646

9

4.86

ULTIMATE WOLVERINE VS HULK PREM HC

$24.99

MAR

3,475

10

4.65

SANDMAN THE DREAM HUNTERS HC (MR)

$24.99

DC

3,323

11

4.51

ZOMBIE SURVIVAL GUIDE RECORDED ATTACKS GN

$17.00

RAN

3,225

12

4.38

MARVEL ZOMBIES 04 HC

$19.99

MAR

3,127

13

4.33

NEW AVENGERS TP VOL 10 POWER

$15.99

MAR

3,090

14

4.13

STAR WARS KNIGHTS O/T OLD REPUBLIC TP VOL 07

$18.95

DAR

2,948

15

4.02

UNCANNY X-MEN MANIFEST DESTINY TP

$24.99

MAR

2,871

16

3.95

FREAKANGELS TP VOL 03 (MR)

$19.99

AVA

2,822

17

3.94

AIR TP VOL 02 FLYING MACHINE (MR)

$12.99

DC

2,816

18

3.89

INVINCIBLE IRON MAN TP VOL 02 WORLDS MOST WANTED

$14.99

MAR

2,776

19

3.87

X-MEN FOREVER TP VOL 01

$16.99

MAR

2,765

20

3.40

BLOOM COUNTY COMPLETE LIBRARY HC VOL 01

$39.99

IDE

2,432

21

3.39

ABSOLUTE DEATH HC (MR)

$99.99

DC

2,419

22

3.38

TRINITY TP VOL 03

$29.99

DC

2,413

23

3.35

BATMAN CHRONICLES TP VOL 08

$14.99

DC

2,395

24

3.15

CAPTAIN AMERICA ROAD TO REBORN PREM HC

$24.99

MAR

2,253

25

3.15

TERRY MOORES ECHO TP VOL 03 DESERT RUN

$15.95

ABS

2,249

26

3.09

SHOWCASE PRESENTS HOUSE OF SECRETS TP VOL 02

$17.99

DC

2,209

27

3.09

LEGEND OF ZELDA GN VOL 07

$7.99

VIZ

2,209

28

3.08

X-MEN NOIR GN TP

$14.99

MAR

2,199

29

3.07

SWORD TP VOL 03 EARTH (MR)

$14.99

IMA

2,196

30

3.05

RUNAWAYS TP VOL 09 DEAD WRONG DIGEST

$9.99

MAR

2,178

31

2.99

DARK REIGN FANTASTIC FOUR TP

$16.99

MAR

2,133

32

2.96

SPIDER-MAN DEATH & DATING TP

$19.99

MAR

2,114

33

2.86

TRANSMETROPOLITAN TP VOL 04 THE NEW SCUM

$12.99

DC

2,043

34

2.75

UNCLE SAM DELUXE HC

$19.99

DC

1,962

35

2.73

THUNDERBOLTS TP BURNING DOWN THE HOUSE

$14.99

MAR

1,951

36

2.71

GANTZ TP VOL 07 (MR)

$12.95

DAR

1,937

37

2.70

LENORE NOOGIES HC COLOR ED

$17.95

TIT

1,930

38

2.62

JUSTICE LEAGUE OF AMERICA WHEN WORLDS COLLIDE HC

$24.99

DC

1,875

39

2.61

BATTLE ANGEL ALITA LAST ORDER TP VOL 12

$9.99

VIZ

1,865

40

2.55

RUNAWAYS ROCK ZOMBIES TP

$14.99

MAR

1,824

41

2.49

HULK PREM HC VOL 03 HULK NO MORE

$19.99

MAR

1,776

42

2.47

BATMAN MONSTERS TP

$19.99

DC

1,767

43

2.46

SPIDER-MAN HC NEWSPAPER STRIPS

$39.99

MAR

1,755

44

2.44

KULL TP VOL 01 SHADOW KINGDOM

$18.95

DAR

1,745

45

2.44

GEARS OF WAR HC BOOK 01 (MR)

$19.99

DC

1,744

46

2.43

JONAH HEX LEAD POISONING TP

$14.99

DC

1,739

47

2.42

MMW INHUMANS HC VOL 01

$54.99

MAR

1,727

48

2.42

GRANDVILLE HC

$17.95

DAR

1,727

49

2.39

PINOCCHIO VAMPIRE SLAYER GN

$10.95

SLA

1,710

50

2.36

SPIDER-MAN AMERICAN SON PREM HC

$19.99

MAR

1,685

51

2.32

ESSENTIAL GHOST RIDER TP VOL 03

$19.99

MAR

1,654

52

2.20

PRIDE & PREJUDICE PREM HC

$19.99

MAR

1,571

53

2.15

BLOOD AND WATER TP (MR)

$14.99

DC

1,538

54

2.14

SUPERMAN ADVENTURES OF FLAMEBIRD & NIGHTWING TP

$19.99

DC

1,530

55

2.13

WOLVERINE DARK WOLVERINE PREM HC VOL 01 PRINCE

$24.99

MAR

1,521

56

2.11

MMW ATLAS ERA MENACE HC VOL 01

$59.99

MAR

1,506

57

2.11

WAR MACHINE TP VOL 01 IRON HEART

$15.99

MAR

1,506

58

2.10

WALKING DEAD TP VOL 10 WHAT WE BECOME

$14.99

IMA

1,497

59

2.03

TRANSFORMERS ALL HAIL MEGATRON TP VOL 03

$19.99

IDE

1,453

60

2.00

WALKING DEAD TP VOL 01 DAYS GONE BYE

$9.99

IMA

1,430

61

2.00

ANITA BLAKE VH LC TP BOOK 01 ANIMATOR (MR)

$16.99

MAR

1,429

62

1.96

ROSARIO VAMPIRE GN VOL 09

$9.99

VIZ

1,402

63

1.93

BETA RAY BILL GODHUNTER TP

$14.99

MAR

1,378

64

1.92

EC ARCHIVES FRONTLINE COMBAT HC VOL 01

$49.95

DIA

1,375

65

1.91

RUNAWAYS TEENAGE WASTELAND TP

$14.99

MAR

1,366

66

1.91

YU GI OH R GN VOL 01

$9.99

VIZ

1,365

67

1.89

MMW AMAZING SPIDER-MAN TP VOL 03

$24.99

MAR

1,350

68

1.85

AKIRA KODANSHA ED GN VOL 01 (MR)

$24.99

RAN

1,322

69

1.84

INU YASHA TP VOL 41

$9.99

VIZ

1,317

70

1.84

UMBRELLA ACADEMY TP VOL 02 DALLAS

$17.95

DAR

1,312

71

1.83

HATTER M THE LOOKING GLASS WARS TP VOL 02 MAD WITH WONDER

$14.95

AUT

1,306

72

1.81

MOON KNIGHT TP VOL 05 DOWN SOUTH

$15.99

MAR

1,296

73

1.81

MUPPET ROBIN HOOD TP

$9.99

BOO

1,295

74

1.77

HACK SLASH TP VOL 06 IN REVENGE & IN LOVE (MR)

$18.99

DEV

1,263

75

1.77

WOLVERINE NOIR PREM HC

$19.99

MAR

1,262

76

1.76

WOLFSKIN TP VOL 01 (MR)

$17.99

AVA

1,257

77

1.75

LEGION OF SUPER HEROES ENEMY RISING TP

$14.99

DC

1,249

78

1.74

QUESTION TP VOL 05 RIDDLES

$19.99

DC

1,240

79

1.72

SPIKE OMNIBUS TP

$24.99

IDE

1,228

80

1.70

STAR TREK COUNTDOWN HC

$21.99

IDE

1,217

81

1.66

ONE PIECE TP VOL 22

$7.95

VIZ

1,186

82

1.64

GI JOE COBRA TP

$19.99

IDE

1,175

83

1.62

MEPHISTO VS PREM HC

$19.99

MAR

1,156

84

1.61

NEGIMA GN VOL 24 (MR)

$10.99

RAN

1,153

85

1.61

RICHARD STARKS PARKER THE HUNTER HC

$24.99

IDE

1,148

86

1.61

CODE GEASS LELOUCH OF THE REBELLION GN VOL 05

$10.99

BAN

1,148

87

1.58

ANGEL NOT FADE AWAY TP

$19.99

IDE

1,126

88

1.55

FIVE FISTS OF SCIENCE GN

$12.99

IMA

1,106

89

1.53

GROOM LAKE TP

$19.99

IDE

1,094

90

1.53

ANITA BLAKE VH GUILTY PLEASURES COMPLETE ED HC

$34.99

MAR

1,093

91

1.49

NAOKI URASAWA 20TH CENTURY BOYS GN VOL 05

$12.99

VIZ

1,063

92

1.47

TSUBASA GN VOL 23

$10.99

RAN

1,052

93

1.47

BLACK LAGOON GN VOL 08 (MR)

$12.99

VIZ

1,047

94

1.45

POKEMON DIAMOND & PEARL ADVENTURE GN VOL 05

$7.99

VIZ

1,039

95

1.45

STORMING PARADISE TP

$19.99

DC

1,035

96

1.43

SUPERMAN IN WORLDS FINEST ARCHIVES HC VOL 02

$59.99

DC

1,025

97

1.43

KABUKI TP ALCHEMY

$24.99

MAR

1,025

98

1.43

SOUL EATER TP VOL 01

$10.99

HAC

1,025

99

1.37

GHOST IN SHELL KODANSHA ED GN VOL 01 (MR)

$26.99

RAN

976

100

1.36

HEAVY LIQUID TP (MR)

$24.99

DC

971

101

1.36

STAR TREK CREW TP

$19.99

IDE

971

102

1.36

GREEN LANTERN REBIRTH TP

$14.99

DC

969

103

1.34

STAR TREK MISSIONS END TP

$19.99

IDE

954

104

1.33

DEADPOOL TP VOL 01 SECRET INVASION

$14.99

MAR

951

105

1.33

MARVEL ADVENTURES AVENGERS TP VOL 10 DIGEST

$9.99

MAR

950

106

1.31

XXXHOLIC GN VOL 14

$10.99

RAN

936

107

1.27

FABLES TP VOL 12 THE DARK AGES (MR)

$17.99

DC

908

108

1.27

MASQUERADE TP VOL 01

$14.99

DYN

908

109

1.27

GARTH ENNIS BATTLEFIELDS HC VOL 01

$29.99

DYN

905

110

1.26

MARVEL 1602 PREM HC NEW WORLD FANTASTICK FOUR

$24.99

MAR

901

111

1.25

FABLES TP VOL 01 LEGENDS IN EXILE

$9.99

DC

892

112

1.24

WALKING DEAD TP VOL 02 MILES BEHIND US (NEW PTG)

$14.99

IMA

883

113

1.23

ACT I VATE PRIMER HC

$24.99

IDE

879

114

1.22

GENTLEMENS ALLIANCE TP VOL 10

$9.99

VIZ

874

115

1.21

MASTERPIECE COMICS HC (MR)

$19.95

DRA

863

116

1.20

RIN-NE GN VOL 01

$9.99

VIZ

856

117

1.16

PET SHOP OF HORRORS TOKYO GN VOL 06 (MR)

$10.99

TOK

832

118

1.16

TSUBASA GN VOL 03 (OF 3) THOSE WITH WINGS (TKP) (MR)

$14.99

TOK

829

119

1.15

TANK GIRL REMASTERED ED TP VOL 04 ODYSSEY (MR)

$14.95

TIT

821

120

1.15

CIVIL WAR TP

$24.99

MAR

819

121

1.14

WALKING DEAD TP VOL 09 HERE WE REMAIN (MR)

$14.99

IMA

817

122

1.14

FAT FREDDYS CAT OMNIBUS (MR)

$29.99

DIA

812

123

1.13

MISTER X CONDEMNED TP

$14.95

DAR

805

124

1.12

UMBRELLA ACADEMY TP VOL 01 APOCALYPSE SUITE

$17.95

DAR

801

125

1.10

SAVAGE TALES OF RED SONJA TP

$19.99

DYN

788

126

1.08

SHAMAN WARRIOR TP VOL 08

$12.95

DAR

769

127

1.07

ARKHAM ASYLUM ANNIVERSARY ED SC (MR)

$17.99

DC

766

128

1.05

Y THE LAST MAN TP VOL 01 UNMANNED

$12.99

DC

748

129

1.04

ARKHAM ASYLUM LIVING HELL TP

$14.99

DC

744

130

1.04

STORMWATCH PHD WORLDS END TP

$17.99

DC

740

131

1.03

BATMAN THE KILLING JOKE SPECIAL ED HC

$17.99

DC

735

132

1.02

TOP COW BIBLE TP

$19.99

IMA

731

133

1.02

BOYS TP VOL 04 WE GOTTA GO NOW (MR)

$19.99

DYN

728

134

1.01

MIKANSEI NO 1 GN VOL 01

$10.99

TOK

722

135

1.01

STRAWBERRY 100 % TP VOL 10

$9.99

VIZ

721

136

1.00

BATMAN HUSH COMPLETE TP

$24.99

DC

717

137

1.00

KODT BUNDLE OF TROUBLE TP VOL 27

$12.99

KEN

714

138

0.99

GEN 13 WORLDS END TP

$17.99

DC

710

139

0.98

POKEMON ADVENTURES TP VOL 03 2ND ED

$7.99

VIZ

703

140

0.98

BARACK OBAMA COMIC BOOK BIOGRAPHY HC

$14.99

IDE

698

141

0.97

INVINCIBLE TP VOL 01 FAMILY MATTERS

$12.99

IMA

696

142

0.97

BATMAN DARK KNIGHT RETURNS TP

$14.99

DC

691

143

0.96

MELANCHOLY OF HARUHI SUZUMIYA GN VOL 04

$10.99

HAC

689

144

0.96

SANDMAN TP VOL 01 PRELUDES & NOCTURNES

$19.99

DC

683

145

0.95

BATMAN THE LONG HALLOWEEN TP

$19.99

DC

678

146

0.95

NEXUS SPACE OPERA TP

$14.95

RUD

677

147

0.95

WALKING DEAD TP VOL 04 HEARTS DESIRE (MR)

$12.99

IMA

677

148

0.94

IMMORTAL IRON FIST TP VOL 02 CITIES OF HEAVEN

$17.99

MAR

671

149

0.94

PLANETARY TP VOL 02 THE FOURTH MAN

$14.99

DC

671

150

0.94

XENA ARMY OF DARKNESS TP VOL 02 WHAT AGAIN

$16.99

DYN

668

151

0.93

SKIP BEAT TP VOL 19

$9.99

VIZ

666

152

0.91

ARIA GN VOL 05 (OF 12) (MR)

$10.99

TOK

653

153

0.91

LOOKING FOR GROUP TP VOL 02

$14.95

BLI

647

154

0.90

COLLECTED VOYAGES OF SHEBUCCANEER TP (MR)

$19.99

GRE

642

155

0.89

MOME GN VOL 16 FALL 09

$14.99

FAN

638

156

0.89

PREACHER TP VOL 01 GONE TO TEXAS NEW EDITION (MR)

$14.99

DC

637

157

0.89

BLOODY KISS GN VOL 02 (OF 2)

$10.99

TOK

636

158

0.87

LOCKJAW AND THE PET AVENGERS HC

$24.99

MAR

625

159

0.87

TRANSMETROPOLITAN TP VOL 01 BACK ON THE STREET (MR)

$14.99

DC

622

160

0.86

EXURBIA TP

$9.95

DAR

612

161

0.85

WALKING DEAD TP VOL 06 SORROWFUL LIFE (MR)

$12.99

IMA

608

162

0.84

WALKING DEAD TP VOL 05 BEST DEFENSE (NEW PTG)

$14.99

IMA

599

163

0.83

V FOR VENDETTA NEW EDITION TP (MR)

$19.99

DC

596

164

0.83

WALKING DEAD TP VOL 08 MADE TO SUFFER (MR)

$14.99

IMA

596

165

0.83

WILD ONES GN VOL 08

$9.99

VIZ

594

166

0.83

HELLBOY LIBRARY ED HC VOL 03 CONQUEROR WORM & STRANGE PLACES

$49.95

DAR

593

167

0.83

WAITING PLACE GN

$29.99

IDE

592

168

0.83

MERCY SPARX TP VOL 01

$18.99

DEV

592

169

0.82

FABLES TP VOL 02 ANIMAL FARM

$12.99

DC

586

170

0.82

GREEN LANTERN SINESTRO CORPS WAR TP VOL 01

$14.99

DC

583

171

0.81

MANEATING COW & CHAINSAW VIGILANTE COMPLETE WORKS TP

$29.95

NEW

581

172

0.81

FARSCAPE HC VOL 02 STRANGE DETRACTORS

$24.99

BOO

580

173

0.80

AMELIA RULES TP VERY NINJA CHRISTMAS

$7.99

POC

575

174

0.80

WIZ ALEX ROSS UPDATED MILLENNIUM HC SPIDER-MAN SPIDERWOMAN C

$39.99

WIZ

568

175

0.79

Y THE LAST MAN TP VOL 02 CYCLES (MR)

$12.99

DC

563

176

0.78

WALKING DEAD TP VOL 07 THE CALM BEFORE (MR)

$12.99

IMA

557

177

0.77

100 BULLETS TP VOL 01 FIRST SHOT LAST CALL

$9.99

DC

552

178

0.77

30 DAYS OF NIGHT COLLECTORS SET

$39.99

IDE

551

179

0.77

RED SONJA HC VOL 07 BORN AGAIN

$24.99

DYN

550

180

0.77

BATMAN RIP DELUXE EDITION HC

$24.99

DC

549

181

0.77

EYESHIELD 21 TP VOL 28

$9.99

VIZ

548

182

0.77

FINAL CRISIS HC

$29.99

DC

547

183

0.76

FAIRY IDOL KANON GN VOL 02 (OF 4)

$7.99

UDO

544

184

0.76

WATCHMEN TP

$19.99

DC

542

185

0.76

GREEN LANTERN SINESTRO CORPS WAR TP VOL 02

$14.99

DC

541

186

0.75

BTVS SEASON 8 TP VOL 05 PREDATOR & PREY

$15.95

DAR

539

187

0.75

EPIC CHRONICLES OF HAGAR THE HORRIBLE HC 1973-74

$19.95

TIT

536

188

0.75

FEMALE FORCE TP VOL 01

$15.99

BLU

533

189

0.75

ARTEMIS FOWL GN VOL 02 ARCTIC INCIDENT

$9.99

HAR

533

190

0.74

RED SNOW HC (MR)

$24.95

DRA

532

191

0.74

YOU ARE THERE HC

$26.99

FAN

529

192

0.74

VAGABOND VIZBIG ED GN VOL 05 (MR)

$19.99

VIZ

527

193

0.72

Y THE LAST MAN TP VOL 03 ONE SMALL STEP (MR)

$12.99

DC

517

194

0.72

INVU GN VOL 05

$10.99

TOK

511

195

0.71

YU YU HAKUSHO TP VOL 18

$9.99

VIZ

509

196

0.71

PLANETARY CROSSING WORLDS TP

$14.99

DC

508

197

0.71

DRAGONBALL Z VIZBIG ED GN VOL 05 (RES)

$17.99

VIZ

507

198

0.71

BOYS TP VOL 01 NAME OF THE GAME (MR)

$16.99

DYN

507

199

0.71

WONDERFUL WIZARD OZ HC

$29.99

MAR

506

200

0.71

DEAD AT 17 ULTIMATE ED TP

$24.99

IMA

504

201

0.71

HOW OBELIX FELL INTO MAGIC POTION HC

$12.95

STE

504

202

0.70

SANDMAN TP VOL 02 THE DOLLS HOUSE

$19.99

DC

503

203

0.70

JOKER HC

$19.99

DC

503

204

0.70

SERENITY THOSE LEFT BEHIND TP

$9.95

DAR

501

205

0.70

RUNAWAYS TP VOL 02 TEENAGE WASTELAND DIGEST

$7.99

MAR

500

206

0.70

SUPERMAN RED SON TP

$17.99

DC

497

207

0.69

FANTASTIC FOUR VISIONARIES JOHN BYRNE TP VOL 01

$24.99

MAR

495

208

0.69

BOYS LOVE GN

$12.95

DIG

492

209

0.69

PHANTOM DREAM GN VOL 04 (OF 5) (MR)

$10.99

TOK

492

210

0.69

DIARY OF A WIMPY KID HC VOL 04

$13.95

ABR

491

211

0.69

AIR GEAR GN VOL 14 (MR)

$10.99

RAN

490

212

0.68

NEMI HC VOL 03

$14.95

TIT

488

213

0.68

DEADPOOL CLASSIC TP VOL 01

$29.99

MAR

485

214

0.68

SUPREME POWER PREM HC NIGHTHAWK

$24.99

MAR

483

215

0.67

WALKING DEAD HC VOL 01 (MR)

$29.99

IMA

479

216

0.67

SERPENT WARS GN

$17.95

DIA

478

217

0.66

BATMAN YEAR ONE DELUXE SC

$14.99

DC

475

218

0.66

SPIDER-MAN SHORT HALLOWEEN PREM HC

$19.99

MAR

473

219

0.66

Y THE LAST MAN TP VOL 06 GIRL ON GIRL (MR)

$12.99

DC

473

220

0.66

NEGIMA NEO GN VOL 03 (MR)

$10.99

RAN

471

221

0.66

WEIRD FISHES GN

$9.95

SLA

471

222

0.66

BOB DYLAN REVISITED ILLUSTRATED

$24.95

WW

468

223

0.66

CTRL+ALT+DEL TP VOL 02 DARWIN WOULD BE PROUD

$12.95

BLI

468

224

0.65

BOYS TP VOL 02 GET SOME (MR)

$19.99

DYN

464

225

0.65

HAPPY BOYS GN VOL 01

$12.95

DIG

464

226

0.65

Y THE LAST MAN TP VOL 05 RING OF TRUTH (MR)

$14.99

DC

464

227

0.65

GARTH ENNIS 303 TP

$19.99

AVA

463

228

0.65

LIBERTY LIBERTY GN (MR)

$12.99

TOK

462

229

0.65

PREACHER TP VOL 02 UNTIL THE END OF THE WORLD NEW EDITION (M

$14.99

DC

461

230

0.64

ULTIMATUM PREM HC

$24.99

MAR

459

231

0.64

BTVS SEASON 8 TP VOL 01 LONG WAY HOME

$15.95

DAR

458

232

0.64

TOGAINU NO CHI GN VOL 04 (OF 5) (MR)

$10.99

TOK

458

233

0.64

WHAT A WONDERFUL WORLD GN VOL 01

$12.99

VIZ

456

234

0.63

PREACHER TP VOL 03 PROUD AMERICANS NEW EDITION (MR)

$14.99

DC

451

235

0.63

Y THE LAST MAN TP VOL 04 SAFEWORD (MR)

$12.99

DC

451

236

0.63

HARLEQUIN VALENTINE HC (NEW PTG)

$12.95

DAR

450

237

0.63

STREET FIGHTER TRIBUTE TP

$39.99

UDO

448

238

0.63

ZONE 00 GN VOL 02 (OF 5) (MR)

$10.99

TOK

447

239

0.62

GREEN LANTERN RAGE OF THE RED LANTERNS HC

$24.99

DC

443

240

0.62

REBORN GN VOL 13

$9.99

VIZ

440

241

0.61

FAIRY TAIL GN VOL 08

$10.99

RAN

436

242

0.61

BOYS TP VOL 03 GOOD FOR THE SOUL (MR)

$19.99

DYN

435

243

0.61

RED RIVER GN VOL 27

$9.99

VIZ

435

244

0.61

BOYS OVER FLOWERS JEWELRY BOX GN

$9.99

VIZ

434

245

0.60

100 BULLETS TP VOL 04 FOREGONE TOMORROW

$19.99

DC

432

246

0.60

FABLES 1001 NIGHTS OF SNOWFALL SC (MR)

$14.99

DC

431

247

0.60

BTVS SEASON 8 TP VOL 04 TIME OF YOUR LIFE

$15.95

DAR

429

248

0.60

BATMAN WHATEVER HAPPENED TO THE CAPED CRUSADER HC

$24.99

DC

428

249

0.59

WHAT A WONDERFUL WORLD GN VOL 02

$12.99

VIZ

423

250

0.59

BONE ONE VOL ED SC

$39.95

CAR

422

251

0.59

FABLES TP VOL 03 STORYBOOK LOVE (MR)

$14.99

DC

421

252

0.59

Y THE LAST MAN TP VOL 07 PAPER DOLLS (MR)

$14.99

DC

420

253

0.59

HAMMER O/T GODS TP VOL 01 MORTAL ENEMY (IDW ED)

$19.99

IDE

419

254

0.59

KYO KARA MAOH GN VOL 04 (OF 4)

$10.99

TOK

419

255

0.58

GESTALT GN VOL 03

$9.99

VIZ

413

256

0.58

FULLMETAL ALCHEMIST TP VOL 20 (PP #886)

$9.99

VIZ

412

257

0.57

SHINOBI LIFE GN VOL 03 (OF 5)

$10.99

TOK

408

258

0.57

Y THE LAST MAN TP VOL 10 WHYS AND WHEREFORES (MR)

$14.99

DC

407

259

0.57

INVINCIBLE TP VOL 11 HAPPY DAYS

$16.99

IMA

404

260

0.56

NORA LAST CHRONICLE OF DEVILDOM GN VOL 07

$9.99

VIZ

403

261

0.56

CARTOON HISTORY MODERN WORLD TP VOL 02 BASTILLE TO BAGHDAD (

$18.99

HAR

402

262

0.56

BTVS SEASON 8 TP VOL 03 WOLVES AT THE GATE

$15.95

DAR

401

263

0.56

BOOK ABOUT MOOMIN MYMBLE & LITTLE MY HC

$16.95

DRA

400

264

0.56

ULTIMATES 2 TP VOL 02 GRAND THEFT AMERICA

$19.99

MAR

400

265

0.56

DMZ TP VOL 01 ON THE GROUND (MR)

$9.99

DC

399

266

0.56

AIR TP VOL 01 LETTERS FROM LOST COUNTRIES (MR)

$9.99

DC

398

267

0.56

BALLAD OF A SHINIGAMI VOL 02

$9.99