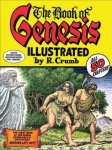 Robert Crumbs' The Book of Genesis took the #1 slot in the adult graphic novel chart for November, after moving up steadily since its debut in September. After debuting at #9, Genesis was #2 in October (see "Book of Genesis Is #2"), in the wake of a publicity tour by Crumb and great reviews. It's very unusual for a book to move up to the top slot in its third month; it likely means that word of mouth and other factors are all contributing.




BookScan Top 20 Graphic Novels in November 2009

Rank

Title

Author

Publisher

1

THE BOOK OF GENESIS ILLUS. BY R. CRUMB HC

ROBERT CRUMB

W. W. NORTON

2

VAMPIRE KNIGHT VOL. 8

MATSURI HINO

VIZ MEDIA

3

NARUTO VOL. 46

MASASHI KISHIMOTO

VIZ MEDIA

4

MAXIMUM RIDE: THE MANGA VOL. 2

JAMES PATTERSON

YEN PRESS

5

BLACK BIRD VOL. 2

KANOKO SAKURAKOJI

VIZ MEDIA

6

CHIBI VAMPIRE VOL. 14

YUNA KAGESAKI

TOKYOPOP

7

ROSARIO+VAMPIRE VOL. 10

AKIHISA IKEDA

VIZ MEDIA

8

THE ZOMBIE SURVIVAL GUIDE: RECORDED ATTACKS

MAX BROOKS

THREE RIVERS

9

FULLMETAL ALCHEMIST VOL. 21

ARAKAWA HIROMU

VIZ MEDIA

10

NEGIMA! VOL. 24

KEN AKAMATSU

DEL REY

11

SOUL EATER VOL. 1

ATSUSHI OHKUBO

YEN PRESS

12

OURAN HIGH SCHOOL HOST CLUB VOL. 13

BISCO HATORI

VIZ MEDIA

13

D.GRAY-MAN VOL. 15

KATSURA HOSHINO

VIZ MEDIA

14

WATCHMEN TP

ALAN MOORE

DC COMICS

15

NARUTO VOL. 45

MASASHI KISHIMOTO

VIZ MEDIA

16

TSUBASA VOL. 24

CLAMP

DEL REY

17

OTOMEN VOL. 4

AYA KANNO

VIZ MEDIA

18

TSUBASA VOL. 23

CLAMP

DEL REY

19

GREEN LANTERN: AGENT ORANGE HC

GEOFF JOHNS

DC COMICS

20

YU-Gi-OH! R VOL. 1

AKIRA ITO

VIZ MEDIA
The new titles on the list were all volumes of ongoing manga series, with one exception; Green Lantern: Agent Orange HC, the collection of the Blackest Night run-up starring Green Lantern by Geoff Johns and Phillip Tan, debuted at #19.
Yen Press's Maximum Ride adaptation is showing strength. The latest volume moved up from #7 to #4, while the first volume re-appeared on the top 20 list as well.
Fourteen manga titles (plus two OEL volumes) was a fairly typical share of the top 20. Viz held half the slots, also fairly typical. Del Rey and Yen tied with three titles each in the top 20.
The rankings, provided by Nielsen BookScan, track the bestselling U.S. graphic novels in major book chains, mass merchants, online retailers, and some independent retailers using POS data from November 2nd to November 29th. Titles racked in the Kids or YA sections do not appear in this list.
For charts from other months, see the "BookScan Top 20 GNs Index."