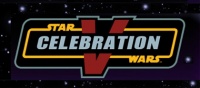 Reed Exhibitions will partner with Lucasfilm to produce Star Wars Celebration V in Orlando, Florida on August 12-15, 2010. The convention will focus on the 30th anniversary of The Empire Strikes Back and on the ongoing Clone Wars series, as well as all other things Star Wars. The con will be held at the Orange County Convention Center, and will feature "celebrities, fan events, costumes, music, live entertainment, screenings, collectibles, panels, and sneak peaks into the future of Star Wars."
While this is the fifth Star Wars Celebration in the States and the seventh over-all, it will be the first run by Reed, organizer of the New York Comic Con, New York Anime Festival, and C2E2 through its newly branded PopGroup. The fourth U.S. event, managed by Gen Con and held in Los Angeles in 2007, ended with Lucasfilm suing Gen Con (see "Lucasfilm Sues Gen Con") and Gen Con filing for reorganization under bankruptcy law (see "Gen Con Files Chapter 11").
In the wake of the announcement, Wizard announced that it will reschedule its Chicago event to August 19-22, one week later than the originally scheduled dates, to avoid a conflict with the Star Wars Celebration.