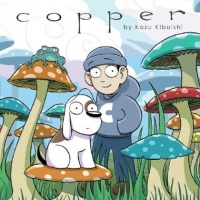 Copper
Publisher: Scholastic/Graphix
Release Date: January 2010
Price: $12.99 (Paperback); $21.99 (Hardcover)
Creator: Kazu Kibuishi
Format: 96 pgs.
ISBN: 978-0-54509-893-9 (PB); 978-0-54509-892-0 (HC)
Age Rating: All Ages
ICv2 Rating: 3-1/2 Stars out of 5
This book, a collection of Kibuishi's Webcomic, is aimed at an older audience than his
Flight Explorer
or
Amulet
books from Scholastic. While the central characters are a young boy and his dog, the stories are more thoughtful, and are often very dreamlike. The adventures, whether they involve strange flying machines or hungry monkeys, become a cross between
Peanuts
and
Alice in Wonderland
, with a little bit of Dan O'Neill's
Odd Bodkins
thrown in. Copper and Fred bounce across giant mushrooms or ride enormous snails in search of adventure, fun, or sometimes just a good loaf of melon bread.
Copper
should appeal to some of the same audience as Jeff Smith's
Bone
series. Many of the younger readers of
Flight Explorer
or
Amulet
will not understand the philosophical parts, but some will still enjoy the humor and strangeness of the cartoony segments. Many of the stories are only a single page long, in print form. He packs a lot into those few panels, though.
An afterword on the technical aspects of the artwork will interest readers who are budding artists, or who want to know the processes of print and Webcomics.
All ages, but will appeal most to older kids and up.
--Nick Smith
: Librarian Technician, Community Services, for the Pasadena Public Library in California.