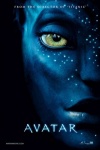 In spite of a massive snowstorm that depressed attendance in the populous Northeast Corridor by as much as 70-80% on Saturday night, James Cameron's 3-D science fiction epic Avatar earned an estimated $73 million at the weekend box office, the second highest December debut ever, trailing only Will Smith's I Am Legend's $77.2 million. With CinemaScores of "A" and "A+" across all the major demographics, the future seems bright for Cameron's blue alien movie. Epic movies opening in December with similar audience approval ratings like Peter Jackson's The Return of the King went on to earn a multiple of 5 times their debut totals, which means a domestic total well north of $300 million is possible for Cameron's film, which needs to earn at least $750 million worldwide just to break even according to most estimates.


Weekend Box Office (Studio Estimates): December 18-20, 2009

Rank

Film

Weekend Gross

Screens

Avg./Screen

1

Avatar

$73,000,000

3,452

$21,147

2

The Princess and the Frog

$12,224,000

3,475

$3,518

3

The Blind Side

$10,030,000

3,407

$2,944

4

Did You Hear About the Morgans?

$7,000,000

2,718

$2,575

5

The Twilight Saga: New Moon

$4,370,000

3,035

$1,440

6

Invictus

$4,170,000

2,125

$1,962

7

A Christmas Carol

$3,419,000

2,070

$1,652

8

Up in the Air

$3,100,000

175

$17,714

9

Brothers

$2,630,000

2,009

$1,309

10

Old Dogs

$2,289,000

2,630

$870
Fox rolled out Avatar in more than 100 overseas markets (with China, Italy, and Japan being the major exceptions), where it brought in a solid $159.2 million, which means its worldwide total is now $232.2 million. Domestically, 59% of the screens presented the film in 3-D—and, not surprisingly, they accounted for 71% of the movie's gross. Opening at some 3,452 theaters, Avatar averaged a superb $21,147 in spite of the bad weather that depressed East Coast totals. Reports indicate that in many markets every single IMAX seat was sold out for all showings.
Demographically, the crowds at Avatar showings had a makeup that should be familiar to pop culture retailers—57% male and 62% over 25. Most importantly for any and all assorted Avatar merchandise, the audience loved the film with 92% of those polled saying that they would recommend the movie.
Last week's winner The Princess and the Frog took a big tumble for an animated film in December, dropping nearly 50% in its second frame. But it's way too early to write the obit for this film. The weather and Christmas shopping both may have played a role in keeping the mother/daughter crowd away from the Disney 2-D animated movie. But competition for the black princess saga will heat up on Wednesday with the releases of Alvin and the Chipmunks: The Squeakquel.
Sandra Bullock's The Blind Side, which declined just 33%, became the first film in 2009 to spend five consecutive weeks in the top 3. The other major new release, the Sarah Jessica Parker/Hugh Grant romantic comedy, Did You Hear About the Morgans? opened weakly with an estimated $7 million. The film, which attracted an audience that was 60% female, and 54% over 30, only managed to make it into fourth place.
The Twilight Saga: New Moon fell 45% in its fifth weekend and landed in fifth place with a domestic cumulative of $274.6 million, which makes it 2009's fifth highest grossing film. Also nearing the end of its theatrical run, Disney's motion-capture A Christmas Carol fell 50%. It looks like it will end up with a domestic gross under $140 million, well below its $200 million cost. Meanwhile, buoyed by Golden Globe and SAG nominations, the George Clooney comedy Up in the Air moved into the top 10 despite being in only 175 theaters nationwide.
Overall the top ten films grossed 58% more than they did last year when Jim Carrey's Yes Man debuted at #1 with $18 million, but down 17% from 2007 when National Treasure: Book of Secrets opened to $44.8 million.