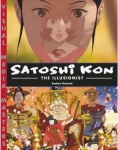 Peter Goodman, founder of Stone Bridge Press, has re-acquired the company by buying it back from IBC Publishing of Tokyo. Yohan, Inc., which acquired Stone Bridge in 2005 (see "Japanese Distributor Buys Stone Bridge Press"), passed ownership of Stone Bridge to its then subsidiary IBC just before declaring bankruptcy. Goodman remained at the helm throughout.
The acquisition went awry, according to Goodman, when Yohan purchased famed bookseller Cody Books of Berkeley and San Francisco in 2006 (see "Yohan Buys Cody's Books"), but was unable to turn it around. "Money that had been planned for Stone Bridge operations instead got diverted to Cody's," according to Stone Bridge.
Stone Bridge publishes books on Japanese culture, including the recently released Satoshi Kon: The Illusionist.