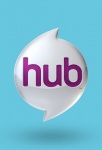 The channel formed from Discovery Kids with new partner Hasbro (see "Hasbro Buys into Discovery Kids") will be called The Hub, the company announced Thursday. CEO Margaret Loesch explained the rationale for the name. "A hub is a place where great things come together – and that is precisely what The Hub network will be when it launches," she said.
A Transformers series is part of the plan, according to the announcement, along with My Little Pony, Adventure Camp, and Flight 29 Down.
The Hub will launch this fall in about 60 million homes in the channel space presently occupied by Discovery Kids.