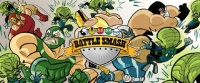 Viper Comics is launching Blinko Books, a new kids' imprint, in June. Its first release will be Battle Smash, featuring Lucha-based masked heroes battling Saucer-Men from Venus. Battle Smash will be published in a 32-page 8"x 8" package at $3.25.
The creative team on Battle Smash is Jessie Garza, Dale Mettam, with artwork by Zanker.
Next up will be Battle Smash vs. the Voodoo Swamp Monsters, the next installment from the same creative team.