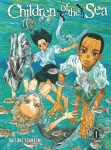 The Top Ten Great Graphic Novels for Teens, along with the full list of 73 titles, was released by the American Library Association's Great Graphic Novels for Teens Committee at the ALA's Midwinter Meeting in Boston this week. Books selected must meet the criteria of both good quality literature and appealing reading for teens.
The 73 titles represent a new high for the list, which in its previous three years has ranged from 43 to 57 titles.
Committee chair Eva Volin spoke to the diversity and scope of the list. "There was a wealth of great titles to choose from this year," she said. "This allowed the committee to create a well-rounded list that includes everything from European comics to manga, superhero titles to adaptations of classic literature."
Viz was the only publisher with multiple titles on the Top Ten list, with three. Seven other publishers were also represented, with one title each.
Here are the Top Ten Great Graphic Novels for Teens on the 2010 list:
Hardison, Jim and Bart Sears. The Helm. Dark Horse. 2009.
Igarashi, Daisuke. Children of the Sea, vol 1. VIZ Media. 2009.
Jensen, Van and Dusty Higgins. Pinocchio: Vampire Slayer. SLG Publishing. 2009.
Kelly, Joe and J.M. Ken Nimura. I Kill Giants. Image. 2009.
Lethem, Jonathan and Farel Dalrymple. Omega the Unknown. Marvel. 2008.
Love, Jeremy. Bayou, vol 1. DC Comics/Zuda. 2009.
Neufeld, Josh. A.D.: New Orleans After the Deluge. Pantheon Books. 2009.
Siddell, Tom. Gunnerkrigg Court, vol 1: Orientation. Archaia Studios Press. 2009.
Urasawa, Naoki and Takashi Nagasaki. Pluto. VIZ Media. 2009.
Yoshinaga, Fumi. Ooku: The Inner Chambers, vol 1. VIZ Media. 2009.
Click here for the full list of all 73 titles on the Great Graphic Novels for Teens list.
Members of the Great Graphic Novels for Teens Committee are Eva Volin, chair, Alameda (Calif.) Free Library; Marea Black, Burton Barr Central Library, Phoenix, Ariz.; Lisa Goldstein, Brooklyn, N.Y.; Jesse Karp, Little Red School House/Elisabeth Irwin High School, New York; Candice Mack, Encino Tarzana (Calif.) Public Library; Barbara Moon, Suffolk Coop Library System, Bellport, N.Y.; Kimberly Paone, Elizabeth (N.J.) Public Library; Michael Pawuk, Cuyahoga County Public Library, Brooklyn, Ohio; Jessica Smith, Bend (Ore.) Senior High School; Christian Zabriskie, Brooklyn, N.Y.; Dorcas Wong, San Francisco, Calif.; and Ian Chipman, consultant, Booklist, Chicago, Ill.