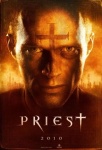 Director Scott Stewart is planning something special for the opening of Priest, the live-action film he is adapting from the manhwa series by Hyung Min-woo published here by Tokyopop. Stewart is commissioning an "R"-rated animated prologue for Priest that will depict the war between humans and vampires through the ages. Stewart told Ain't It Cool News that he will announce "shortly who's doing that (creating the animation)." The prologue will function much like the sequences in The Animatrix, which provided background for the film that followed, and given the Asian roots of Priest and the dearth of "R"-Rated animation produced in the U.S., speculation is that the animated prologue for the film will be produced in Asia.
Stewart also told AIC that his major cinematic inspiration for the project was John Ford's The Searchers: "It's mashing up a bunch of stuff, but when you start to look at John Ford's The Searchers, and you start to say, "Okay, what if the vampires were the Comanches?" They are the others. They are the ones we are at war against."
Principal photography wrapped on Priest,which stars Paul Bettany in the title role, just after Thanksgiving. The film is slated to debut in North America on August 20th.