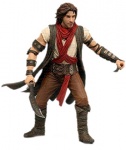 McFarlane Toys has released images of its line of Prince of Persia toys. The toys are based on the big screen adaptation of the popular video game. The Prince of Persia: The Sands of Time movie is set to be released over the Memorial Day weekend. Produced by Jerry Bruckheimer, directed by Mike Newell, and written by Prince of Persia creator Jordan Mechner, Prince of Persia: The Sands of Time is first Disney film, which is not part of the Pirates of the Caribbean series, to receive a PG-13 rating.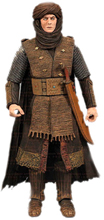 McFarlane Toys is producing both 6-inch and 4-inch action figures based on the film as well as playsets (see "
McFarlane Gets Prince of Persia
").
The
Prince
Dastan
figure is instantly recognizable as actor Jake Gyllenhaal.
The figures have 12 points of articulation and character-specific accessories.
The four-inch figures have an MSRP of $9.99, while the 6-inch figures have and MSRP of $16.99.
In addition to the McFarlane Prince of Persia: The Sands of Time figures there is a Prince of Persia graphic novel from First Second and a graphic novel adaptation of the Prince of Persia: Sands of Time Movie from Disney Press.