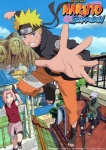 Bandai America and Viz Media have announced new Naruto Shippuden Collectible Card Game (CCG) Shonen Jump Championships in North America. Bandai is planning multiple tournaments that will be held throughout the United States at select hobby retailers culminating in the National Championships, which will be held at Gen Con Indy on August 7th and 8th.
The Naruto Shippuden CCG is Bandai's top-selling CCG. It is a strategy game in which players construct decks of ninja that use their powerful Jutsu to complete missions and protect their villages. Bandai is currently supporting a robust OP program in which hundreds of Naruto Shippuden tournaments are held weekly at local hobby retailers throughout the U.S.
The Shonen Jump Championship Tournaments will be accessible to both new and experienced players of the Naruto Shippuden CCG. New players will be able to redeem coupons from Shonen Jump magazine for a Naruto Shippuden CCG Demo Kit, and will also benefit from the presence of Bandai volunteers who will act as instructors. Experienced players will test their skills and be able to win special prizes. Naruto fans will be able to receive special Shonen Jump promo cards through special promotions in the magazine and attendance at the tournaments. One lucky person will win an autographed promo card signed by Naruto creator Masashi Kishimoto.
Shonen Jump Championship prizes include for the first place winner a Championship Trophy, a Playstation 3 console, a PSP console, a Naruto CCG hobby booster box, game mat and a one-year subscription to Shonen Jump.
The second place winner will receive a 32GB iPod, a Naruto Shippuden CCG booster box, game mat, and a one-year subscription to Shonen Jump. Third and fourth place winners will get a PSP console, a booster box, game mat, and 1-year subscription. Fifth through eighth place winners will get the box of boosters and a game mat. Ninth place through 64th place winners will receive multiple Naruto Shippuden CCG booster packs.