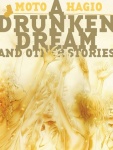 Fantagraphics Books will launch a new line of manga in September with the release of Drunken Dream, a collection of short manga stories created between 1971 and 2007 by Moto Hagio, one of the pioneers in the development of shojo manga in the 1970s. Hagio, who was a founding member of the artist collective known as the "Magnificent 24," has won nearly every key manga award during her illustrious career. Hagio has been credited as one of the founders of shonen-ai (boys'love) manga, but she also has created science fiction sagas ("They Were 11"), family dramas, and works in all sorts of genres, while winning the Shogakukan Manga Award, the Osamu Tezuka Cultural Prize, and the Nihon SF Taisho Award. Hagio will be making her first visit to the U.S. this summer to attend Comic-Con International as a special guest.
In December Fantagraphics will publish the second volume in its new line, Shimura Takato's Wandering Son, an ongoing series that follows two young friends, Shichi a boy wants to be a girl, and Yoshino, a girl who wants to be a boy. As puberty approaches the two young friends help each other cope with their gender frustration.
MattThorn, cultural anthropologist, all-around shojo manga maven, and Associate Professor of Manga Production at Kyoto Seika University will be editing Fantagraphics' new manga line, which should fit in well with Fantagraphics' extensive list of alternative and literary titles.