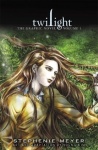 Twilight: The Graphic Novel Volume 1
Publisher: Yen Press
Release Date: March 16, 2010
Price: $19.99
Creators: Stephenie Meyer; Adaptation and artwork by Young Kim
Format: 224 pgs.; B&W
ISBN: 978-0-75952-943-4
Age Rating: Teens+
ICv2 Rating: 5 Stars out of 5
Twilight, by Stephenie Meyer, was a brilliantly successful teen novel, blending vampires and romance. Now that more graphic novel adaptations are coming out, it was a natural choice to become a graphic novel.
The only real surprise is the style and quality of the adaptation. Young Kim, a Korean artist with a flair for romance, has done an excellent job of adapting the story. The pacing is changed to what works in graphic form. The romantic nature of the story is emphasized, and the artistic style used will be very attractive to the same audience which devoured the novel. In this form, it has become a romance story with an overlay of the supernatural, rather than a supernatural story with a heavy touch of romance. Overall, it should appeal to readers new to the graphic novel format. Readers already familiar with graphic stories will like the beautiful designs… mostly black and white but with touches of color in ways that surprise, as Edward's eyes change color, or tones tint a sunset. A few readers will find Young Kim's art to be a bit jarring, as she has a penchant for pointy noses and overly-mobile hair, but her design layouts more than make up for it.
Fans of the Twilight novel or film will find things to enjoy within this graphic novel. The nice hardcover format and binding are another plus. This book will be in high demand, and should become a crossover hit for graphic novel fans and Twilight fans alike.
--Nick Smith: Librarian Technician, Community Services, for the Pasadena Public Library in California.