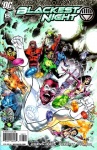 These are estimates of the sales on comic books by Diamond
U.S.
to comic specialty stores during March 2010.
For an overview and analysis of comic sales in March, see "'Blackest Night' Ends on Top."
For an analysis of the dollar trends in March, see "Comic Sales Bounce Back in March."
For our estimates of actual sales by Diamond
U.S.
from comic specialty stores on graphic novels shipped during March, see "
Top 300 Graphic Novels Actual--March 2010
."
TOP 300 COMICS -- March 2010

Rank

Index

Title

Price

Pub

Est.Qty

1

220.84

BLACKEST NIGHT #8

$3.99

DC

135,061

2

184.89

SIEGE #3

$3.99

MAR

113,071

3

159.21

GREEN LANTERN #52

$2.99

DC

97,369

4

139.46

BATMAN AND ROBIN #10

$2.99

DC

85,292

5

125.45

GREEN LANTERN CORPS #46

$3.99

DC

76,720

6

124.51

NEW AVENGERS #63

$3.99

MAR

76,145

7

118.15

DARK AVENGERS #15

$3.99

MAR

72,254

8

116.55

ULTIMATE COMICS NEW ULTIMATES #1

$3.99

MAR

71,279

9

111.18

UNCANNY X-MEN #522

$3.99

MAR

67,996

10

108.02

AMAZING SPIDER-MAN #623

$2.99

MAR

66,064

11

107.94

X-MEN SECOND COMING #1 XSC

$3.99

MAR

66,013

12

101.40

THOR #608 SIEGE

$2.99

MAR

62,012

13

100.00

BATMAN #697

$2.99

DC

61,157

14

98.46

AMAZING SPIDER-MAN #624

$2.99

MAR

60,213

15

95.00

ULTIMATE COMICS AVENGERS #5

$3.99

MAR

58,098

16

93.14

CAPTAIN AMERICA #604

$3.99

MAR

56,962

17

92.32

JUSTICE LEAGUE OF AMERICA #43

$3.99

DC

56,461

18

88.63

AMAZING SPIDER-MAN #627

$2.99

MAR

54,206

19

88.59

AMAZING SPIDER-MAN #625

$2.99

MAR

54,179

20

88.50

KEVIN SMITH GREEN HORNET #1

$3.99

DYN

54,122

21

88.08

AMAZING SPIDER-MAN #626

$2.99

MAR

53,868

22

87.86

NEMESIS #1 (MR)

$2.99

MAR

53,732

23

83.53

MIGHTY AVENGERS #35

$2.99

MAR

51,085

24

83.04

HULK #21

$3.99

MAR

50,785

25

82.35

JUSTICE LEAGUE RISE AND FALL SPECIAL #1

$3.99

DC

50,360

26

81.61

X-FORCE #25

$2.99

MAR

49,910

27

81.52

MIGHTY AVENGERS #34

$2.99

MAR

49,855

28

81.38

JUSTICE LEAGUE CRY FOR JUSTICE #7

$3.99

DC

49,769

29

80.89

DARK WOLVERINE #84

$2.99

MAR

49,469

30

80.51

INVINCIBLE IRON MAN #24

$2.99

MAR

49,239

31

78.84

X-MEN LEGACY #234

$2.99

MAR

48,217

32

77.09

INCREDIBLE HULK #608

$3.99

MAR

47,148

33

76.15

BUFFY THE VAMPIRE SLAYER #33

$2.99

DAR

46,568

34

73.07

DETECTIVE COMICS #862

$3.99

DC

44,687

35

71.05

SIEGE EMBEDDED #3

$3.99

MAR

43,455

36

70.51

DETECTIVE COMICS #863

$3.99

DC

43,119

37

68.78

DEADPOOL #21

$2.99

MAR

42,062

38

66.99

ULTIMATE COMICS SPIDER-MAN #8

$3.99

MAR

40,967

39

64.34

ADVENTURE COMICS #8

$3.99

DC

39,351

40

63.14

AVENGERS INITIATIVE #34

$2.99

MAR

38,616

41

63.01

FALL OF HULKS RED HULK #3

$3.99

MAR

38,535

42

62.73

FIRST WAVE #1

$3.99

DC

38,365

43

62.47

SUPERMAN LAST STAND OF NEW KRYPTON #1

$3.99

DC

38,202

44

61.34

ADVENTURE COMICS #9

$3.99

DC

37,515

45

61.12

JUSTICE SOCIETY OF AMERICA #37

$2.99

DC

37,381

46

60.59

WOLVERINE ORIGINS #45

$2.99

MAR

37,055

47

60.52

PRELUDE TO DEADPOOL CORPS #1

$3.99

MAR

37,011

48

60.02

RED ROBIN #10

$2.99

DC

36,708

49

59.89

NEW MUTANTS #11

$2.99

MAR

36,629

50

58.90

JUSTICE LEAGUE THE RISE OF ARSENAL #1

$3.99

DC

36,020

51

58.52

FANTASTIC FOUR #577

$2.99

MAR

35,791

52

56.15

BATMAN WIDENING GYRE #5

$2.99

DC

34,338

53

55.81

THUNDERBOLTS #142 SIEGE

$2.99

MAR

34,132

54

55.60

WOLVERINE ORIGINS #46

$2.99

MAR

34,004

55

55.21

AMERICAN VAMPIRE #1 (MR)

$3.99

DC

33,762

56

55.17

DARK X-MEN #5

$3.99

MAR

33,742

57

54.62

DEADPOOL MERC WITH A MOUTH #9

$2.99

MAR

33,405

58

54.51

SUPERMAN #698

$2.99

DC

33,336

59

54.43

FALL OF HULKS SAVAGE SHE-HULKS #1

$3.99

MAR

33,290

60

53.74

KEVIN SMITH GREEN HORNET #2

$3.99

DYN

32,866

61

52.64

SUPERMAN BATMAN #70

$2.99

DC

32,196

62

52.36

PRELUDE TO DEADPOOL CORPS #2

$2.99

MAR

32,024

63

50.80

PRELUDE TO DEADPOOL CORPS #3

$2.99

MAR

31,065

64

50.50

BATGIRL #8

$2.99

DC

30,886

65

49.96

DOOMWAR #2

$3.99

MAR

30,555

66

49.47

PRELUDE TO DEADPOOL CORPS #4

$2.99

MAR

30,254

67

49.27

CABLE #24

$3.99

MAR

30,132

68

48.80

SUPERGIRL #51

$2.99

DC

29,845

69

48.73

WOLVERINE WEAPON X #11

$3.99

MAR

29,799

70

48.17

ACTION COMICS #887

$3.99

DC

29,460

71

47.79

NATION X #4

$3.99

MAR

29,224

72

47.48

PRELUDE TO DEADPOOL CORPS #5

$2.99

MAR

29,037

73

47.29

X-FACTOR #203

$2.99

MAR

28,924

74

46.73

SECRET WARRIORS #14

$2.99

MAR

28,580

75

46.72

DEADPOOL TEAM-UP #895

$2.99

MAR

28,573

76

46.64

JSA ALL STARS #4

$3.99

DC

28,526

77

46.58

GREEN ARROW #31

$2.99

DC

28,486

78

45.99

MARVELS PROJECT #7

$3.99

MAR

28,129

79

45.49

X-MEN HOPE #1

$2.99

MAR

27,818

80

44.68

X-23 #1

$3.99

MAR

27,328

81

43.41

GOTHAM CITY SIRENS #10

$2.99

DC

26,550

82

43.16

BATMAN STREETS OF GOTHAM #10

$3.99

DC

26,396

83

42.12

TEEN TITANS #81

$3.99

DC

25,758

84

41.59

SPIDER-WOMAN #7

$3.99

MAR

25,437

85

41.27

WONDER WOMAN #42

$2.99

DC

25,240

86

41.27

HULK LET BATTLE BEGIN #1

$3.99

MAR

25,237

87

39.79

IMAGE FIRSTS WALKING DEAD #1 (MR)

$1.00

IMA

24,333

88

39.67

TITANS #23

$2.99

DC

24,260

89

37.90

SECRET SIX #19

$2.99

DC

23,181

90

37.67

HERCULES FALL OF AN AVENGER #1

$3.99

MAR

23,036

91

36.68

PUNISHERMAX #5 (MR)

$3.99

MAR

22,435

92

36.45

STAND SOUL SURVIVORS #5

$3.99

MAR

22,294

93

36.44

PUNISHER #15

$2.99

MAR

22,285

94

36.01

BOYS #40 (MR)

$2.99

DYN

22,022

95

35.81

DEADPOOL CORPS RANK AND FOUL #1

$3.99

MAR

21,900

96

35.39

GUARDIANS OF GALAXY #24

$2.99

MAR

21,643

97

35.28

WEB OF SPIDER-MAN #6 GNTLT

$3.99

MAR

21,574

98

35.00

NOVA #35

$2.99

MAR

21,407

99

34.88

GREEN HORNET YEAR ONE #1

$3.99

DYN

21,330

100

34.49

STEPHEN KINGS N #1

$3.99

MAR

21,092

101

34.01

POWER GIRL #10

$2.99

DC

20,801

102

33.50

HAUNT #6

$2.99

IMA

20,489

103

33.46

BRAVE AND THE BOLD #32

$2.99

DC

20,466

104

33.01

BOOSTER GOLD #30

$2.99

DC

20,187

105

32.71

FABLES #93 (MR)

$2.99

DC

20,003

106

32.41

X-MEN ORIGINS NIGHTCRAWLER #1

$3.99

MAR

19,818

107

32.36

STAR WARS LEGACY #46 MONSTER PT 4

$2.99

DAR

19,790

108

32.10

OUTSIDERS #28

$2.99

DC

19,632

109

31.71

SUPERMAN 80 PAGE GIANT #1

$5.99

DC

19,391

110

31.22

VENGEANCE OF MOON KNIGHT #6

$2.99

MAR

19,094

111

31.06

CLOAK AND DAGGER #1

$3.99

MAR

18,998

112

31.01

PETER PARKER #1

$3.99

MAR

18,963

113

30.89

SPAWN #196

$2.99

IMA

18,893

114

30.33

X-FACTOR FOREVER #1

$3.99

MAR

18,550

115

30.31

ANGEL #31

$3.99

IDE

18,538

116

29.74

REALM OF KINGS INHUMANS #5

$3.99

MAR

18,187

117

29.65

CONAN THE CIMMERIAN #19 LINSNER CVR

$2.99

DAR

18,131

118

29.35

WOLVERINE MR X #1

$3.99

MAR

17,947

119

28.90

JOE THE BARBARIAN #3 (MR)

$2.99

DC

17,672

120

28.23

REALM OF KINGS IMPERIAL GUARD #5

$3.99

MAR

17,267

121

28.12

REALM OF KINGS SON OF HULK #2

$3.99

MAR

17,195

122

27.42

POWERS #3 (MR)

$3.95

MAR

16,768

123

27.23

BATMAN CONFIDENTIAL #42

$2.99

DC

16,652

124

26.95

AVENGERS VS ATLAS #3

$3.99

MAR

16,482

125

26.46

X-MEN FOREVER #19

$3.99

MAR

16,183

126

26.43

PUNISHER MAX BUTTERFLY #1 (MR)

$4.99

MAR

16,164

127

26.15

X-MEN FOREVER #20

$3.99

MAR

15,990

128

25.48

SHE-HULK SENSATIONAL #1

$4.99

MAR

15,583

129

25.00

GUILD #1

$3.50

DAR

15,292

130

24.99

CINDERELLA FROM FABLETOWN WITH LOVE #5 (MR)

$2.99

DC

15,285

131

24.76

CAPTAIN AMERICA MGC #1

$1.00

MAR

15,140

132

23.80

THOR MGC #1

$1.00

MAR

14,554

133

23.37

CRIMINAL SINNERS #5 (MR)

$3.50

MAR

14,292

134

23.21

DOOM PATROL #8

$2.99

DC

14,197

135

22.29

UNWRITTEN #11 (MR)

$2.99

DC

13,630

136

22.25

GI JOE #15

$3.99

IDE

13,607

137

22.14

TWELVE SPEARHEAD #1

$3.99

MAR

13,543

138

22.06

GIRL COMICS #1

$4.99

MAR

13,491

139

21.73

GI JOE #16

$3.99

IDE

13,288

140

21.45

ASTRO CITY THE DARK AGE BOOK FOUR #2

$3.99

DC

13,118

141

21.35

IRREDEEMABLE #12

$3.99

BOO

13,058

142

21.05

BPRD KING OF FEAR #3

$2.99

DAR

12,874

143

21.04

CHEW #9 (MR)

$2.99

IMA

12,866

144

20.66

SPIDER-MAN AND SECRET WARS #4

$2.99

MAR

12,637

145

20.65

ASTRO CITY THE DARK AGE BOOK FOUR #3

$3.99

DC

12,630

146

20.28

SIEGE #1 DIRECTORS CUT

$4.99

MAR

12,402

147

20.23

CROSSED #9 (MR)

$4.99

AVA

12,374

148

19.77

EX MACHINA #48 (MR)

$2.99

DC

12,093

149

19.67

WONDERFUL WIZARD OF OZ MGC #1

$1.00

MAR

12,032

150

19.61

TRANSFORMERS ONGOING #5

$3.99

IDE

11,994

151

19.52

WITCHBLADE #135

$2.99

IMA

11,935

152

19.45

TORCH #6

$3.99

MAR

11,896

153

19.42

JACK OF FABLES #43 (MR)

$2.99

DC

11,878

154

19.36

X-MEN PIXIE STRIKES BACK #2

$3.99

MAR

11,839

155

19.34

AZRAEL #6

$2.99

DC

11,825

156

19.21

INCORRUPTIBLE #4

$3.99

BOO

11,749

157

18.91

JONAH HEX #53

$2.99

DC

11,565

158

18.76

JACK OF FABLES #44 (MR)

$2.99

DC

11,472

159

18.58

REBELS #14

$2.99

DC

11,362

160

18.41

SWORD #5 (MARVEL)

$2.99

MAR

11,259

161

18.06

GI JOE ORIGINS #13

$3.99

IDE

11,043

162

17.59

SPIDER-MAN NOIR EYES WITHOUT A FACE #4

$3.99

MAR

10,756

163

17.49

SUPERGOD #3 (MR)

$3.99

AVA

10,695

164

17.33

TERMINATOR #1

$3.50

DAR

10,601

165

17.27

GI JOE COBRA II #3

$3.99

IDE

10,562

166

17.13

PUNISHER MAX MGC #1 (MR)

$1.00

MAR

10,478

167

17.01

GFT PRESENTS NEVERLAND #1

$2.99

ZEN

10,401

168

16.99

QUEEN SONJA #5

$2.99

DYN

10,393

169

16.83

HELLBLAZER #265 (MR)

$2.99

DC

10,295

170

16.67

ESCAPE FROM WONDERLAND #5

$2.99

ZEN

10,193

171

16.59

THE MYSTIC HANDS OF DR STRANGE #1

$3.99

MAR

10,148

172

16.53

ANGEL SPECIAL LORNE (ONE SHOT)

$7.99

IDE

10,110

173

16.47

X-MEN NOIR MARK OF CAIN #4

$3.99

MAR

10,070

174

16.14

DAYTRIPPER #4 (MR)

$2.99

DC

9,872

175

16.14

BREAKING INTO COMICS THE MARVEL WAY #1

$3.99

MAR

9,871

176

16.09

GOD OF WAR #1 (MR)

$3.99

DC

9,842

177

15.97

ESCAPE FROM WONDERLAND #6

$2.99

ZEN

9,769

178

15.89

SWEET TOOTH #7 (MR)

$2.99

DC

9,718

179

15.77

MASS EFFECT REDEMPTION #3

$3.50

DAR

9,645

180

15.47

CYBERFORCE HUNTER KILLER #5

$2.99

IMA

9,464

181

15.46

ANITA BLAKE LC EXECUTIONER #5 (MR)

$3.99

MAR

9,454

182

15.35

DEATHLOK #5

$3.99

MAR

9,387

183

15.33

TERRY MOORES ECHO #20

$3.50

ABS

9,378

184

15.29

HOUSE OF MYSTERY #23 (MR)

$2.99

DC

9,350

185

14.93

BREAKING INTO COMICS THE MARVEL WAY #2

$3.99

MAR

9,129

186

14.72

NEMESIS THE IMPOSTORS #1

$2.99

DC

9,005

187

14.58

GRIMM FAIRY TALES #45

$2.99

ZEN

8,916

188

14.43

GRIMM FAIRY TALES #44

$2.99

ZEN

8,824

189

14.42

GI JOE OPERATION HISS #2

$3.99

IDE

8,818

190

14.42

MARVEL BOY URANIAN #3

$3.99

MAR

8,817

191

14.41

TRANSFORMERS NEFARIOUS #1

$3.99

IDE

8,810

192

14.20

HALO BLOOD LINE #4 (MR)

$3.99

MAR

8,683

193

14.07

FATHOM #10

$2.99

ASP

8,602

194

14.06

TRANSFORMERS BUMBLEBEE #4

$3.99

IDE

8,601

195

13.99

LOCKJAW AND THE PET AVENGERS UNLEASHED #1

$2.99

MAR

8,554

196

13.78

WARLORD #12

$2.99

DC

8,430

197

13.74

HUMAN TARGET #2

$2.99

DC

8,403

198

13.65

ANGEL #30

$3.99

IDE

8,350

199

13.57

RASL #7 (MR)

$3.50

CAR

8,301

200

13.43

SPARTA USA #1

$2.99

DC

8,214

201

13.39

MADAME XANADU #21 (MR)

$2.99

DC

8,191

202

13.33

RED SONJA WRATH OF THE GODS #2

$3.99

DYN

8,155

203

13.28

MAGOG #7

$2.99

DC

8,119

204

13.24

TAROT WITCH OF THE BLACK ROSE #61 (MR)

$2.95

BRO

8,096

205

13.18

INVINCIBLE IRON MAN MGC #1 (BUNDLE OF 25)

$10.00

MAR

8,062

206

12.96

SONIC THE HEDGEHOG #210

$2.50

ARC

7,925

207

12.89

EXECUTIVE ASSISTANT IRIS #4

$2.99

ASP

7,885

208

12.88

TINY TITANS #26

$2.50

DC

7,878

209

12.84

TRANSFORMERS LAST STAND O/T WRECKERS #3

$3.99

IDE

7,855

210

12.81

DARKNESS #83 (MR)

$2.99

IMA

7,834

211

12.79

NORTHLANDERS #26 (MR)

$2.99

DC

7,824

212

12.73

SONIC THE HEDGEHOG #211

$2.50

ARC

7,786

213

12.72

AUTHORITY #20

$2.99

DC

7,781

214

12.54

BLACK TERROR #9

$3.50

DYN

7,668

215

12.26

TALISMAN ROAD OF TRIALS #5

$3.99

RAN

7,497

216

12.24

ANGEL HOLE IN THE WORLD #4

$3.99

IDE

7,485

217

12.02

SIMPSONS COMICS #164

$2.99

BON

7,351

218

11.93

SWORD #22 (MR)

$2.99

IMA

7,294

219

11.81

MILESTONE FOREVER #2

$5.99

DC

7,221

220

11.71

CHOKER #2 (MR)

$3.99

IMA

7,160

221

11.63

SWORD #23 (MR)

$2.99

IMA

7,115

222

11.46

LOCKE & KEY CROWN OF SHADOWS #4

$3.99

IDE

7,010

223

11.43

DOCTOR WHO ONGOING #9

$3.99

IDE

6,991

224

11.35

AUTHORITY THE LOST YEAR #7

$2.99

DC

6,942

225

11.33

SOULFIRE VOLUME TWO #3

$2.99

ASP

6,928

226

11.28

SOLOMON KANE DEATHS BLACK RIDERS #3

$3.50

DAR

6,899

227

11.27

WAKING #1

$3.99

ZEN

6,894

228

11.23

GROO HOGS OF HORDER #4

$3.99

DAR

6,865

229

11.18

DMZ #51 (MR)

$2.99

DC

6,840

230

11.09

SIEGE #2

$3.99

MAR

6,781

231

11.06

SUPERNATURAL BEGINNINGS END #3

$2.99

DC

6,764

232

10.87

SCALPED #36 (MR)

$2.99

DC

6,648

233

10.82

SONIC UNIVERSE #14

$2.50

ARC

6,617

234

10.80

GREEK STREET #9 (MR)

$2.99

DC

6,603

235

10.75

DEMO VOL 2 #2 (MR)

$2.99

DC

6,573

236

10.72

GREAT TEN #5

$2.99

DC

6,555

237

10.61

WILDCATS #21

$2.99

DC

6,491

238

10.55

COMPLETE ALICE IN WONDERLAND #3

$4.99

DYN

6,453

239

10.53

A-TEAM SHOTGUN WEDDING #1

$3.99

IDE

6,442

240

10.52

WAKING #2

$3.99

ZEN

6,431

241

10.42

IRON MAN 2 SPOTLIGHT #1

$3.99

MAR

6,373

242

10.40

DO ANDROIDS DREAM OF ELECTRIC SHEEP #9

$3.99

BOO

6,360

243

10.28

VICTORIAN UNDEAD #5

$2.99

DC

6,285

244

10.15

BATMAN THE BRAVE AND THE BOLD #15

$2.50

DC

6,208

245

10.01

ROBERT JORDAN WHEEL OF TIME #1

$3.99

DYN

6,123

246

9.96

DO ANDROIDS DREAM OF ELECTRIC SHEEP #10

$3.99

BOO

6,092

247

9.85

FUTURAMA COMICS #48

$2.99

BON

6,021

248

9.69

WWE HEROES #1

$3.99

TIT

5,926

249

9.49

GARTH ENNIS BATTLEFIELDS #4 FIREFLY PART 1 (MR)

$3.50

DYN

5,805

250

9.49

STREET FIGHTER LEGENDS IBUKI #1

$3.95

UDO

5,803

251

9.26

ZORRO #20

$3.50

DYN

5,664

252

9.24

CONAN LEGACY FRAZETTA COVER #4

$6.99

DAR

5,653

253

9.23

HACK SLASH SERIES #30 (MR)

$3.50

DEV

5,647

254

9.19

STAR TREK MOVIE ADAPTATION #2

$3.99

IDE

5,622

255

9.17

UNKNOWN SOLDIER #18 (MR)

$2.99

DC

5,611

256

9.15

FARSCAPE ONGOING #5

$3.99

BOO

5,594

257

9.12

SAVAGE DRAGON #158

$3.50

IMA

5,578

258

9.10

SHIELD #7

$3.99

DC

5,568

259

8.83

SUPER HERO SQUAD #3

$2.99

MAR

5,399

260

8.82

JERICHO SEASON 3 #3

$3.99

DEV

5,392

261

8.76

STAR TREK TNG GHOSTS #5

$3.99

IDE

5,356

262

8.61

AIR #19 (MR)

$2.99

DC

5,268

263

8.61

STAR TREK DS9 FOOLS GOLD #4

$3.99

IDE

5,263

264

8.58

ROBOCOP #3 (MR)

$3.50

DYN

5,248

265

8.55

INCREDIBLES #6

$2.99

BOO

5,230

266

8.48

28 DAYS LATER #8

$3.99

BOO

5,186