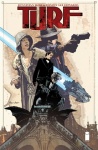 If all goes according to plan, BBC presenter-turned-comic book writer Jonathan Ross' 4-issue Image Comics mini-series Turf will be adapted into a movie directed by Matthew Vaughn. Vaughn's independently-made version of Mark Millar's Kick-Ass, which was co-scripted by Vaughn and Jonathan Ross' wife Jane Goldman, opens in North America on April 16th. Goldman also worked with Vaughn on the adaptation of Neil Gaiman's Stardust, so there's little doubt that Vaughn should have the inside track on creating a movie based on Turf, a prohibition-era romp featuring gangsters, vampires and aliens.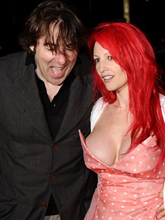 In a lengthy interview with the
Guardian
, Ross talks with obvious passion about his love of comic books (he named his only son "Harvey Kirby Ross" in an obvious homage to comics creators Harvey Kurtzman and Jack Kirby).
Though Ross is extremely well known in the
U.K.
thanks to his exposure on the BBC, he has a much lower profile here in the
U.S.
In the interview with the Guardian, which was conducted in North Carolina at the home of Ross'
Turf
collaborator Tommy Lee Edwards, the team explains that, in spite of an offer from Marvel to publish
Turf,
they chose Image because with Marvel "it's all commercially driven, whereas the guys at Image were just so in to it."