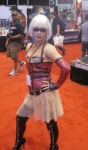 The attendance at Reed Exhibitions' inaugural C2E2 comic and pop culture show in Chicago was around 27,500, according to Reed Vice President Lance Fensterman after the show. That's a count of unique attendees, meaning that one person attending all three days is counted as one (rather than three in turnstile counts). Around 1100 kids attended on Sunday as part of the show's Kids Day promotion.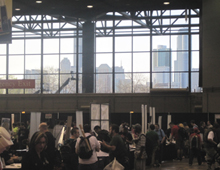 The
McCormick Place
venue on
Chicago
's lakefront was a big hit, with the natural light from the huge windows on all sides of the exhibit hall brightening spirits for the exhibiting road warriors more used to spending time in windowless convention centers. The show used only one of the four buildings that make up
McCormick Place
, the largest convention center in the country, but still had plenty of room for wide aisles, queuing areas, places to sit while eating or taking a break, and buffer areas around high traffic zones.
"We felt it was an excellent launch," Fensterman said.
"For the last year this show has been a theory.
For the last three days people have been able to walk around and experience what the event, the concept, and the community are about, and now we can grow from here."
Exhibitor and dealer response was good, although sales were below expectations for some, according to Fensterman. "The majority of the exhibiting customers seem to understand and support what we're trying to do in Chicago," Fensterman said. The on-site exhibitor sign-up rate for next year's show was extremely high, he indicated.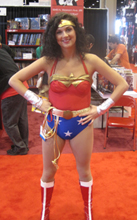 The launch of C2E2 immediately puts it in the top ranks of comic/pop culture shows, trailing only San Diego Comic-Con (126,000+), New York Comic Con (75,000+), and WonderCon (39,000).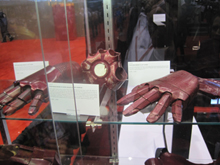 C2E2's attendance was between 15% and 20% less than the first year of Reed's New York Comic Con, which maxed out at 33,000 people in 2006.
The population of the
Chicago
metro area is around half that of
New York
's.