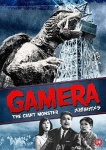 Shout! Factory will release new editions of the first Gamera and G.I. Joe films this summer. Gamera, the Giant Monster will street on DVD on May 18th. It will be released for the first time in the U.S. in unedited form, with subtitles, from a new HD master. The DVD package will include a 12-page booklet with an essay by director Noriaki Yuasa, photos, etc., all priced to move at $19.93. The second Gamera film, Gamera vs. Barugon, will be released on July 6th.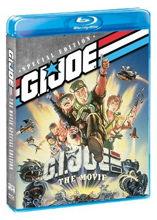 G.I. Joe:

A Real American Hero—The Movie

will street on DVD and Blu-Ray on July 27th.

The animated feature was made in 1987 and has long been out of print.

Voice talent includes Don Johnson, Burgess Meredith, and fan favorites Bill Ratner, Michael Bell and Chris Latta.

The 2-disc Blu-ray + DVD combo pack includes PSAs, printable screenplay, and audio commentary, all for $26.97; the single-disc version retails for $16.97.