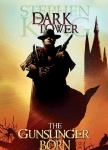 Stephen King's magnum opus The Dark Tower, which spans seven massive novels, won't be the next project for Lost producer Damon Lindelof. In fact, Lindelof and J.J. Abrams' Bad Robot Productions have returned the rights to the epic saga to King. A year ago The Dark Tower was a key component of the deal between Bad Robot and Paramount with Lindelof reportedly chomping at the bit to adapt the King saga as soon as his chores on Lost were done (see "Lindelof to Tackle Dark Towers").
According to The Hollywood Reporter, Ron Howard and Brian Grazer of Imagine Entertainment and their house screenwriter Akiva Goldsman "are teaming up to tackle the fantasy western." The plan is to begin the massive adaptation process with a movie that will be written by Goldsman, directed by Howard and released by Universal. The movie would be followed by TV series produced by Imagine's TV division.
Conceived as an epic hybrid that melds the spaghetti western with a Tolkien-style fantasy saga, The Dark Tower is currently being adapted into a very successful comic book series published by Marvel.