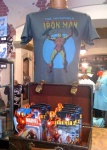 D Street, a Downtown Disney store at the Disneyland Resort, is the first Disneyland venue to offer Marvel merchandise since the acquisition, according to the Orange County Register.

The D Street Website offers confirmation that it is offering Junk Food Marvel t-shirts, action figures, and other Marvel merchandise.
D Street is a retail store offering "urban" Disney merchandise, skatewear, other edgier fare.
This is undoubtedly only a small step toward integrating Marvel's offerings into the retail at the parks and in Disney's retail chain, areas where Disney's expertise and footprint can help expose Marvel brands to a new audience.