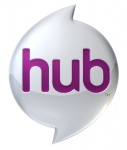 The Hub, the channel formed from Discovery Kids with Hasbro (see "New Channel The Hub"), has announced the programming for its first season, which kicks off October 10th. It includes a show based on Hasbro's Family Game Night events, a G.I. Joe series, and a new series based on The 99.
Family Game Night will be a one hour, live action game show with kids and adults playing "classic Hasbro strategy games," including Cranium, Bop-It, and Connect4.
G.I. Joe Renegades is an animated show produced by Hasbro Studios.
And The 99 is an animated series based on the Teshkeel comic (see "'The 99' Gets Cartoon Series").