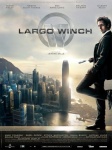 While it's true that the $130-million Tintin films that are being directed by Steven Spielberg and Peter Jackson are the biggest budgeted movies based on European comics currently in production, they are far from alone. One of the surprise hits of the recent Cannes Film Festival was Stephen Frears' Tamara Drewe, which is based on a comic by Posy Simmonds (see "Sony Snags Tamara Drewe"). Frears' movie, which stars Gemma Atherton (Prince of Persia, Quantum of Solace), stood out as a beacon of light-hearted wit among this year's crop of grim art movies shown at Cannes.
But there are a number of other movies based on continental comics in the offing. In addition to Luc Besson's The Extraordinary Adventures of Adele Blanc-Sec (see "Luc Besson to Adapt Tardi Graphic Novels"), which came out this spring and has already earned $15 million in France alone, there are a number of comic book-based sequels in production including a second Largo Winch film based on the series of graphic novels by Jan van Hamme (XIII) published here by Cinebook, and the fourth live-action film based on the Asterix comics by Goscinny and Uderzo.
Other projects include a $75 million remake of Fantomas, the venerable movie serial about a diabolical killer, a live-action adaptation of Persepolis creator Marjane Satrapi's Chicken with Plums, and an animated version of Joann Sfar's The Rabbi's Cat, which is published here by Pantheon.
As the Wall Street Journal reports, one of the most interesting trends in these Euro-comic productions is the creation of International editions in English, which makes export to America, whether for TV, theaters, or DVD, much easier. Largo Winch 2, which features American actress Sharon Stone and German actor Ulrich Tukur, is being made in both French and English versions, which is also the case for Fantomas, which will feature actors Jean Reno (The Pink Panther, The Da Vinci Code, Mission Impossible, Godzilla) and Vincent Cassel (Ocean's 12, Ocean's 13, Elizabeth, Eastern Promises, Shrek), who are both fairly well known to American audiences.