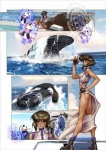 We recently asked Dark Horse's Lee Dawson for help in filling out our information on Ghost in the Shell 2. We'd previously reported that the manga was coming in October from Dark Horse (see 'Ghost in the Shell 2 Due in October'). We'd also reported that Bandai had acquired the US rights for the still uncompleted anime version (see 'Bandai Gets TV Ghost in the Shell'). We've since heard from Bandai that Ghost in the Shell will be appearing in Cartoon Network's Adult Swim block, and that production on the anime is wrapping up for an October release in Japan. With as much interest as both the manga and anime release are generating in North America, we wanted to get more information on the content and context of the manga. Dawson collected the answers below from the editor, the translator, and other sources.
Where was GIS 2 originally published in anthology format (what publication, over what period)? And were there also collections in Japan?
It was originally erratically serialized in Young Magazine from 1991, then Shirow added a lot of material for the limited hardcover contained in the 2001 Solid Box set (over 140 pages), then added and changed even more for the current paperback version (24 all-new color pages, plus more than 20 large modifications to existing pages).
The solicitation says that there were 100 new pages of material created since the original edition. Were those done for the Japanese collection, or for foreign editions?
There were in fact nearly 200 new pages created. All were created for the Japanese edition, but they were almost all further modified for the foreign editions, to account for the 'flipping' of the images. There were no radical changes or 'censoring' of any kind made to the 'foreign/flopped' edition, although Shirow did take the opportunity to improve several pages with modifications to the art or storytelling.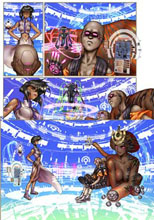 How many pages of this series are there, and how will the new pages be incorporated?
The volume is a total of 302 pages. Nearly 200 are new, and the remaining 150 ran in Young Magazine as part of the Man-Machine Interface series. However, many of these pages have been modified and/or rewritten by Shirow (There are also nearly 200 pages still remaining from the Young Magazine series. These may be incorporated into Ghost in the Shell 3). The new and previously published pages have been mixed, but a rough breakdown might be pages 1-100 are mostly new, then up to 230 are a mix, then the rest are mostly all new.
When will collections start coming out, and in what format?
GIS2 probably won't be collected until 2004; format options are still being considered.
What happened to the 'adult scene' we reported had been altered for US release? Are there going to be two Dark Horse versions of the same material at some point?
The DH edition will conform to the content of the current Kodansha collected edition, which is Shirow's 'final cut'. Shirow changed and added a great deal of material from the original serialization and even from the version collected in the Solid Box set. Shirow did excise some erotic material. There are no plans currently for two different versions.
How were sales of the manga in Japan?
At this point all I know is that the first printing was over 100,000 copies and there have been several reprints since then.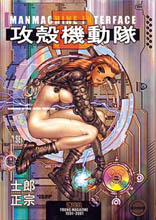 Why was GIS 1 important, and why is GIS 2 important?
Well, the impact of Shirow's work cannot be denied. He has been so widely copied one can almost speak of the 'Shirow Generation' of SF manga artists, both in Japan and in America. In Japan it had quite a impact because of the groundbreaking use of color and computer techniques. SF readers have loved Shirow's truly unique take on how technology impacts humanity.
How should retailers position this work to their customers?
Retailers should position this release as one of the most significant and high profile manga projects to be released in years. Anticipation level among fans is very high. They should let their customers know about the first Ghost in the Shell trade and let them know that a sequel to that landmark volume is on its way! Additionally, Shirow and Ghost in the Shell both have huge cult followings -- retailers should order accordingly!