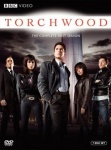 Starz Entertainment, BBC Worldwide, and BBC Cymru Wales will produce a new 10-episode Torchwood series which will air on pay channel Starz in the U.S. and on BBC in the UK. The new series will premiere in the summer of 2011.
Series creator Russell T. Davies will lead the writing team; Jack Barrowman will star as Captain Jack; and Eve Myles will star as Gwen. The cast will also include "new faces," according to the announcement. Storylines will widen to include settings in the U.S. and around the world.
BBC will distribute the series to other markets.
Torchwood was originally rumored to be going to Fox (see "U.S. version of Torchwood in Development"), but Starz got the deal.
Titan will launch a Torchwood comic series this summer (see "Torchwood Comic Series").