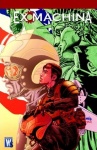 These are estimates of the sales on graphic novels by Diamond U.S. to comic specialty stores during May 2010.
For an overview and analysis of comic sales in May, see "
'Avengers' Launch Over 163K
."
For an analysis of the dollar trends in May, see "Comic Sales Turn Around in May."
For our estimates of actual sales by Diamond
U.S.
from comic specialty stores on comic books shipped during May, see "
Top 300 Comics Actual--May 2010
."
TOP 300 GNs -- May 2010

Rank

Index

Title

Price

Pub

Est.Qty

1

7.80

EX MACHINA TP VOL 09 RING OUT THE OLD (MR)

$14.99

DC

4,864

2

7.67

SWEET TOOTH TP VOL 01 OUT OF THE WOODS (MR)

$9.99

DC

4,782

3

7.51

INVINCIBLE TP VOL 12 STILL STANDING

$16.99

IMA

4,687

4

6.22

WALKING DEAD HC VOL 05

$34.99

IMA

3,878

5

6.04

SCALPED TP VOL 06 THE GNAWING (MR)

$14.99

DC

3,767

6

5.92

WEDNESDAY COMICS HC

$49.99

DC

3,694

7

5.76

DEADPOOL TP VOL 03 X MARKS SPOT

$15.99

MAR

3,594

8

5.73

HELLSING TP VOL 10

$13.99

DAR

3,575

9

5.59

INVINCIBLE IRON MAN TP VOL 03 MOST WANTED BOOK 2

$14.99

MAR

3,484

10

5.50

KICK ASS PREM HC (MR)

$24.99

MAR

3,429

11

5.13

INCORRUPTIBLE TP VOL 01 (MR)

$16.99

BOO

3,202

12

4.85

DONG XOAI VIETNAM 1965 HC

$24.99

DC

3,023

13

4.42

THOR LATVERIAN PROMETHEUS TP

$14.99

MAR

2,758

14

4.22

PRIDE PREJUDICE & ZOMBIES GN

$14.99

RAN

2,634

15

4.05

BENNY AND PENNY BIG NO NO HC

$12.95

RAW

2,524

16

3.88

WAR OF KINGS TP

$24.99

MAR

2,418

17

3.80

DARK TOWER TP GUNSLINGER BORN

$19.99

MAR

2,369

18

3.70

SUPERMAN NEW KRYPTON TP VOL 01

$17.99

DC

2,308

19

3.69

WALKING DEAD TP VOL 01 DAYS GONE BYE

$9.99

IMA

2,303

20

3.66

EXECUTOR HC (MR)

$19.99

DC

2,284

21

3.55

BATMAN STREETS OF GOTHAM HC VOL 01 HUSH MONEY

$19.99

DC

2,212

22

3.51

BATMAN LONG SHADOWS HC

$19.99

DC

2,187

23

3.50

AIR TP VOL 03 PURELAND (MR)

$14.99

DC

2,184

24

3.48

HULK PREM HC VOL 05 FALL OF HULKS

$19.99

MAR

2,171

25

3.47

TRANSMETROPOLITAN TP VOL 07 SPIDERS THRASH NEW ED (MR)

$14.99

DC

2,167

26

3.46

SCOTT PILGRIM GN VOL 01 PRECIOUS LITTLE LIFE

$11.99

ONI

2,159

27

3.44

X-MEN PSYLOCKE TP

$19.99

MAR

2,145

28

3.32

JONAH HEX WELCOME TO PARADISE TP

$17.99

DC

2,072

29

3.32

X-MEN ORIGINS TP

$19.99

MAR

2,068

30

3.28

INVINCIBLE GENE COLAN HC

$19.99

THE

2,044

31

3.19

INCREDIBLE HULK FALL OF HULKS PREM HC

$19.99

MAR

1,991

32

3.19

JUSTICE LEAGUE OF AMERICA SECOND COMING TP

$17.99

DC

1,989

33

3.19

DOC SAVAGE THE MAN OF BRONZE TP

$17.99

DC

1,988

34

3.17

DCS GREATEST IMAGINARY STORIES TP VOL 02

$19.99

DC

1,976

35

3.15

OH MY GODDESS RTL TP VOL 35

$10.99

DAR

1,963

36

3.07

X-MEN NATION X HC

$34.99

MAR

1,914

37

3.05

SAVAGE SWORD OF CONAN TP VOL 07

$19.99

DAR

1,902

38

3.02

SPIDER-MAN RED HEADED STRANGER TP

$14.99

MAR

1,881

39

3.01

WONDER WOMAN WARKILLER TP

$14.99

DC

1,878

40

2.88

GANTZ TP VOL 10

$12.99

DAR

1,797

41

2.85

CLASSIC GI JOE TP VOL 08

$24.99

IDW

1,777

42

2.82

JUSTICE SOCIETY OF AMERICA BAD SEED TP

$14.99

DC

1,757

43

2.79

SPIDER-MAN COMPLETE CLONE SAGA EPIC TP BOOK 02

$34.99

MAR

1,738

44

2.78

DARK X-MEN PREM HC

$19.99

MAR

1,736

45

2.77

SCOTT PILGRIM GN VOL 02 VS THE WORLD

$11.99

ONI

1,727

46

2.68

MMW AVENGERS HC VOL 10

$54.99

MAR

1,669

47

2.65

IRON MAN ARMOR WARS II TP

$29.99

MAR

1,655

48

2.61

CABLE TP VOL 03 STRANDED

$14.99

MAR

1,629

49

2.59

ESSENTIAL FANTASTIC FOUR TP VOL 08

$19.99

MAR

1,614

50

2.57

X-MEN FOREVER TP VOL 03 COME TO MOTHER RUSSIA

$16.99

MAR

1,601

51

2.55

STUFF OF LEGEND TP

$13.00

RAN

1,591

52

2.55

WARCRAFT SHADOW WING GN VOL 01 DRAGONS OF OUTLAND

$12.99

TOK

1,591

53

2.54

SUPERBOY THE BOY OF STEEL HC

$19.99

DC

1,584

54

2.53

SPIDER-WOMAN HC AGENT OF SWORD GN W/ MOTION DVD

$29.99

MAR

1,579

55

2.49

MMW AMAZING SPIDER-MAN TP VOL 04

$24.99

MAR

1,556

56

2.48

ANITA BLAKE PREM HC BOOK 03 LC EXECUTIONER (MR)

$19.99

MAR

1,549

57

2.47

EX MACHINA DELUXE EDITION HC VOL 03 (MR)

$29.99

DC

1,543

58

2.46

WARCRAFT MAGE GN WOW

$12.99

TOK

1,535

59

2.45

WORLD OF WARCRAFT ASHBRINGER TP

$14.99

DC

1,528

60

2.43

WALKING DEAD TP VOL 11 FEAR THE HUNTERS (MR)

$14.99

IMA

1,515

61

2.43

NOBODY TP (MR)

$14.99

DC

1,513

62

2.39

TALISMAN ROAD OF TRIALS HC VOL 01

$25.00

RAN

1,491

63

2.39

AVENGERS PREM HC RED ZONE

$24.99

MAR

1,491

64

2.37

SUPERGIRL FRIENDS AND FUGITIVES TP

$17.99

DC

1,479

65

2.34

MMW GOLDEN AGE CAPTAIN AMERICA HC VOL 04

$59.99

MAR

1,459

66

2.34

SCOTT PILGRIM GN VOL 04 GETS IT TOGETHER

$11.99

ONI

1,459

67

2.30

IRON MAN CAPTAIN AMERICA TP

$24.99

MAR

1,435

68

2.27

EERIE ARCHIVES HC VOL 03

$49.99

DAR

1,414

69

2.25

BILLY BATSON AND THE MAGIC OF SHAZAM TP

$12.99

DC

1,402

70

2.24

WALKING DEAD TP VOL 02 MILES BEHIND US (MR)

$12.99

IMA

1,399

71

2.19

SPIDER-MAN GAUNTLET PREM HC VOL 03 VULTURE & MORIBUS

$19.99

MAR

1,363

72

2.15

ATOMIC KNIGHTS HC

$39.99

DC

1,339

73

2.14

SPAWN ORIGINS TP VOL 05

$14.99

IMA

1,336

74

2.13

ONE PIECE TP VOL 48

$9.99

VIZ

1,330

75

2.13

ONE PIECE TP VOL 47

$9.99

VIZ

1,329

76

2.13

ONE PIECE TP VOL 46

$9.99

VIZ

1,328

77

2.12

ONE PIECE TP VOL 44

$9.99

VIZ

1,325

78

2.11

CAPTAIN MARVEL DEATH OF CAPTAIN MARVEL PREM HC

$24.99

MAR

1,317

79

2.10

ONE PIECE TP VOL 45

$9.99

VIZ

1,313

80

2.09

TITANS TP VOL 03 FRACTURED

$17.99

DC

1,306

81

2.08

WEATHERCRAFT HC

$19.99

FAN

1,299

82

2.08

CONAN HC VOL 08 BLACK COLOSSUS

$24.99

DAR

1,295

83

2.05

ANGEL AFTER THE FALL HC VOL 06 LAST ANGEL IN HELL

$29.99

IDW

1,279

84

2.04

SCOTT PILGRIM GN VOL 05 SP VS THE UNIVERSE

$11.95

ONI

1,274

85

2.03

DESTROYER TP (MR)

$19.99

MAR

1,265

86

2.01

BARRY WINDSOR SMITH CONAN ARCHIVES HC VOL 02

$49.99

DAR

1,256

87

2.00

SPIKE AFTER THE FALL TP VOL 01

$17.99

IDW

1,250

88

1.99

D GRAY MAN GN VOL 17 (MR)

$9.99

VIZ

1,243

89

1.99

NEGIMA GN VOL 26 (MR)

$10.99

RAN

1,241

90

1.98

TSUBASA GN VOL 26

$10.99

RAN

1,232

91

1.97

GARTH ENNIS BATTLEFIELDS TP VOL 04 HAPPY VALLEY (MR)

$12.99

DE

1,226

92

1.93

QUESTION TP VOL 06 THE PEACEMAKER

$19.99

DC

1,201

93

1.92

INU YASHA TP VOL 48

$9.99

VIZ

1,200

94

1.92

LEGION OF SUPER HEROES ENEMY MANIFEST TP

$14.99

DC

1,196

95

1.90

AVENGERS I AM AN AVENGER TP

$24.99

MAR

1,185

96

1.89

WALKING DEAD TP VOL 03 SAFETY BEHIND BARS

$14.99

IMA

1,179

97

1.89

LITTLE LULU TP VOL 23 BOGEY SNOWMAN

$14.99

DAR

1,178

98

1.83

DOCTOR VOODOO AVENGER OF SUPERNATURAL TP

$16.99

MAR

1,140

99

1.80

CODENAME KNOCKOUT TP VOL 01 THE DEVIL YOU SAY (MR)

$19.99

DC

1,122

100

1.80

OUTSIDERS THE HUNT TP

$14.99

DC

1,122

101

1.79

WALL-E TP VOL 01 RECHARGE

$9.99

BOO

1,118

102

1.78

Y THE LAST MAN TP VOL 01 UNMANNED

$12.99

DC

1,111

103

1.75

END LEAGUE TP VOL 02 WEATHERED STATUES

$16.99

DAR

1,093

104

1.74

I KILL GIANTS TP

$15.99

IMA

1,088

105

1.74

FORTUNE & GLORY A TRUE HOLLYWOOD COMIC BOOK GN HC

$19.99

MAR

1,085

106

1.73

MUPPET SHOW TP VOL 03 ON THE ROAD

$9.99

BOO

1,082

107

1.73

MARVEL ADVENTURES BLACK WIDOW & AVENGERS TP DIGEST

$9.99

MAR

1,080

108

1.73

RUNAWAYS ESCAPE TO NEW YORK TP

$14.99

MAR

1,078

109

1.72

NAOKI URASAWA 20TH CENTURY BOYS GN VOL 08

$12.99

VIZ

1,072

110

1.72

WALKING DEAD TP VOL 10 WHAT WE BECOME

$14.99

IMA

1,070

111

1.70

HOWARD CHAYKIN BLACK KISS HC (A)

$24.99

DE

1,062

112

1.70

LOSERS TP BOOK 01 (MR)

$19.99

DC

1,062

113

1.66

TOY STORY TP VOL 01 RETURN OF BUZZ LIGHTYEAR

$9.99

BOO

1,037

114

1.66

INCREDIBLES TP VOL 03 REVENGE FROM BELOW

$9.99

BOO

1,035

115

1.66

FABLES TP VOL 01 LEGENDS IN EXILE

$9.99

DC

1,034

116

1.65

BLACK BUTLER TP VOL 02

$10.99

HAC

1,031

117

1.61

ARCHIE AMERICANA SER TP VOL 10 BEST OF 70S BOOK 2

$11.95

ARC

1,006

118

1.59

WALKING DEAD TP VOL 09 HERE WE REMAIN (MR)

$14.99

IMA

989

119

1.55

SOULFIRE TP VOL 01 PART 02

$14.99

ASP

969

120

1.54

SPIDER-MAN REAL CLONE SAGA HC

$29.99

MAR

963

121

1.53

WALKING DEAD TP VOL 04 HEARTS DESIRE (MR)

$12.99

IMA

952

122

1.51

COWBOY NINJA VIKING TP (MR)

$17.99

IMA

942

123

1.51

CAPTAIN EASY HC VOL 01 SOLDIER OF FORTUNE

$39.99

FAN

939

124

1.50

JAMES BOND ADV TP VOL 01 SILVERFIN

$9.99

HAR

935

125

1.50

X-FACTOR PREM HC INVISIBLE WOMAN HAS VANISHED

$19.99

MAR

933

126

1.47

SUPER F$$$$$S TP (MR)

$14.95

TOP

920

127

1.45

SERENITY BETTER DAYS TP

$9.99

DAR

902

128

1.44

UNDERGROUND TP

$14.99

IMA

900

129

1.44

ROBOTECH PRELUDE TO THE SHADOW CHRONICLES TP

$17.99

DC

896

130

1.43

SERENITY THOSE LEFT BEHIND TP

$9.99

DAR

892

131

1.39

FLASH REBIRTH HC

$19.99

DC

869

132

1.38

CROSSED TP VOL 01 (MR)

$24.99

AVA

863

133

1.38

INCREDIBLE HERCULES PREM HC ASSAULT ON NEW OLYMPUS

$19.99

MAR

858

134

1.37

CHEW TP VOL 01 (MR)

$9.99

IMA

853

135

1.36

GHOUL HC

$14.99

IDW

851

136

1.36

PROJECT SUPERPOWERS MEET THE BAD GUYS TP

$16.99

DE

848

137

1.36

HP LOVECRAFT CALL OF CTHULHU GN

$9.99

TRA

846

138

1.35

AVENGERS WEST COAST AVENGERS ASSEMBLE PREM HC

$29.99

MAR

844

139

1.34

HIKARU NO GO TP VOL 19

$9.99

VIZ

838

140

1.33

ART OF BLADE THE IMMORTAL HC

$29.99

DAR

832

141

1.33

INVINCIBLE IRON MAN TP VOL 02 WORLDS MOST WANTED

$14.99

MAR

832

142

1.33

SQUEE TP

$15.95

SLA

831

143

1.33

WALKING DEAD TP VOL 05 BEST DEFENSE (NEW PTG)

$14.99

IMA

830

144

1.33

AMAZON HC

$14.99

DAR

827

145

1.32

LAST AIRBENDER MOVIE PREQUEL GN

$10.99

RAN

822

146

1.31

CODE GEASS KNIGHT GN VOL 01

$10.99

BAN

818

147

1.30

RIP KIRBY HC VOL 02

$49.99

IDW

814

148

1.30

BATMAN AND ROBIN DELUXE HC VOL 01 BATMAN REBORN

$24.99

DC

813

149

1.30

DREADSTAR THE BEGINNING HC

$29.99

DE

811

150

1.30

PREACHER TP VOL 01 GONE TO TEXAS NEW EDITION (MR)

$14.99

DC

811

151

1.30

JEFF SMITH LITTLE MOUSE GETS READY HC

$12.95

RAW

809

152

1.30

BONE HANDBOOK SC

$9.99

SCH

808

153

1.29

WALKING DEAD TP VOL 08 MADE TO SUFFER (MR)

$14.99

IMA

806

154

1.28

SHAMAN KING TP VOL 28

$9.99

VIZ

797

155

1.26

IRON MAN ART OF IRON MAN 2 HC

$49.99

MAR

785

156

1.23

MADMAN ATOMIC COMICS TP VOL 03 ELECTRIC ALLEGORIES

$19.99

IMA

770

157

1.23

BIOMEGA GN VOL 02 (MR)

$12.99

VIZ

769

158

1.22

WOLVERINE HC OLD MAN LOGAN

$34.99

MAR

763

159

1.21

CARS TP VOL 03 RALLY RACE

$9.99

BOO

755

160

1.20

CHOBITS ART BOOK YOUR EYES ONLY GN

$17.99

TOK

750

161

1.18

RIN-NE GN VOL 03

$9.99

VIZ

738

162

1.17

ALICE I/T COUNTRY OF HEARTS GN VOL 03

$10.99

TOK

731

163

1.17

TORPEDO HC VOL 02

$24.99

IDW

730

164

1.16

KRAZY AND IGNATZ TP 1916-1918

$24.99

FAN

724

165

1.15

NEGIMA NEO GN VOL 05 (MR)

$10.99

RAN

720

166

1.15

WALKING DEAD TP VOL 06 SORROWFUL LIFE (NEW PTG)

$14.99

IMA

718

167

1.15

FABLES TP VOL 13 THE GREAT FABLES CROSSOVER (MR)

$17.99

DC

717

168

1.15

Y THE LAST MAN TP VOL 02 CYCLES (MR)

$12.99

DC

717

169

1.15

MAIDEN ROSE GN VOL 01 (MR)

$12.95

DIG

715

170

1.14

STAR TREK MOTION PICTURE TRILOGY TP

$24.99

IDW

713

171

1.12

WALKING DEAD TP VOL 07 THE CALM BEFORE (MR)

$12.99

IMA

700

172

1.12

MARVEL 1602 SPIDER-MAN PREM HC

$19.99

MAR

699

173

1.11

TWILIGHT MANGA GN VOL 01

$19.99

HAC

694

174

1.11

GI JOE DISAVOWED TP VOL 01

$19.99

IDW

691

175

1.10

TROJAN WAR TP GN

$14.99

MAR

684

176

1.09

BATMAN DARK KNIGHT RETURNS TP

$14.99

DC

681

177

1.09

ESSENTIAL X-MEN TP VOL 03

$19.99

MAR

677

178

1.08

ALIEN LEGION OMNIBUS TP VOL 02

$24.99

DAR

671

179

1.07

DOCTOR WHO CLASSICS OMNIBUS TP VOL 01

$24.99

IDW

669

180

1.07

ERB JOHN CARTER OF MARS JESSE MARSH YEARS HC

$29.99

DAR

668

181

1.05

WATCHMEN TP

$19.99

DC

657

182

1.05

V FOR VENDETTA TP

$19.99

DC

654

183

1.05

RUNAWAYS LIVE FAST PREM HC

$19.99

MAR

652

184

1.04

KOBATO GN VOL 02

$11.99

HAC

646

185

1.03

SANDMAN TP VOL 01 PRELUDES & NOCTURNES

$19.99

DC

645

186

1.02

DANCE IN THE VAMPIRE BUND GN VOL 07 (MR)

$10.99

ST.

638

187

1.01

LIBERTY MEADOWS TP VOL 01 EDEN (NEW PTG)

$14.99

IMA

632

188

1.01

PANDORA HEARTS GN VOL 02

$10.99

HAC

630

189

1.00

GUNDAM 00F GN VOL 03

$10.99

BAN

621

190

0.98

BATMAN HUSH COMPLETE TP

$24.99

DC

614

191

0.98

LUIS ROYO DEAD MOON HC VOL 02 EPILOGUE

$29.95

HEA

611

192

0.96

Y THE LAST MAN TP VOL 03 ONE SMALL STEP (MR)

$12.99

DC

600

193

0.96

FABLES TP VOL 02 ANIMAL FARM

$12.99

DC

600

194

0.95

BATMAN THE LONG HALLOWEEN TP

$19.99

DC

590

195

0.92

DEADMAN WONDERLAND GN VOL 02

$10.99

TOK

575

196

0.92

BLACK BIRD GN VOL 04

$9.99

VIZ

574

197

0.92

100 BULLETS TP VOL 01 FIRST SHOT LAST CALL

$9.99

DC

573

198

0.91

BOYS TP VOL 06 SELF-PRESERVATION SOCIETY (MR)

$19.99

DE

565

199

0.90

GAKUEN ALICE GN VOL 11

$10.99

TOK

562

200

0.90

COMPLETE ZOMBIES VS ROBOTS TP

$19.99

IDW

560

201

0.89

INVINCIBLE HC VOL 05 ULTIMATE COLL

$34.99

IMA

553

202

0.88

GREEN LANTERN REBIRTH TP NEW EDITION

$14.99

DC

552

203

0.88

MOUSE GUARD HC VOL 01 FALL 1152 W/ DUST JACKET

$24.95

ARA

546

204

0.87

POWER PACK CLASSIC TP VOL 02

$29.99

MAR

540

205

0.86

BOYS TP VOL 01 NAME OF THE GAME (MR)

$16.99

DE

537

206

0.86

NEKO RAMEN VOL 01 HEY ORDER UP

$10.99

TOK

537

207

0.86

ELEPHANTMEN HC VOL 03 DANGEROUS LIAISONS

$34.99

IMA

534

208

0.86

Y THE LAST MAN TP VOL 04 SAFEWORD (MR)

$12.99

DC

534

209

0.85

OTOMEN GN VOL 06

$9.99

VIZ

532

210

0.85

PREACHER TP VOL 02 UNTIL THE END OF THE WORLD NEW EDITION (M

$14.99

DC

530

211

0.84

UNWRITTEN TP VOL 01 TOMMY TAYLOR BOGUS IDENTITY TP (MR)

$9.99

DC

527

212

0.84

HAUNT TP VOL 01

$9.99

IMA

524

213

0.84

TRANSMETROPOLITAN TP VOL 01 BACK ON THE STREET (MR)

$14.99

DC

523

214

0.84

GRIMM FAIRY TALES TP VOL 01

$15.99

ZEN

521

215

0.83

BUCK ROGERS HC VOL 01 FUTURE SHOCK

$24.99

DE

518

216

0.82

JAMES BOND TP NIGHTBIRD

$19.95

TIT

511

217

0.81

FRUITS BASKET ULTIMATE ED GN VOL 05

$14.99

TOK

507

218

0.81

Y THE LAST MAN DELUXE EDITION HC VOL 01 (MR)

$29.99

DC

506

219

0.81

BATMAN YEAR ONE DELUXE SC

$14.99

DC

505

220

0.81

BATMAN THE KILLING JOKE SPECIAL ED HC

$17.99

DC

504

221

0.80

COMPLETE LITTLE ORPHAN ANNIE HC VOL 05

$49.99

IDW

500

222

0.80

FABLES TP VOL 03 STORYBOOK LOVE (MR)

$14.99

DC

498

223

0.80

KOBATO GN VOL 01

$11.99

HAC

498

224

0.79

ARKHAM ASYLUM ANNIVERSARY ED SC (MR)

$17.99

DC

495

225

0.79

DARKSTALKERS TP VOL 01

$12.99

UDO

491

226

0.78

SAYONARA ZETSUBO SENSEI GN VOL 06

$10.99

RAN

489

227

0.77

ALL STAR SUPERMAN TP VOL 01

$12.99

DC

483

228

0.77

BTVS SEASON 8 TP VOL 06 RETREAT

$15.99

DAR

479

229

0.77

FLOWER IN STORM TP VOL 01

$9.99

VIZ

478

230

0.76

IKIGAMI ULTIMATE LIMIT GN VOL 05 (MR)

$12.99

VIZ

475

231

0.75

MY GIRLFRIENDS A GEEK GN VOL 01

$10.99

HAC

468

232

0.75

Y THE LAST MAN TP VOL 08 KIMONO DRAGONS (MR)

$14.99

DC

466

233

0.74

CAPTAIN LONG EARS GN

$12.95

SLA

462

234

0.74

SATURN APARTMENTS TP VOL 01

$12.99

VIZ

461

235

0.74

BOYS TP VOL 05 HEROGASM (MR)

$19.99

DE

460

236

0.74

Y THE LAST MAN TP VOL 05 RING OF TRUTH (MR)

$14.99

DC

460

237

0.73

ALL STAR SUPERMAN TP VOL 02

$12.99

DC

457

238

0.73

JACK THE LANTERN WAR O/T SOUL TP (MR)

$5.95

CAS

457

239

0.73

TRANSFORMERS IDW COLLECTION HC VOL 01

$49.99

IDW

456

240

0.73

SHADOWHAWK CHRONICLES TP VOL 01

$19.99

IMA

456

241

0.72

A-TEAM SHOTGUN WEDDING TP

$17.99

IDW

452

242

0.72

FUTURE DIARY GN VOL 06 (MR)

$10.99

TOK

448

243

0.72

DMZ TP VOL 01 ON THE GROUND (MR)

$9.99

DC

448

244

0.72

GREEN LANTERN SINESTRO CORPS WAR TP VOL 01

$14.99

DC

447

245

0.71

SPICE AND WOLF GN VOL 01

$12.99

HAC

442

246

0.70

NOLA TP VOL 01

$16.99

BOO

437

247

0.70

THOR BY J MICHAEL STRACZYNSKI TP VOL 01

$14.99

MAR

437

248

0.70

SCALPED TP VOL 01 INDIAN COUNTRY (MR)

$9.99

DC

437

249

0.70

ZORRO TP VOL 02 CLASHING BLADES

$19.99

DE

434

250

0.70

SANDMAN TP VOL 02 THE DOLLS HOUSE

$19.99

DC

434

251

0.69

Y THE LAST MAN TP VOL 07 PAPER DOLLS (MR)

$14.99

DC

431

252

0.69

Y THE LAST MAN TP VOL 10 WHYS AND WHEREFORES (MR)

$14.99

DC

428

253

0.69

Y THE LAST MAN TP VOL 09 MOTHERLAND (MR)

$14.99

DC

428

254

0.68

A-TEAM WAR STORIES TP

$17.99

IDW

425

255

0.68

WONDERFUL WIZARD OZ HC

$29.99

MAR

422

256

0.68

FABLES TP VOL 12 THE DARK AGES (MR)

$17.99

DC

422

257

0.68

PREACHER TP VOL 03 PROUD AMERICANS NEW EDITION (MR)

$14.99

DC

422

258

0.67

GIN TAMA TP VOL 18

$9.99

VIZ

419

259

0.67

KINGDOM COME TP NEW EDITION

$17.99

DC

416

260

0.67

MOUSE GUARD HC VOL 02 WINTER 1152 W/ DUST JACKET

$24.95

ARA

415

261

0.66

GREEN LANTERN SINESTRO CORPS WAR TP VOL 02

$14.99