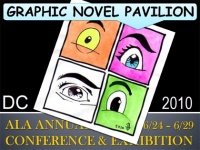 The American Library Association is planning an unprecedented amount of graphic novel-themed programming for its annual summer conference, which will be held in Washington D.C. from June 25-28th.
The ALA has set up a Graphic Novel and Gaming Pavilion where numerous events will be presented on Saturday and Sunday, while Monday has been designated "Graphic Novel Day" and will feature a number of key panels including the "YALSA Great Graphic Novels for Teens," a session of head-turning statistics showing "How Graphic Novels Can Save Your Library," a lively discussion on "Reading and Teaching Graphic Novels" featuring Peter Gutierrez who has developed teaching guides for Abrams, Bloomsbury USA, and Toon Books, and "Graphic Novel Editors: Masters of Design," a panel discussion with a number of key editors including David Saylor (Scholastic), Betsy Mitchell (Del Rey), Maggie Lehrman (Abrams), Margaret Maloney (Bloomsbury USA), and Glenn Kardy (Manga University).
But there will also be plenty of graphic novel programming on Saturday and Sunday. On Saturday IDW, Dark Horse, and Toon Books will all present previews of their latest offerings, and there will also be panels on "The Art of Graphic Novel Collection Development," "The Best Manga You're Not Reading," "How to Create Graphic Novel Events for Your School or Library," "The Science and Sociology of Superhero Comics," and "How to Stage Cosplay Events."
Sunday's Graphic Novel Pavilion programming will include presentations by W.W. Norton, Hermes Press, and Abrams along with creator panels featuring the Fillbach Brothers (Star Wars Clone Wars), Geoffrey Hayes (Benny & Penny), Tracy White (How I Made It to Eighteen), plus Barry Lyga and Colleen Doran (A Distant Soil), who will unveil their new graphic novel. The other key Sunday panel is "Judging the Eisners," which includes the five librarians who have been selected to the judges' committee for the most prestigious awards in comics.