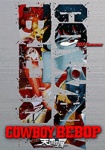 Interest in anime continues to expand as evidenced by the steady growth of attendance at a growing number of anime conventions. Anime Expo, one of the first American anime cons, which started back in 1992, has seen its attendance rise by a factor of almost 10 over its first decade of existence from around 1500 to over 15,000. Total attendance at all U.S. anime conventions may well reach 100,000 this year -- and the programming options are growing even faster than attendance figures. Take the example of this year's Big Apple Anime Fest/Anime Expo New York, which will take place over this Labor Day weekend in Times Square. Increasingly fans attending major anime events will have the option to see new and classic anime films projected on a big screen, where they are often followed by discussions with the filmmakers, who appear to be more eager than ever to attend conventions here in the States.
The Big Apple Lineup
For example, fans who attend this weekend's Big Apple/AX New York will be able to attend a number of 'American' premieres and see other titles, which will never receive a real theatrical release in this country, projected on the big screen. The BAAF includes the American debut of Cowboy Bebop: The Movie (the Friday screening is sold out, but a Saturday midnight show has been added) with director Shinichiro Watanabe and composer Yoko Kanno. Fans will also be able to catch Mobile Suit Gundam: Char's Counterattack on the big screen and then discuss the film with legendary director Yoshiyuki Tomino. There will also be a sneak preview of Satoshi Kon's Millenium Actress, the ground-breaking anime film that Dreamworks has acquired (see 'Dreamworks Acquires Anime Feature'), as well as a preview of the first episode of Ghost in The Shell: Stand Alone Complex, the new anime TV series that doesn't even debut in Japan until October (see 'Bandai Gets Ghost In the Shell TV Series'). Many other classics such as Perfect Blue and Grave of the Fireflies will also be shown at a festival that can only be described as an American otaku's wet dream come to life.
With such a powerful lineup of films -- and we have only scratched the surface here -- it should be interesting to see what the attendance figures are for this year's combined Big Apple Anime Fest/Anime Expo New York.

During the last decade interest in anime and manga has been growing steadily to the point where it may have reached the critical mass necessary to take the leap to the next level.

Exciting events like the BAAF/AXNY could provide the impetus for some major growth.