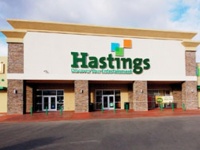 It may not be a true "nationwide" chain, but with Hastings Entertainment adding periodical comics to its product mix in up to 150 stores in 21 states, it's as close to a true national chain of comic book shops as the U.S. has ever gotten. The Amarillo-based chain sells, buys, resells, and rents a variety of media products including DVDs, video games, pop culture merchandise and music. The decline in CD sales has evidently prompted Hastings to add periodical comics to a product mix that already includes graphic novels—converting space that was previously given over to music to comics..
According to Rich Johnston's Bleeding Cool, initially nearly 130 Hastings stores will be receiving weekly comic shipments directly from Diamond Comic Distributors. Hastings has run a test operation at stores in Wichita Falls, Texas and St. Joseph, Missouri, and the results were successful enough to convince the chain retailer to create comic book sections in more than 125 stores. The Hastings' in-store comic boutiques will feature 32 linear feet of new comics, an equal amount of space devoted to back issues, and 44 linear feet of manga and graphic novels.
The typical Hastings outlet includes about 20,000 square feet of floor space and is situated in a strip mall. Hastings' outlets are primarily located in middle-sized cities in the southwest, the mountain west, as well as in the southern and western regions of the midwest in states like Texas, Oklahoma, Kansas, Missouri, Nebraska, Arkansas, Idaho, Kentucky, Tennessee, Louisiana, Montana, New Mexico, Colorado, Wyoming, Utah, Arizona, and Washington.
Hastings Entertainment has being buying graphic novels and pop culture merchandise from comic distributors for years, so the chain has plenty of experience buying non-returnable. The trick will be to create some sort of computer-aided, flexible method of centralized ordering that takes into account regional sales differences.