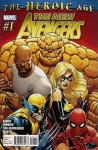 These are estimates of the sales on comic books by Diamond
U.S.
to comic specialty stores during June 2010.
For an overview and analysis of comic sales in June, see "Four Avengers in Top 10 in June."
For an analysis of the dollar trends in June, see "June Comic Sales Up 1%."
For our estimates of actual sales by Diamond
U.S.
from comic specialty stores on graphic novels shipped during June, see "
Top 300 Graphic Novels Actual--June 2010
."
| | | | | | |
| --- | --- | --- | --- | --- | --- |
| | | TOP 300 COMICS -- June 2010 | | | |
| Rank | Index | Title | Price | Pub | Est.Qty |
| 1 | 123.22 | NEW AVENGERS #1 | $3.99 | MAR | 129,084 |
| 2 | 100.00 | BATMAN #700 | $4.99 | DC | 104,755 |
| 3 | 94.30 | AVENGERS #2 HA | $3.99 | MAR | 98,788 |
| 4 | 87.96 | BATMAN RETURN OF BRUCE WAYNE #3 | $3.99 | DC | 92,140 |
| 5 | 82.03 | GREEN LANTERN #55 | $2.99 | DC | 85,930 |
| 6 | 81.92 | BRIGHTEST DAY #3 (*) | $2.99 | DC | 85,815 |
| 7 | 77.69 | BRIGHTEST DAY #4 (*) | $2.99 | DC | 81,384 |
| 8 | 74.40 | SECRET AVENGERS #2 | $3.99 | MAR | 77,933 |
| 9 | 72.62 | UNCANNY X-MEN #525 | $2.99 | MAR | 76,068 |
| 10 | 66.28 | AVENGERS PRIME #1 | $3.99 | MAR | 69,433 |
| 11 | 65.68 | FLASH #3 | $2.99 | DC | 68,804 |
| 12 | 64.50 | SUPERMAN #700 | $4.99 | DC | 67,571 |
| 13 | 63.63 | GREEN LANTERN CORPS #49 | $2.99 | DC | 66,652 |
| 14 | 62.60 | X-MEN LEGACY #237 | $2.99 | MAR | 65,578 |
| 15 | 59.91 | JUSTICE LEAGUE OF AMERICA #46 | $3.99 | DC | 62,754 |
| 16 | 58.93 | AMAZING SPIDER-MAN #634 | $3.99 | MAR | 61,736 |
| 17 | 55.05 | AMAZING SPIDER-MAN #633 | $2.99 | MAR | 57,670 |
| 18 | 54.84 | CAPTAIN AMERICA #606 | $3.99 | MAR | 57,443 |
| 19 | 54.76 | ASTONISHING X-MEN #34 | $2.99 | MAR | 57,363 |
| 20 | 53.88 | THOR #611 | $3.99 | MAR | 56,443 |
| 21 | 53.60 | AMAZING SPIDER-MAN #635 | $3.99 | MAR | 56,146 |
| 22 | 51.93 | GREEN ARROW #1 | $3.99 | DC | 54,400 |
| 23 | 51.48 | NEW MUTANTS #14 | $2.99 | MAR | 53,926 |
| 24 | 51.10 | WONDER WOMAN #600 | $4.99 | DC | 53,525 |
| 25 | 50.58 | CAPTAIN AMERICA #607 | $3.99 | MAR | 52,989 |
| 26 | 49.90 | INVINCIBLE IRON MAN #27 | $2.99 | MAR | 52,268 |
| 27 | 49.24 | NEMESIS #2 (MR) | $2.99 | MAR | 51,586 |
| 28 | 48.49 | ULTIMATE COMICS AVENGERS 2 #3 | $3.99 | MAR | 50,797 |
| 29 | 48.42 | HULK #23 | $4.99 | MAR | 50,724 |
| 30 | 47.35 | ULTIMATE COMICS AVENGERS 2 #4 | $3.99 | MAR | 49,606 |
| 31 | 44.35 | INCREDIBLE HULK #610 | $3.99 | MAR | 46,461 |
| 32 | 44.08 | DETECTIVE COMICS #866 | $3.99 | DC | 46,178 |
| 33 | 43.81 | AVENGERS ACADEMY #1 HA | $3.99 | MAR | 45,890 |
| 34 | 42.91 | ASTONISHING X-MEN XENOGENESIS #2 | $3.99 | MAR | 44,953 |
| 35 | 42.54 | ULTIMATE COMICS X #3 | $3.99 | MAR | 44,568 |
| 36 | 42.06 | BIRDS OF PREY #2 | $2.99 | DC | 44,064 |
| 37 | 41.31 | JUSTICE LEAGUE GENERATION LOST #3 | $2.99 | DC | 43,278 |
| 38 | 41.13 | DARK WOLVERINE #87 | $2.99 | MAR | 43,087 |
| 39 | 39.81 | JUSTICE LEAGUE GENERATION LOST #4 | $2.99 | DC | 41,702 |
| 40 | 39.12 | X-FACTOR #206 | $2.99 | MAR | 40,981 |
| 41 | 38.07 | INVINCIBLE IRON MAN ANNUAL #1 | $4.99 | MAR | 39,877 |
| 42 | 37.37 | ULTIMATE COMICS SPIDER-MAN #11 | $3.99 | MAR | 39,149 |
| 43 | 37.33 | LEGION OF SUPER HEROES #2 | $3.99 | DC | 39,102 |
| 44 | 36.91 | DEADPOOL #24 | $2.99 | MAR | 38,663 |
| 45 | 35.89 | SHIELD #2 | $2.99 | MAR | 37,595 |
| 46 | 34.97 | JUSTICE SOCIETY OF AMERICA #39 | $2.99 | DC | 36,630 |
| 47 | 34.92 | FANTASTIC FOUR #580 | $2.99 | MAR | 36,582 |
| 48 | 34.37 | JUSTICE SOCIETY OF AMERICA #40 | $2.99 | DC | 36,008 |
| 49 | 34.29 | RED ROBIN #13 | $2.99 | DC | 35,917 |
| 50 | 33.67 | SERENITY FLOAT OUT ONE SHOT | $3.50 | DAR | 35,266 |
| 51 | 33.52 | BATMAN BEYOND #1 | $2.99 | DC | 35,113 |
| 52 | 33.17 | ACTION COMICS #890 | $3.99 | DC | 34,744 |
| 53 | 33.17 | DAREDEVIL #507 | $2.99 | MAR | 34,744 |
| 54 | 33.12 | WOLVERINE ORIGINS #49 | $2.99 | MAR | 34,695 |
| 55 | 33.09 | ADVENTURE COMICS #12 | $3.99 | DC | 34,663 |
| 56 | 32.73 | THANOS IMPERATIVE #1 | $3.99 | MAR | 34,285 |
| 57 | 32.64 | RED HOOD LOST DAYS #1 | $2.99 | DC | 34,197 |
| 58 | 32.16 | X-MEN HELLBOUND #2 | $3.99 | MAR | 33,691 |
| 59 | 31.73 | SUPERMAN BATMAN ANNUAL #4 | $4.99 | DC | 33,240 |
| 60 | 31.58 | TITANS #24 | $2.99 | DC | 33,079 |
| 61 | 30.55 | THUNDERBOLTS #145 | $2.99 | MAR | 31,999 |
| 62 | 30.00 | SUPERMAN BATMAN #73 | $2.99 | DC | 31,425 |
| 63 | 29.36 | JUSTICE LEAGUE THE RISE OF ARSENAL #4 | $3.99 | DC | 30,753 |
| 64 | 29.18 | DEADPOOL MERC WITH A MOUTH #12 | $2.99 | MAR | 30,572 |
| 65 | 28.67 | WOLVERINE WEAPON X #14 | $3.99 | MAR | 30,035 |
| 66 | 28.22 | ZATANNA #2 | $2.99 | DC | 29,564 |
| 67 | 28.07 | DEADPOOL WADE WILSONS WAR #1 | $3.99 | MAR | 29,406 |
| 68 | 27.96 | DC UNIVERSE LEGACIES #2 | $3.99 | DC | 29,286 |
| 69 | 27.76 | JOKERS ASYLUM HARLEY QUINN #1 | $2.99 | DC | 29,081 |
| 70 | 27.27 | BATGIRL #11 | $2.99 | DC | 28,563 |
| 71 | 27.03 | SUPERGIRL #53 | $2.99 | DC | 28,317 |
| 72 | 26.75 | SECRET WARRIORS #17 | $2.99 | MAR | 28,017 |
| 73 | 26.30 | HAWKEYE & MOCKINGBIRD #1 | $3.99 | MAR | 27,552 |
| 74 | 25.26 | DEADPOOL WADE WILSONS WAR #2 | $3.99 | MAR | 26,466 |
| 75 | 25.06 | DEADPOOL CORPS #3 | $2.99 | MAR | 26,251 |
| 76 | 24.86 | DOOMWAR #5 | $3.99 | MAR | 26,041 |
| 77 | 24.80 | AMERICAN VAMPIRE #4 (MR) | $3.99 | DC | 25,977 |
| 78 | 24.69 | GOTHAM CITY SIRENS #13 | $2.99 | DC | 25,867 |
| 79 | 24.48 | WALKING DEAD #73 (MR) | $2.99 | IMA | 25,645 |
| 80 | 24.26 | JOKERS ASYLUM THE RIDDLER #1 | $2.99 | DC | 25,413 |
| 81 | 24.20 | AGE OF HEROES #2 HA | $3.99 | MAR | 25,354 |
| 82 | 24.06 | BATMAN STREETS OF GOTHAM #13 | $3.99 | DC | 25,205 |
| 83 | 23.82 | AMAZING SPIDER-MAN PRESENTS BLACK CAT #1 | $3.99 | MAR | 24,951 |
| 84 | 23.48 | TEEN TITANS #84 | $3.99 | DC | 24,593 |
| 85 | 23.33 | JSA ALL STARS #7 | $3.99 | DC | 24,436 |
| 86 | 23.01 | JOKERS ASYLUM MAD HATTER #1 | $2.99 | DC | 24,101 |
| 87 | 22.93 | DARK TOWER GUNSLINGER JOURNEY BEGINS #2 | $3.99 | MAR | 24,024 |
| 88 | 22.76 | KEVIN SMITH GREEN HORNET #5 | $3.99 | DE | 23,841 |
| 89 | 22.62 | DEADPOOL TEAM-UP #892 | $2.99 | MAR | 23,697 |
| 90 | 22.28 | IRON MAN LEGACY #3 | $2.99 | MAR | 23,340 |
| 91 | 21.88 | JOKERS ASYLUM KILLER CROC #1 | $2.99 | DC | 22,919 |
| 92 | 21.36 | FRANKEN-CASTLE #17 | $2.99 | MAR | 22,378 |
| 93 | 21.05 | PUNISHERMAX #8 (MR) | $3.99 | MAR | 22,053 |
| 94 | 20.95 | SECRET SIX #22 | $2.99 | DC | 21,941 |
| 95 | 20.82 | JOKERS ASYLUM CLAYFACE #1 | $2.99 | DC | 21,806 |
| 96 | 20.42 | BOYS #43 (MR) | $3.99 | DE | 21,390 |
| 97 | 19.91 | YOUNG ALLIES #1 | $3.99 | MAR | 20,858 |
| 98 | 19.86 | STAND HARDCASES #1 | $3.99 | MAR | 20,802 |
| 99 | 19.65 | POWER GIRL #13 | $2.99 | DC | 20,583 |
| 100 | 19.23 | MARVEL ZOMBIES 5 #4 | $3.99 | MAR | 20,141 |
| 101 | 19.01 | STAR WARS LEGACY #49 | $2.99 | DAR | 19,911 |
| 102 | 18.99 | BOOSTER GOLD #33 | $2.99 | DC | 19,895 |
| 103 | 18.99 | BLACK WIDOW #3 | $2.99 | MAR | 19,892 |
| 104 | 18.94 | FABLES #96 (MR) | $2.99 | DC | 19,842 |
| 105 | 18.72 | FRANKEN-CASTLE #18 | $2.99 | MAR | 19,605 |
| 106 | 17.85 | VENGEANCE OF MOON KNIGHT #9 | $3.99 | MAR | 18,695 |
| 107 | 17.77 | IZOMBIE #2 (MR) | $2.99 | DC | 18,620 |
| 108 | 17.62 | AVENGERS ORIGIN #3 | $3.99 | MAR | 18,463 |
| 109 | 17.23 | OUTSIDERS #30 | $2.99 | DC | 18,045 |
| 110 | 16.78 | WEB OF SPIDER-MAN #9 | $3.99 | MAR | 17,581 |
| 111 | 16.67 | ANGEL #34 | $3.99 | IDW | 17,467 |
| 112 | 16.29 | HEROIC AGE PRINCE OF POWER #2 | $3.99 | MAR | 17,068 |
| 113 | 15.73 | HERALDS #1 | $2.99 | MAR | 16,476 |
| 114 | 15.72 | DEATH OF DRACULA #1 | $3.99 | MAR | 16,464 |
| 115 | 15.68 | CONAN THE CIMMERIAN #21 | $2.99 | DAR | 16,421 |
| 116 | 15.62 | KEVIN SMITH KATO #2 | $3.99 | DE | 16,361 |
| 117 | 15.56 | HERCULES TWILIGHT OF A GOD #1 | $3.99 | MAR | 16,302 |
| 118 | 15.48 | JOE THE BARBARIAN #6 (MR) | $2.99 | DC | 16,219 |
| 119 | 15.42 | DOC SAVAGE #3 | $3.99 | DC | 16,153 |
| 120 | 15.40 | ATLAS #2 | $2.99 | MAR | 16,130 |
| 121 | 15.37 | STAR WARS INVASION RESCUES #2 | $2.99 | DAR | 16,098 |
| 122 | 15.36 | X-MEN FOREVER 2 #1 | $3.99 | MAR | 16,094 |
| 123 | 15.31 | STAR WARS DARK TIMES #17 BLUE HARVEST PT 5 | $2.99 | DAR | 16,041 |
| 124 | 15.29 | POWERS #5 (MR) | $3.95 | MAR | 16,019 |
| 125 | 14.98 | INVINCIBLE #72 (MR) | $2.99 | IMA | 15,689 |
| 126 | 14.75 | AMAZING SPIDER-MAN PRESENTS AMERICAN SON #2 | $3.99 | MAR | 15,450 |
| 127 | 14.64 | INVINCIBLE #73 (MR) | $2.99 | IMA | 15,340 |
| 128 | 14.39 | BATMAN CONFIDENTIAL #45 | $2.99 | DC | 15,070 |
| 129 | 14.36 | X-MEN FOREVER GIANT-SIZE #1 | $3.99 | MAR | 15,039 |
| 130 | 14.26 | X-MEN FOREVER 2 #2 | $3.99 | MAR | 14,933 |
| 131 | 14.25 | STEPHEN KINGS N #4 | $3.99 | MAR | 14,927 |
| 132 | 14.19 | X-CAMPUS #1 | $4.99 | MAR | 14,867 |
| 133 | 13.62 | CAPTAIN AMERICA BLACK PANTHER FLAGS OF FATHERS #3 | $3.99 | MAR | 14,264 |
| 134 | 13.44 | NAMORA #1 | $3.99 | MAR | 14,079 |
| 135 | 13.15 | SPECTACULAR SPIDER-GIRL #2 | $2.99 | MAR | 13,775 |
| 136 | 12.91 | IRON MAN KISS AND KILL #1 | $3.99 | MAR | 13,528 |
| 137 | 12.83 | JONAH HEX #56 | $2.99 | DC | 13,441 |
| 138 | 12.79 | UNWRITTEN #14 (MR) | $2.99 | DC | 13,396 |
| 139 | 12.60 | CHEW #11 (MR) | $2.99 | IMA | 13,204 |
| 140 | 12.59 | NEW AVENGERS LUKE CAGE #3 | $3.99 | MAR | 13,187 |
| 141 | 12.44 | SPIRIT #3 | $3.99 | DC | 13,030 |
| 142 | 12.43 | RED SONJA #50 | $4.99 | DE | 13,017 |
| 143 | 12.42 | ABE SAPIEN ABYSSAL PLAIN #1 | $3.50 | DAR | 13,010 |
| 144 | 12.27 | GI JOE #19 | $3.99 | IDW | 12,849 |
| 145 | 12.25 | HERALDS #2 | $2.99 | MAR | 12,832 |
| 146 | 12.04 | IRREDEEMABLE #14 | $3.99 | BOO | 12,608 |
| 147 | 11.80 | TRANSFORMERS ONGOING #8 | $3.99 | IDW | 12,360 |
| 148 | 11.73 | PREDATORS #1 | $2.99 | DAR | 12,283 |
| 149 | 11.65 | MARVELOUS LAND OF OZ #7 | $3.99 | MAR | 12,200 |
| 150 | 11.58 | HERALDS #3 | $2.99 | MAR | 12,132 |
| 151 | 11.51 | SPIKE THE DEVIL YOU KNOW #1 | $3.99 | IDW | 12,057 |
| 152 | 11.40 | X-FACTOR FOREVER #4 | $3.99 | MAR | 11,937 |
| 153 | 11.32 | DOOM PATROL #11 | $2.99 | DC | 11,857 |
| 154 | 11.16 | HERALDS #4 | $2.99 | MAR | 11,694 |
| 155 | 10.99 | TORCH #8 | $3.99 | MAR | 11,513 |
| 156 | 10.86 | DEADPOOL MGC #1 | $1.00 | MAR | 11,379 |
| 157 | 10.82 | PETER PARKER #4 | $2.99 | MAR | 11,335 |
| 158 | 10.73 | PREDATORS #2 | $2.99 | DAR | 11,237 |
| 159 | 10.59 | INCORRUPTIBLE #7 | $3.99 | BOO | 11,091 |
| 160 | 10.55 | REBELS #17 | $2.99 | DC | 11,048 |
| 161 | 10.42 | MOUSE GUARD LEGENDS O/T GUARD #1 | $3.50 | ARA | 10,918 |
| 162 | 10.42 | CAPTAIN AMERICA 1940S NEWSPAPER STRIP #1 | $3.99 | MAR | 10,913 |
| 163 | 10.39 | BUZZARD #1 | $3.50 | DAR | 10,888 |
| 164 | 10.32 | PREDATORS #3 | $2.99 | DAR | 10,811 |
| 165 | 10.18 | KATO ORIGINS WAY O/T NINJA #2 | $3.99 | DE | 10,668 |
| 166 | 10.16 | GI JOE ORIGINS #16 | $3.99 | IDW | 10,643 |
| 167 | 10.07 | TOM STRONG AND THE ROBOTS OF DOOM #1 | $3.99 | DC | 10,552 |
| 168 | 9.92 | HERALDS #5 | $2.99 | MAR | 10,394 |
| 169 | 9.92 | PREDATORS #4 | $2.99 | DAR | 10,390 |
| 170 | 9.86 | SPIDER-MAN FEVER #3 | $3.99 | MAR | 10,329 |
| 171 | 9.85 | GREEN HORNET PARALLEL LIVES #1 | $3.99 | DE | 10,322 |
| 172 | 9.76 | HELLBLAZER #268 (MR) | $2.99 | DC | 10,221 |
| 173 | 9.70 | CROSSED FAMILY VALUES #2 (MR) | $3.99 | AVA | 10,165 |
| 174 | 9.68 | GI JOE COBRA II #5 | $3.99 | IDW | 10,136 |
| 175 | 9.64 | DARKSTAR AND WINTER GUARD #1 | $3.99 | MAR | 10,101 |
| 176 | 9.56 | GRIMM FAIRY TALES #48 | $2.99 | ZEN | 10,011 |
| 177 | 9.54 | RAWHIDE KID #1 | $3.99 | MAR | 9,993 |
| 178 | 9.44 | PROJECT SUPERPOWERS CHAPTER TWO #10 | $2.99 | DE | 9,892 |
| 179 | 9.43 | QUEEN SONJA #7 | $2.99 | DE | 9,879 |
| 180 | 9.36 | AZRAEL #9 | $2.99 | DC | 9,802 |
| 181 | 9.32 | SPIDER-HAM 25TH ANNIVERSARY SPECIAL #1 | $3.99 | MAR | 9,760 |
| 182 | 9.23 | TURF #2 (MR) | $2.99 | IMA | 9,668 |
| 183 | 9.14 | SWEET TOOTH #10 (MR) | $2.99 | DC | 9,570 |
| 184 | 8.91 | DAYTRIPPER #7 (MR) | $2.99 | DC | 9,333 |
| 185 | 8.86 | TERRY MOORES ECHO #22 | $3.50 | ABS | 9,277 |
| 186 | 8.85 | HACK SLASH MY FIRST MANIAC #1 | $3.50 | IMA | 9,270 |
| 187 | 8.70 | MOUSE GUARD LEGENDS O/T GUARD #2 | $3.50 | ARA | 9,113 |
| 188 | 8.65 | CAPTAIN SWING #2 (MR) | $3.99 | AVA | 9,063 |
| 189 | 8.65 | ANITA BLAKE CIRCUS OF DAMNED CHARMER #2 (MR) | $3.99 | MAR | 9,060 |
| 190 | 8.60 | GFT PRESENTS NEVERLAND #3 | $2.99 | ZEN | 9,006 |
| 191 | 8.54 | JURASSIC PARK REDEMPTION #1 | $3.99 | IDW | 8,941 |
| 192 | 8.51 | IRON MAN NOIR #3 | $3.99 | MAR | 8,913 |
| 193 | 8.35 | HOUSE OF MYSTERY #26 (MR) | $2.99 | DC | 8,742 |
| 194 | 8.33 | GRIMM FAIRY TALES #47 | $2.99 | ZEN | 8,721 |
| 195 | 8.20 | AVENGERS SPOTLIGHT #1 | $3.99 | MAR | 8,595 |
| 196 | 8.20 | GI JOE HEARTS AND MINDS #2 | $3.99 | IDW | 8,592 |
| 197 | 8.16 | TRANSFORMERS IRONHIDE #2 | $3.99 | IDW | 8,546 |
| 198 | 7.95 | MAGDALENA (ONGOING) #2 | $3.99 | IMA | 8,327 |
| 199 | 7.82 | TINY TITANS #29 | $2.50 | DC | 8,195 |
| 200 | 7.80 | VELOCITY #1 | $3.99 | IMA | 8,172 |
| 201 | 7.73 | FRINGE TALES FROM THE FRINGE #1 | $3.99 | DC | 8,099 |
| 202 | 7.73 | RED SONJA ANNUAL #3 | $5.99 | DE | 8,098 |
| 203 | 7.62 | MADAME XANADU #24 (MR) | $2.99 | DC | 7,979 |
| 204 | 7.60 | DRACULA #1 | $3.99 | MAR | 7,960 |
| 205 | 7.59 | GI JOE OPERATION HISS #5 | $3.99 | IDW | 7,947 |
| 206 | 7.58 | SONIC THE HEDGEHOG #214 | $2.99 | ARC | 7,936 |
| 207 | 7.53 | SONIC THE HEDGEHOG #213 | $2.99 | ARC | 7,893 |
| 208 | 7.43 | LONE RANGER #22 | $3.50 | DE | 7,786 |
| 209 | 7.40 | WARLORD #15 | $2.99 | DC | 7,755 |
| 210 | 7.40 | TFW WHITE KNIGHT | $3.99 | ZEN | 7,748 |
| 211 | 7.39 | ANGEL BARBARY COAST #3 | $3.99 | IDW | 7,741 |
| 212 | 7.38 | YOURS TRULY JACK THE RIPPER #1 | $3.99 | IDW | 7,730 |
| 213 | 7.31 | AFTER DARK #0 | $1.00 | RAL | 7,653 |
| 214 | 7.16 | NORTHLANDERS #29 (MR) | $2.99 | DC | 7,498 |
| 215 | 7.14 | SIMPSONS COMICS #167 | $2.99 | BON | 7,477 |
| 216 | 6.90 | AUTHORITY #23 | $2.99 | DC | 7,226 |
| 217 | 6.87 | SPIDER-MAN #3 | $2.99 | MAR | 7,200 |
| 218 | 6.87 | TRANSFORMERS NEFARIOUS #4 | $3.99 | IDW | 7,194 |
| 219 | 6.81 | DRACULA #2 | $3.99 | MAR | 7,139 |
| 220 | 6.62 | AMAZING SPIDER-MAN MGC #546 | $1.00 | MAR | 6,936 |
| 221 | 6.49 | STAR TREK MCCOY #3 | $3.99 | IDW | 6,800 |
| 222 | 6.45 | NEW X-MEN MGC #114 | $1.00 | MAR | 6,757 |
| 223 | 6.45 | STAR TREK BURDEN OF KNOWLEDGE #1 | $3.99 | IDW | 6,757 |
| 224 | 6.45 | DOCTOR WHO ONGOING #12 | $3.99 | IDW | 6,754 |
| 225 | 6.44 | MAGOG #10 | $2.99 | DC | 6,749 |
| 226 | 6.41 | SONIC UNIVERSE #17 | $2.99 | ARC | 6,717 |
| 227 | 6.41 | SUPERNATURAL BEGINNINGS END #6 | $2.99 | DC | 6,711 |
| 228 | 6.40 | CHRONICLES OF WORMWOOD LAST BATTLE #4 (MR) | $3.99 | AVA | 6,700 |
| 229 | 6.39 | RED SONJA WRATH OF THE GODS #5 | $3.99 | DE | 6,695 |
| 230 | 6.36 | SOLOMON KANE DEATHS BLACK RIDERS #4 | $3.50 | DAR | 6,663 |
| 231 | 6.36 | DMZ #54 (MR) | $2.99 | DC | 6,661 |
| 232 | 6.34 | EXECUTIVE ASSISTANT IRIS #5 | $2.99 | ASP | 6,646 |
| 233 | 6.27 | ORSON SCOTT CARDS ENDER IN EXILE #1 | $3.99 | MAR | 6,568 |
| 234 | 6.27 | ANGELUS #4 | $2.99 | IMA | 6,565 |
| 235 | 6.26 | AUTHORITY THE LOST YEAR #9 | $2.99 | DC | 6,558 |
| 236 | 6.23 | SKY DOLL SPACE SHIP #1 (MR) | $5.99 | MAR | 6,528 |
| 237 | 6.12 | GHOSTBUSTERS HOLIDAY SPECIAL CON VOLUTION #1 | $3.99 | IDW | 6,407 |
| 238 | 6.11 | FLASH REBIRTH #1 NEW PTG #1 | $1.00 | DC | 6,400 |
| 239 | 6.04 | CHARMED #0 SOURCEBOOK A CVR RIO | $1.99 | ZEN | 6,329 |
| 240 | 6.01 | DARKWING DUCK #1 DUCK KNIGHT RETURNS | $3.99 | BOO | 6,300 |
| 241 | 6.01 | DV8 GODS AND MONSTERS #3 | $2.99 | DC | 6,295 |
| 242 | 5.99 | BATMAN THE BRAVE AND THE BOLD #18 | $2.50 | DC | 6,270 |
| 243 | 5.89 | LOCKJAW AND PET AVENGERS UNLEASHED #4 | $2.99 | MAR | 6,166 |
| 244 | 5.89 | GEARS OF WAR #12 (MR) | $3.99 | DC | 6,165 |
| 245 | 5.88 | BART SIMPSON COMICS #54 | $2.99 | BON | 6,160 |
| 246 | 5.78 | WILDCATS #24 | $2.99 | DC | 6,051 |
| 247 | 5.76 | SUPER HERO SQUAD #6 | $2.99 | MAR | 6,029 |
| 248 | 5.69 | SOULFIRE VOLUME TWO #6 | $2.99 | ASP | 5,965 |
| 249 | 5.69 | GREAT TEN #8 | $2.99 | DC | 5,958 |
| 250 | 5.65 | NEMESIS THE IMPOSTORS #4 | $2.99 | DC | 5,919 |
| 251 | 5.64 | BATMAN RETURN OF BRUCE WAYNE #1 | $3.99 | DC | 5,913 |
| 252 | 5.64 | GREEK STREET #12 (MR) | $2.99 | DC | 5,905 |
| 253 | 5.60 | DO ANDROIDS DREAM OF ELECTRIC SHEEP #12 | $3.99 | BOO | 5,865 |
| 254 | 5.57 | HUMAN TARGET #5 | $2.99 | DC | 5,838 |
| 255 | 5.52 | DAREDEVIL MGC #26 | $1.00 | MAR | 5,782 |
| 256 | 5.51 | DETECTIVE COMICS #854 NEW PTG | $1.00 | DC | 5,775 |
| 257 | 5.49 | BATMAN RETURN OF BRUCE WAYNE #2 | $3.99 | DC | 5,755 |
| 258 | 5.46 | BUCK ROGERS #12 | $3.50 | DE | 5,722 |
| 259 | 5.44 | ROBERT JORDAN WHEEL OF TIME EYE O/T WORLD #3 | $3.99 | DE | 5,701 |
| 260 | 5.43 | LEGION OF SUPER HEROES #1 | $3.99 | DC | 5,691 |
| 261 | 5.42 | SUPER HEROES #3 | $2.99 | MAR | 5,678 |
| 262 | 5.36 | DEMO VOL 2 #5 (MR) | $2.99 | DC | 5,612 |
| 263 | 5.29 | SAVAGE DRAGON #161 | $3.50 | IMA | |