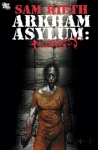 These are estimates of the sales on graphic novels by Diamond U.S. to comic specialty stores during June 2010.
For an overview and analysis of comic sales in June, see "
Four Avengers in Top 10 in June
."
For an analysis of the dollar trends in June, see "June Comic Sales Up 1%."
For our estimates of actual sales by Diamond
U.S.
from comic specialty stores on comic books shipped during June, see "
Top 300 Comics Actual--June 2010
."
| | | | | | |
| --- | --- | --- | --- | --- | --- |
| | | TOP 300 GNs -- June 2010 | | | |
| Rank | Index | Title | Price | Pub | Est.Qty |
| 1 | 7.06 | BATMAN ARKHAM ASYLUM MADNESS HC | $19.99 | DC | 7,393 |
| 2 | 6.25 | CHEW TP VOL 02 INTERNATIONAL FLAVOR (MR) | $12.99 | IMA | 6,549 |
| 3 | 5.51 | HELLBOY TP VOL 10 CROOKED MAN & OTHERS | $17.99 | DAR | 5,776 |
| 4 | 4.96 | NARUTO TP VOL 48 | $9.99 | VIZ | 5,199 |
| 5 | 4.93 | FINAL CRISIS TP | $19.99 | DC | 5,168 |
| 6 | 4.86 | BATMAN RIP TP | $14.99 | DC | 5,092 |
| 7 | 4.74 | JONAH HEX NO WAY BACK HC | $19.99 | DC | 4,963 |
| 8 | 4.64 | DMZ TP VOL 08 HEARTS AND MINDS (MR) | $16.99 | DC | 4,857 |
| 9 | 4.34 | JACK OF FABLES TP VOL 07 NEW ADVS OF JACK & JACK (MR) | $14.99 | DC | 4,547 |
| 10 | 3.95 | CRIMINAL TP VOL 05 SINNERS (MR) | $15.99 | MAR | 4,141 |
| 11 | 3.70 | STAR WARS CLONE WARS YR TP VOL 05 IN SERVICE OF REPUBLIC | $7.99 | DAR | 3,873 |
| 12 | 3.48 | THOR BY J MICHAEL STRACZYNSKI TP VOL 03 | $14.99 | MAR | 3,643 |
| 13 | 3.44 | JUSTICE LEAGUE CRY FOR JUSTICE HC | $24.99 | DC | 3,605 |
| 14 | 3.33 | IRREDEEMABLE TP VOL 03 | $16.99 | BOO | 3,493 |
| 15 | 3.15 | COVER RUN THE DC COMICS ART OF ADAM HUGHES HC | $39.99 | DC | 3,301 |
| 16 | 3.02 | STAR WARS KNIGHTS O/T OLD REPUBLIC TP VOL 09 DEMON | $16.99 | DAR | 3,160 |
| 17 | 2.89 | NEIL YOUNGS GREENDALE HC (MR) | $19.99 | DC | 3,023 |
| 18 | 2.88 | WALKING DEAD TP VOL 01 DAYS GONE BYE | $9.99 | IMA | 3,022 |
| 19 | 2.83 | BATWOMAN ELEGY DELUXE EDITION HC | $24.99 | DC | 2,967 |
| 20 | 2.81 | MASS EFFECT REDEMPTION TP | $16.99 | DAR | 2,946 |
| 21 | 2.78 | BLACKSAD HC VOL 01 | $29.99 | DAR | 2,912 |
| 22 | 2.75 | SCOTT PILGRIM GN VOL 03 INFINITE SADNESS | $11.99 | ONI | 2,879 |
| 23 | 2.71 | BLEACH TP VOL 31 | $9.99 | VIZ | 2,842 |
| 24 | 2.63 | FREAKANGELS TP VOL 04 (MR) | $19.99 | AVA | 2,756 |
| 25 | 2.59 | STAR WARS LONG TIME AGO OMNIBUS TP VOL 01 | $24.99 | DAR | 2,715 |
| 26 | 2.58 | HELLBLAZER HOOKED TP (MR) | $14.99 | DC | 2,706 |
| 27 | 2.50 | GOD SOMEWHERE TP (MR) | $24.99 | DC | 2,619 |
| 28 | 2.41 | SCOTT PILGRIM GN VOL 01 PRECIOUS LITTLE LIFE | $11.99 | ONI | 2,524 |
| 29 | 2.39 | CONAN TP VOL 08 BLACK COLOSSUS | $17.99 | DAR | 2,507 |
| 30 | 2.36 | HULK TP VOL 04 HULK VS X-FORCE | $19.99 | MAR | 2,467 |
| 31 | 2.22 | CHRONICLES OF CONAN TP VOL 19 DEATHMARK | $17.99 | DAR | 2,329 |
| 32 | 2.21 | SUPERMAN BATMAN FINEST WORLDS TP | $14.99 | DC | 2,320 |
| 33 | 2.19 | ULTIMATE COMICS AVENGERS PREM HC NEXT GENERATION | $24.99 | MAR | 2,296 |
| 34 | 2.10 | SAGA OF THE SWAMP THING HC BOOK 03 (MR) | $24.99 | DC | 2,197 |
| 35 | 2.08 | HALO GRAPHIC NOVEL TP | $19.99 | MAR | 2,175 |
| 36 | 2.07 | X-NECROSHA HC | $39.99 | MAR | 2,168 |
| 37 | 2.00 | CONAN SPEAR & OTHER STORIES TP | $14.99 | DAR | 2,094 |
| 38 | 1.98 | SPIDER-MAN RETURN OF BLACK CAT TP | $19.99 | MAR | 2,074 |
| 39 | 1.98 | GOTHAM CENTRAL HC VOL 03 ON THE FREAK BEAT | $29.99 | DC | 2,073 |
| 40 | 1.97 | DEADPOOL PREM HC VOL 04 MONKEY BUSINESS | $19.99 | MAR | 2,062 |
| 41 | 1.89 | VAMPIRE KNIGHT TP VOL 10 | $9.99 | VIZ | 1,980 |
| 42 | 1.86 | ULTIMATES TP ULTIMATE COLLECTION | $34.99 | MAR | 1,946 |
| 43 | 1.86 | BEASTS OF BURDEN HC | $19.99 | DAR | 1,944 |
| 44 | 1.85 | INCREDIBLE HULK TP VOL 01 SON OF BANNER | $15.99 | MAR | 1,939 |
| 45 | 1.77 | JOHNNY HOMICIDAL MANIAC DIRECTORS CUT SC | $21.95 | SLA | 1,856 |
| 46 | 1.76 | SCOTT PILGRIM GN VOL 02 VS THE WORLD | $11.99 | ONI | 1,846 |
| 47 | 1.75 | SECRET WARRIORS TP VOL 02 GOD OF FEAR GOD OF WAR | $14.99 | MAR | 1,834 |
| 48 | 1.73 | LIFE & TIMES MARTHA WASHINGTON IN 21ST CENTURY TP | $29.99 | DAR | 1,816 |
| 49 | 1.71 | HULK PLANET SKAAR TP | $24.99 | MAR | 1,790 |
| 50 | 1.70 | MIGHTY AVENGERS TP UNSPOKEN | $14.99 | MAR | 1,780 |
| 51 | 1.70 | BATTLE ANGEL ALITA LAST ORDER TP VOL 13 | $9.99 | VIZ | 1,779 |
| 52 | 1.70 | ESSENTIAL CAPTAIN AMERICA TP VOL 05 | $19.99 | MAR | 1,776 |
| 53 | 1.69 | LIST TP | $19.99 | MAR | 1,775 |
| 54 | 1.67 | WAR OF KINGS WARRIORS TP | $24.99 | MAR | 1,751 |
| 55 | 1.66 | WORLD OF WARCRAFT HC VOL 03 | $19.99 | DC | 1,742 |
| 56 | 1.66 | SUPERMAN NEW KRYPTON HC VOL 04 | $24.99 | DC | 1,741 |
| 57 | 1.66 | WITCHBLADE TP VOL 07 | $14.99 | IMA | 1,736 |
| 58 | 1.65 | PROCESS RECESS HC VOL 03 HALLOWED SEAM (MR) | $34.95 | ADH | 1,727 |
| 59 | 1.64 | PUNISHERMAX PREM HC KINGPIN (MR) | $24.99 | MAR | 1,717 |
| 60 | 1.64 | GIRL GENIUS TP VOL 09 AGATHA & THE HEIRS O/T STORM | $22.95 | STU | 1,716 |
| 61 | 1.62 | GANTZ TP VOL 11 (MR) | $12.99 | DAR | 1,698 |
| 62 | 1.59 | SCOTT PILGRIM GN VOL 04 GETS IT TOGETHER | $11.99 | ONI | 1,665 |
| 63 | 1.59 | TRANSFORMERS ONGOING TP VOL 01 FOR ALL MANKIND | $19.99 | IDW | 1,663 |
| 64 | 1.58 | CHEW TP VOL 01 (MR) | $9.99 | IMA | 1,652 |
| 65 | 1.56 | YU GI OH R GN VOL 05 | $9.99 | VIZ | 1,635 |
| 66 | 1.55 | NOVA TP VOL 06 REALM OF KINGS | $19.99 | MAR | 1,622 |
| 67 | 1.54 | GEARS OF WAR TP BOOK 01 (MR) | $14.99 | DC | 1,617 |
| 68 | 1.54 | DEADPOOL & CABLE ULTIMATE COLL TP BOOK 02 | $39.99 | MAR | 1,614 |
| 69 | 1.52 | DAREDDPIL TP MAN WITHOUT FEAR | $19.99 | MAR | 1,595 |
| 70 | 1.50 | MMW CAPTAIN AMERICA HC VOL 05 | $54.99 | MAR | 1,569 |
| 71 | 1.49 | DISNEYS ALICE IN WONDERLAND GN | $9.99 | BOO | 1,558 |
| 72 | 1.47 | TOMB OF DRACULA TP VOL 01 | $24.99 | MAR | 1,544 |
| 73 | 1.47 | X-MEN SWORD TP NO TIME TO BREATHE | $15.99 | MAR | 1,544 |
| 74 | 1.45 | SUPER HERO SQUAD TP SUPER STARS DIGEST | $9.99 | MAR | 1,522 |
| 75 | 1.45 | DEADPOOL CORPS PRELUDE PREM HC | $19.99 | MAR | 1,517 |
| 76 | 1.45 | CIVIL WAR TP | $24.99 | MAR | 1,515 |
| 77 | 1.42 | SCOTT PILGRIM GN VOL 05 VS THE UNIVERSE | $11.99 | ONI | 1,484 |
| 78 | 1.41 | BART SIMPSON CLASS CLOWN TP | $15.99 | BON | 1,477 |
| 79 | 1.39 | MOVING PICTURES GN | $14.95 | TOP | 1,455 |
| 80 | 1.38 | DAREDDPIL BY BENDIS & MALEEV TP ULT COLL BOOK 01 | $34.99 | MAR | 1,450 |
| 81 | 1.35 | FVZA TP | $14.95 | RAN | 1,412 |
| 82 | 1.35 | WORLDS FINEST TP | $14.99 | DC | 1,410 |
| 83 | 1.34 | MMW ATLAS ERA STRANGE TALES HC VOL 03 | $59.99 | MAR | 1,403 |
| 84 | 1.32 | GOON FANCY PANTS HC LTD ED VOL 03 GOON YEAR | $34.99 | DAR | 1,379 |
| 85 | 1.29 | AUTHORITY THE LOST YEAR TP BOOK 01 | $17.99 | DC | 1,349 |
| 86 | 1.29 | DOOM PATROL WE WHO ARE ABOUT TO DIE TP | $14.99 | DC | 1,348 |
| 87 | 1.28 | SEVEN SOLDIERS OF VICTORY HC VOL 01 | $39.99 | DC | 1,337 |
| 88 | 1.27 | KICK ASS PREM HC (MR) | $24.99 | MAR | 1,333 |
| 89 | 1.27 | SHADE THE CHANGING MAN TP VOL 03 SCREAM TIME (MR) | $19.99 | DC | 1,328 |
| 90 | 1.26 | CREEPY ARCHIVES HC VOL 06 | $49.99 | DAR | 1,322 |
| 91 | 1.25 | MMW DAREDDPIL TP VOL 01 | $24.99 | MAR | 1,307 |
| 92 | 1.24 | COWBOY NINJA VIKING TP (MR) | $17.99 | IMA | 1,300 |
| 93 | 1.24 | GREEN ARROW BLACK CANARY BIG GAME TP | $19.99 | DC | 1,294 |
| 94 | 1.23 | ULTIMATE SPIDER-MAN HC VOL 11 | $39.99 | MAR | 1,291 |
| 95 | 1.23 | WEREWOLVES OF MONPELIER GN | $12.99 | FAN | 1,289 |
| 96 | 1.23 | AGENTS OF ATLAS TP TURF WARS | $14.99 | MAR | 1,286 |
| 97 | 1.22 | METAL GEAR SOLID OMNIBUS TP | $29.99 | IDW | 1,283 |
| 98 | 1.22 | X-FORCE HC VOL 01 | $34.99 | MAR | 1,278 |
| 99 | 1.22 | GI JOE SPECIAL MISSIONS TP VOL 01 | $19.99 | IDW | 1,273 |
| 100 | 1.22 | SPIDER-MAN AND SECRET WARS TP GN | $14.99 | MAR | 1,273 |
| 101 | 1.21 | HULK SON OF HULK TP DARK SON RISING | $14.99 | MAR | 1,265 |
| 102 | 1.20 | MARVELS EYE OF CAMERA PREM HC | $24.99 | MAR | 1,258 |
| 103 | 1.20 | ONE PIECE TP VOL 49 | $9.99 | VIZ | 1,257 |
| 104 | 1.20 | OFF HB MARVEL UNIV A TO Z PREM HC VOL 14 | $24.99 | MAR | 1,253 |
| 105 | 1.19 | BATMAN HUSH COMPLETE TP | $24.99 | DC | 1,248 |
| 106 | 1.19 | AVENGERS CONTEST PREM HC | $24.99 | MAR | 1,245 |
| 107 | 1.18 | INU YASHA TP VOL 49 | $9.99 | VIZ | 1,238 |
| 108 | 1.18 | ONE PIECE TP VOL 50 | $9.99 | VIZ | 1,238 |
| 109 | 1.18 | ONE PIECE TP VOL 53 | $9.99 | VIZ | 1,238 |
| 110 | 1.18 | ONE PIECE TP VOL 51 | $9.99 | VIZ | 1,236 |
| 111 | 1.17 | ONE PIECE TP VOL 52 | $9.99 | VIZ | 1,230 |
| 112 | 1.17 | ANITA BLAKE TP BOOK 02 LC NECROMANCER | $16.99 | MAR | 1,226 |
| 113 | 1.15 | WALKING DEAD TP VOL 11 FEAR THE HUNTERS (MR) | $14.99 | IMA | 1,208 |
| 114 | 1.15 | NEW AVENGERS HC VOL 05 | $29.99 | MAR | 1,205 |
| 115 | 1.14 | DAREDDPIL OMNIBUS BY BRUBAKER & LARK HC VOL 02 | $75.00 | MAR | 1,189 |
| 116 | 1.13 | STRANGE ADVENTURES OF HP LOVECRAFT TP VOL 01 (MR) | $16.99 | IMA | 1,186 |
| 117 | 1.12 | CLAYMORE TP VOL 16 | $9.99 | VIZ | 1,175 |
| 118 | 1.09 | NAOKI URASAWA 20TH CENTURY BOYS GN VOL 09 | $12.99 | VIZ | 1,147 |
| 119 | 1.08 | WALKING DEAD TP VOL 02 MILES BEHIND US (MR) | $14.99 | IMA | 1,133 |
| 120 | 1.08 | WEDNESDAY COMICS HC | $49.99 | DC | 1,127 |
| 121 | 1.06 | THOR BY JURGENS AND ROMITA JR TP VOL 03 | $24.99 | MAR | 1,115 |
| 122 | 1.06 | SOUL EATER TP VOL 03 | $10.99 | HAC | 1,114 |
| 123 | 1.06 | PETER PORKER TP VOL 01 SPECTACULAR SPIDER-HAM GN | $19.99 | MAR | 1,106 |
| 124 | 1.04 | FANTASTIC FOUR BY HICKMAN PREM HC VOL 02 | $19.99 | MAR | 1,089 |
| 125 | 1.02 | NIGHT OF THE LIVING DEAD TP VOL 01 (MR) | $24.99 | AVA | 1,069 |
| 126 | 1.01 | DANTES INFERNO TP (MR) | $19.99 | DC | 1,062 |
| 127 | 1.01 | PHANTOM COMP DAILIES HC VOL 01 1936-1938 | $39.99 | HER | 1,057 |
| 128 | 0.99 | ARCHIE BEST OF DAN DECARLO HC VOL 01 | $24.99 | IDW | 1,042 |
| 129 | 0.99 | MEGA MAN ZX GN VOL 01 | $12.95 | UDO | 1,035 |
| 130 | 0.99 | DARKNESS ACCURSED TP VOL 03 | $12.99 | IMA | 1,033 |
| 131 | 0.98 | APPLE ANTHOLOGY GN VOL 04 | $34.95 | UDO | 1,029 |
| 132 | 0.98 | PRINCE VALIANT HC VOL 02 1939-1940 | $29.99 | FAN | 1,028 |
| 133 | 0.98 | NEGIMA GN VOL 26 (MR) | $10.99 | RAN | 1,022 |
| 134 | 0.97 | ASTONISHING X-MEN GIFTED GN HC W/MOTION COMIC DVD | $24.99 | MAR | 1,021 |
| 135 | 0.97 | GUARDIANS OF GALAXY PREM HC VOL 04 REALM OF KINGS | $24.99 | MAR | 1,020 |
| 136 | 0.96 | INVINCIBLE TP VOL 12 STILL STANDING | $16.99 | IMA | 1,010 |
| 137 | 0.96 | X-BABIES TP STARS REBORN GN | $14.99 | MAR | 1,004 |
| 138 | 0.95 | CABLE PREM HC VOL 04 HOMECOMING | $19.99 | MAR | 997 |
| 139 | 0.94 | Y THE LAST MAN TP VOL 01 UNMANNED | $12.99 | DC | 989 |
| 140 | 0.94 | TAROT WITCH OF THE BLACK ROSE TP VOL 08 (MR) | $24.99 | BRO | 988 |
| 141 | 0.94 | STAR WARS LEGACY TP VOL 09 MONSTER | $17.99 | DAR | 982 |
| 142 | 0.93 | JESUS HATES ZOMBIES LINCOLN HATES WEREWOLVES GN VOL 04 | $6.99 | ALT | 977 |
| 143 | 0.93 | FABLES TP VOL 01 LEGENDS IN EXILE | $9.99 | DC | 972 |
| 144 | 0.92 | HELLBOY TP VOL 09 WILD HUNT | $19.99 | DAR | 963 |
| 145 | 0.91 | AKIRA KODANSHA ED GN VOL 02 (MR) | $24.99 | RAN | 957 |
| 146 | 0.91 | TRANSFORMERS BEST OF OPTIMUS PRIME TP | $19.99 | IDW | 950 |
| 147 | 0.89 | DOT HACK LINK GN VOL 01 | $10.99 | TOK | 934 |
| 148 | 0.88 | OKKO HC VOL 02 CYCLE OF EARTH W/ DUST JACKET | $19.95 | ARA | 927 |
| 149 | 0.88 | WONDER WOMAN ARCHIVES HC VOL 06 | $59.99 | DC | 923 |
| 150 | 0.88 | COMPLETE CHESTER GOULDS DICK TRACY HC VOL 10 | $39.99 | IDW | 922 |
| 151 | 0.87 | JAM TALES FROM THE WORLD OF ROLLER DERBY GN | $19.95 | ONI | 908 |
| 152 | 0.86 | DARKNESS ORIGINS TP VOL 02 | $14.99 | IMA | 902 |
| 153 | 0.86 | SPIDER-MAN NOIR PREM HC EYES WITHOUT A FACE | $19.99 | MAR | 902 |
| 154 | 0.85 | CAPTAIN AMERICA AMERICA FIRST HC | $19.99 | MAR | 889 |
| 155 | 0.85 | UNWRITTEN TP VOL 01 TOMMY TAYLOR BOGUS IDENTITY TP (MR) | $9.99 | DC | 886 |
| 156 | 0.84 | ENDERS GAME WAR OF GIFTS PREM HC | $24.99 | MAR | 875 |
| 157 | 0.83 | MUPPET KING ARTHUR TP | $9.99 | BOO | 873 |
| 158 | 0.82 | AVENGERS I AM AN AVENGER II TP VOL 02 | $24.99 | MAR | 864 |
| 159 | 0.82 | WALKING DEAD TP VOL 03 SAFETY BEHIND BARS | $14.99 | IMA | 864 |
| 160 | 0.81 | PHINEAS & FERB EARLY COMIC READER #1 NOTHING BUT TROUBLE | $4.99 | HAR | 853 |
| 161 | 0.81 | SPIDER-MAN JACKPOT TP | $14.99 | MAR | 846 |
| 162 | 0.80 | AVENGERS VISION & SCARLET WITCH TP A YEAR IN LIFE | $34.99 | MAR | 836 |
| 163 | 0.78 | ATLAS TP MARVEL BOY | $19.99 | MAR | 822 |
| 164 | 0.78 | TUMOR HC W/ DUST JACKET (MR) | $14.95 | ARA | 821 |
| 165 | 0.78 | PHINEAS & FERB EARLY COMIC READER #2 CHRON OF MEAP | $4.99 | HAR | 817 |
| 166 | 0.78 | LOSERS TP BOOK 01 (MR) | $19.99 | DC | 816 |
| 167 | 0.77 | FATE STAY NIGHT GN VOL 08 | $10.99 | TOK | 809 |
| 168 | 0.77 | CROSSED TP VOL 01 (MR) | $24.99 | AVA | 802 |
| 169 | 0.76 | CTHULHU VOL 01 (MR) | $9.95 | KET | 798 |
| 170 | 0.76 | STAR TREK TNG GHOSTS TP | $19.99 | IDW | 791 |
| 171 | 0.74 | GHOST RIDER DANNY KETCH CLASSIC TP VOL 02 | $29.99 | MAR | 777 |
| 172 | 0.73 | FABLES TP VOL 13 THE GREAT FABLES CROSSOVER (MR) | $17.99 | DC | 763 |
| 173 | 0.73 | WALKING DEAD TP VOL 10 WHAT WE BECOME | $14.99 | IMA | 763 |
| 174 | 0.72 | SAMURAI HAREM ASU NO YOICHI GN VOL 05 (MR) | $12.99 | TOK | 752 |
| 175 | 0.72 | GOLDEN COLLECTION OF KLASSIC KRAZY KOOL KIDS KOMICS HC | $34.99 | IDW | 749 |
| 176 | 0.71 | PROOF TP VOL 04 JULIA | $16.99 | IMA | 748 |
| 177 | 0.71 | FALLEN ANGEL OMNIBUS TP VOL 00 | $29.99 | IDW | 747 |
| 178 | 0.71 | BOOK OF MR NATURAL HC (MR) | $19.99 | FAN | 746 |
| 179 | 0.71 | INVINCIBLE TP VOL 01 FAMILY MATTERS | $12.99 | IMA | 744 |
| 180 | 0.70 | FAIRY TAIL GN VOL 11 | $10.99 | RAN | 734 |
| 181 | 0.70 | BATMAN DARK KNIGHT RETURNS TP | $14.99 | DC | 733 |
| 182 | 0.70 | BILLY HAZELNUTS & CRAZY BIRD | $19.99 | FAN | 731 |
| 183 | 0.70 | LAST AIRBENDER MOVIE ADAPTATION GN | $8.99 | RAN | 731 |
| 184 | 0.69 | ARCHIE & FRIENDS TP VOL 04 BETTY & VERONICAS BEACH PARTY | $9.95 | ARC | 725 |
| 185 | 0.69 | STARDROP GN VOL 01 | $9.95 | I B | 721 |
| 186 | 0.68 | MELANCHOLY OF HARUHI SUZUMIYA GN VOL 06 | $10.99 | HAC | 715 |
| 187 | 0.68 | X-MEN NOIR PREM HC MARK OF CAIN | $19.99 | MAR | 708 |
| 188 | 0.67 | WALKING DEAD TP VOL 04 HEARTS DESIRE (MR) | $14.99 | IMA | 705 |
| 189 | 0.67 | PREACHER TP VOL 01 GONE TO TEXAS NEW EDITION (MR) | $14.99 | DC | 702 |
| 190 | 0.67 | POKEMON ADVENTURES TP VOL 07 2ND ED | $7.99 | VIZ | 700 |
| 191 | 0.66 | Y THE LAST MAN TP VOL 02 CYCLES (MR) | $12.99 | DC | 693 |
| 192 | 0.66 | LITTLE ADVENTURES IN OZ BOOK 02 | $9.99 | IDW | 691 |
| 193 | 0.66 | CARTOON NETWORK 2-1 POWERPUFF GIRLS FOSTERS TP | $12.99 | DC | 688 |
| 194 | 0.66 | WALKING DEAD TP VOL 09 HERE WE REMAIN (MR) | $14.99 | IMA | 687 |
| 195 | 0.66 | WATCHMEN TP | $19.99 | DC | 687 |
| 196 | 0.64 | ICON MOTHERSHIP CONNECTION TP | $24.99 | DC | 670 |
| 197 | 0.63 | LIBRARY WARS GN VOL 01 | $9.99 | VIZ | 665 |
| 198 | 0.63 | AFTERSCHOOL CHARISMA TP VOL 01 | $12.99 | VIZ | 662 |
| 199 | 0.63 | PROJECT SUPERPOWERS BLACK TERROR TP VOL 02 | $16.99 | DE | 662 |
| 200 | 0.63 | SWEET TOOTH TP VOL 01 OUT OF THE WOODS (MR) | $9.99 | DC | 660 |
| 201 | 0.63 | TRANSFORMERS ALLSPARK ALMANAC TP VOL 02 | $19.99 | IDW | 660 |
| 202 | 0.62 | SANDMAN TP VOL 01 PRELUDES & NOCTURNES | $19.99 | DC | 647 |
| 203 | 0.62 | I THOUGHT YOU WOULD BE FUNNIER SC | $19.99 | BOO | 645 |
| 204 | 0.61 | WALKING DEAD TP VOL 05 BEST DEFENSE (MR) | $14.99 | IMA | 644 |
| 205 | 0.61 | EX MACHINA TP VOL 09 RING OUT THE OLD (MR) | $14.99 | DC | 639 |
| 206 | 0.61 | AVATAR LAST AIRBENDER FILM COMIC TP VOL 01 | $7.99 | RAN | 638 |
| 207 | 0.61 | ROBERT E HOWARD PRESENTS THULSA DOOM TP | $19.99 | DE | 634 |
| 208 | 0.60 | TUROK SON OF STONE ARCHIVES HC VOL 06 | $49.99 | DAR | 626 |
| 209 | 0.60 | MADE WITH 90% RECYCLED ART TP | $10.99 | DAR | 624 |
| 210 | 0.59 | SCALPED TP VOL 06 THE GNAWING (MR) | $14.99 | DC | 621 |
| 211 | 0.59 | SGT FROG GN VOL 19 | $10.99 | TOK | 613 |
| 212 | 0.58 | FABLES TP VOL 02 ANIMAL FARM | $12.99 | DC | 609 |
| 213 | 0.58 | STUCK RUBBER BABY HC NEW EDITION (MR) | $24.99 | DC | 605 |
| 214 | 0.58 | V FOR VENDETTA TP (MR) | $19.99 | DC | 603 |
| 215 | 0.57 | EX MACHINA TP VOL 01 THE FIRST HUNDRED DAYS (MR) | $9.99 | DC | 602 |
| 216 | 0.57 | NINJA GIRLS GN VOL 03 (MR) | $10.99 | RAN | 601 |
| 217 | 0.57 | ALL STAR BATMAN AND ROBIN THE BOY WONDER TP VOL 01 | $19.99 | DC | 600 |
| 218 | 0.57 | Y THE LAST MAN TP VOL 03 ONE SMALL STEP (MR) | $12.99 | DC | 600 |
| 219 | 0.57 | RAWHIDE KID PREM HC SLAP LEATHER | $24.99 | MAR | 593 |
| 220 | 0.55 | BOYS TP VOL 06 SELF-PRESERVATION SOCIETY (MR) | $19.99 | DE | 574 |
| 221 | 0.55 | BOYS TP VOL 01 NAME OF THE GAME (MR) | $16.99 | DE | 572 |
| 222 | 0.54 | BUCK ROGERS IN 25TH CENTURY SUNDAYS HC VOL 01 | $60.00 | HER | 568 |
| 223 | 0.54 | BATMAN THE LONG HALLOWEEN TP | $19.99 | DC | 562 |
| 224 | 0.54 | WALKING DEAD TP VOL 06 SORROWFUL LIFE (MR) | $14.99 | IMA | 561 |
| 225 | 0.53 | BATMAN JOKERS ASYLUM TP | $14.99 | DC | 559 |
| 226 | 0.52 | SCALPED TP VOL 01 INDIAN COUNTRY (MR) | $9.99 | DC | 547 |
| 227 | 0.52 | HIGURASHI WHEN THEY CRY GN VOL 07 (MR) | $11.99 | HAC | 546 |
| 228 | 0.52 | WALKING DEAD TP VOL 08 MADE TO SUFFER (MR) | $14.99 | IMA | 544 |
| 229 | 0.52 | MAID SAMA GN VOL 05 | $10.99 | TOK | 543 |
| 230 | 0.51 | TRANSMETROPOLITAN TP VOL 01 BACK ON THE STREET (MR) | $14.99 | DC | 539 |
| 231 | 0.51 | SAMURAI DEEPER KYO GN VOL 37-38 | $14.99 | RAN | 536 |
| 232 | 0.51 | WALKING DEAD TP VOL 07 THE CALM BEFORE (MR) | $12.99 | IMA | 535 |
| 233 | 0.51 | BATMAN THE KILLING JOKE SPECIAL ED HC | $17.99 | DC | 533 |
| 234 | 0.51 | PREACHER TP VOL 02 UNTIL THE END OF THE WORLD NEW EDITION (M | $14.99 | DC | 532 |
| 235 | 0.50 | WIZARDS OF MICKEY SC VOL 02 GRAND TOURNAMENT | $9.99 | BOO | 529 |
| 236 | 0.50 | LOST AT SEA GN NEW ED | $11.95 | ONI | 525 |
| 237 | 0.50 | JON SABLE FREELANCE ASHES OF EDEN TP VOL 01 | $19.99 | IDW | 521 |
| 238 | 0.50 | ARCHIE WEDDING TP ARCHIE IN WILL YOU MARRY ME | $14.95 | ARC | 520 |
| 239 | 0.50 | RIGHT HERE RIGHT NOW GN VOL 01 (MR) | $12.95 | DIG | 520 |
| 240 | 0.49 | ARKHAM ASYLUM ANNIVERSARY ED SC (MR) | $17.99 | DC | 517 |
| 241 | 0.49 | HELLSING TP VOL 10 | $13.99 | DAR | 515 |
| 242 | 0.49 | DMZ TP VOL 01 ON THE GROUND (MR) | $9.99 | DC | 514 |
| 243 | 0.49 | Y THE LAST MAN TP VOL 05 RING OF TRUTH (MR) | $14.99 | DC | 514 |
| 244 | 0.49 | SPIDER-MAN BACK IN BLACK HC | $34.99 | MAR | 512 |
| 245 | 0.49 | COMPLETE DR & QUINCH GN S&S ED | $17.99 | POC | 509 |
| 246 | 0.49 | GREEN LANTERN REBIRTH TP NEW EDITION | $14.99 | DC | 509 |
| 247 | 0.48 | Y THE LAST MAN TP VOL 04 SAFEWORD (MR) | $12.99 | DC | 507 |
| 248 | 0.48 | GUNDAM 00 SEASON 2 GN VOL 02 | $10.99 | BAN | 503 |
| 249 | 0.48 | LOVE GN (MR) | $12.95 | DIG | 503 |
| 250 | 0.48 | BATMAN YEAR ONE DELUXE SC | $14.99 | DC | 501 |
| 251 | 0.48 | DAFFODIL PREM HC (MR) | $24.99 | MAR | 500 |
| 252 | 0.47 | 100 BULLETS TP VOL 01 FIRST SHOT LAST CALL | $9.99 | DC | 496 |
| 253 | 0.47 | FOXY LADY GN VOL 02 (MR) | $10.99 | TOK | 496 |
| 254 | 0.47 | JUDGE DREDD COMP CASE FILES GN S&S ED | $19.99 | POC | 496 |
| 255 | 0.47 | FABLES TP VOL 03 STORYBOOK LOVE (MR) | $14.99 | DC | 495 |
| 256 | 0.47 | HAYATE COMBAT BUTLER TP VOL 15 | $9.99 | VIZ | 494 |
| 257 | 0.47 | WILD ONES GN VOL 10 | $9.99 | VIZ | 494 |
| 258 | 0.47 | DAREDDPIL PREM HC GUARDIAN DDPIL 10TH ANNIV ED | $24.99 | MAR | 493 |
| 259 | 0.47 | BTVS SEASON 8 TP VOL 06 RETREAT | $15.99 | DAR | 491 |
| 260 | 0.47 | MODESTY BLAISE TP VOL 17 DEATH IN SLOW MOTION | $19.95 | RAN | 490 |
| 261 | 0.46 | TRIBES DOG YEARS GN | $24.99 | IDW | |