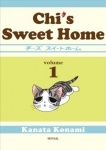 Chi's Sweet Home Vol. 1 (Manga)
Publisher: Vertical
Release Date: June 2010
Price: $13.95
Creator: Konami Kanata
Format: 168 pgs.; Full-Color
ISBN: 978-1-934287-81-1
Age Rating: All-Ages
ICv2 Rating: 4 Stars out of 5
Chi, a lost kitten, is adopted by a human family in this collection of sweet slice-of-life collection. Told from the point of view of Chi and narrated in her lisping, childlike voice, readers will enjoy watching as Chi meets her new family and tries to learn proper behavior along with the human couple's toddler son. Pet owners--especially those who have cats--will instantly see the truths in Kanata's tale as issues such as veterinarian visits and potty training/house-breaking are handled realistically, but humorously.
Vertical's decision to print the title in Western reading order (left-to-right) combined with a simple story with easy to understand manga visual cues makes this title accessible even to non-manga fans. The full-color pages and cute cover illustration are also eye-catching. Though the lack of age rating on this series may confuse some Western readers and though the synopsis on the back of the first volume uses vocabulary beyond that of younger readers, the series is one of the more obviously "all ages" titles available today. Pet fans young and old will laugh at Chi's antics and will be eagerly awaiting the subsequent volumes. Highly recommended for all collections.
--Snow Wildsmith: Writer and former teen librarian and ALA/YALSA committee member.