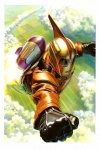 At the San Diego Comic-Con IDW Publishing announced the return of two of most interesting creator-centric, name-above-the-title comics of the late 20th Century, Dave Stevens' Rocketeer and John Byrne's Next Men.
Dave Stevens' Rocketeer, which appeared sporadically from 1982 to the mid-1990s, almost single-handedly created a retro craze with its multiple art deco references, movie serial narrative, and Stevens' superb draftsmanship. Unfortunately Stevens passed away in 2008 after a long battle with leukemia, so IDW is reviving the Rocketeer as a four-issue mini-series due out in 2011 that will be written and drawn by some of today's top creators including Mike Allred, Kurt Busiek, John Cassaday, Darwyn Cooke, Michael Golden, Gene Ha, Michael Kaluta, Garry Leach, Bruce Timm, and Bill Willingham with Alex Ross providing the covers. A substantial portion of the profits earned by this new mini-series will be donated to Hairy Cell Leukemia research by the estate of Dave Stevens, the creators involved and IDW Publishing.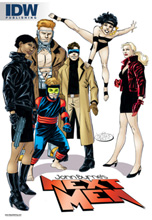 IDW also announced the December 2010 return of new issues of
John Byrne's Next Men
, an innovative series that placed a nascent group of superheroes in the real world and dealt with the consequences of the interactions between humans and superhumans quite realistically.
Published (by Dark Horse) from 1991-1995,
John Byrne's Next Men
ran for 31 issues (plus a prequel graphic novel), which IDW is reprinting in three black-and-white compilations (the third of which is due out in September).
John Byrne's Next Men ended abruptly with a cliffhanger in issue #30, and a coterie of fans has been clamoring for the continuation of the series ever since. Byrne had planned a second series and has mentioned in an interview published by IDW that he has about "20 or so issues that I would like to shake out of my head someday." It looks like "someday" begins in December.