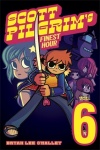 The first printing of Scott Pilgrim Vol. 6 sold out at the distributor level within a few days of its release last week. The printing was 100,000 copies (see "Scott Pilgrim 6 Gets 100k First Printing"), a big number for a graphic novel from any publisher, but an even more remarkable feat for a title from Oni, a publisher routinely out of the Top 10 in comic store market share.
The volume was the highest first day sale ever for a graphic novel at the Borders chain, according to Oni Publisher Joe Nozemack.
A quick print run of 50,000 copies is planned, with the potential for more copies if they are needed. The film opens August 13th, and comes off a series of successful screenings at San Diego Comic-Con. Additional regional buzz screenings around the country are planned before the open.