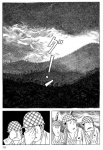 Drawn & Quarterly announced that it has acquired the North American English rights to two books by legendary manga creator Shigeru Mizuki.
"We're very excited by to be publishing books by one of the preeminent, most famous cartoonists working in Japan right now," said D&Q Associate Publisher Peggy Burns. Mizuki is the recipient of numerous awards for his manga, which have been published in South Korea, France, Spain and Italy. In Japan there is a popular daily television drama based on his wife's autobiography and the Shigeru Mizuki International Cultural Center was named in his honor.
Onwards to Our Noble Deaths is a semi-autobiographical tale of a Japanese army unit set during the last days of WWII. It will be the first of the Mizuki manga to be published, and is planned for next spring.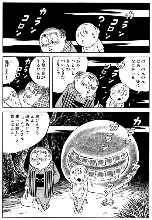 NonNonBa
is a story of the author's childhood in 1930s
Japan
and how his interest in the supernatural was sparked by the ghost stories told by an old neighborhood woman.