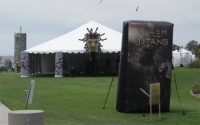 Although we're still working our way through the news that came out of Comic-Con, it's time to take a look at the trends and takeaways from the show—things we haven't communicated through our photo-essays, interviews, or coverage of the news items so far.
The Show Takes Over the City
From the time we got there, the spread of Comic-Con to the entire downtown area of San Diego was obvious (see "Comic-Con Spreads Out"), but throughout the weekend more off-site elements became obvious, including major attractions ("walk-throughs") at various sites around the convention center. The Scott Pilgrim walk-through (see "Comic-Con Photos—Saturday, Part 3") was directly across from the Convention Center. A Tron walk-through cost Disney $60,000 just to rent the warehouse space where it was staged, according to the San Diego Union Tribune. There was a huge presence promoting the Clash of the Titans DVD next to the Convention Center. We saw our first restaurant make-over last year, and the trend continued this year, with Ciro's Pizzeria becoming the Cartoon Network Cafe.
The Tokykopop Tour bus, which was sited at three different locations around downtown during the show (see "Interview with Tokyopop's Stu Levy, Part 3") was another off-site attraction connecting with fans outside the hall (where the company had only a modest 10' x 10' booth). The Tour had some long miles ahead of it after Comic-Con, making three stops (Oklahoma City, Nashville, and Washington, D.C.) en route to Otakon in Baltimore the following weekend.
Over-all, the growth of the scene outside of the Convention Center, in addition to the increased use of off-site facilities by Comic-Con itself, is embedding the show more deeply into the city, and making its continued presence there an even more valuable driver of economic activity.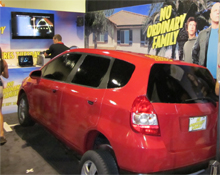 TV Comes to Comic-Con
Another other big trend, the increased use of the show to promote TV shows, wasn't just present on the floor, where the expected shows such as Walking Dead had major booths, but also in the panel rooms, where shows without a real comic connection but appealing to a similar audience, such as No Ordinary Family (which spent a lot of money on the floor as well), The Cape, Nikita, The Event, and Falling Skies, all offered preview footage to fans. And shows with only a tertiary connection to the Comic-Con audience, such as Hawaii Five-O, were also present, apparently believing that with 125,000 mostly 18-34 year-olds, it was worth showing up to see if they could be encouraged to view and to create buzz with their friends (and in the case of the press and bloggers, with their readers).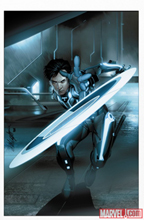 Four Big Media Winners
To us, it looked like the big media winners in terms of creating buzz were Scott Pilgrim, which is trying to become the cult hit movie of the summer; Walking Dead, which looks like it will be a major new TV series for AMC; Marvel's Avengers movie, which assembled a major group of talent onstage (see "Movie Avengers Assembled"); and Tron, which despite some rough treatment by Variety before the show appears to be building blockbuster status through relentless promotion. Disney subsidiary Marvel has announced a Tron comic, which gives that property, like the other three on this list, a strong comic store presence.
Kids at Comic-Con
To some, it appears that the number of kids at Comic-Con is continuing to increase, a great sign for the future of the hobby. Jim Salicrup of Papercutz, which publishes kids titles such as Nancy Drew, Hardy Boys, and Geronimo Stilton, said the increased kid presence was obvious at their booth, where an appearance by Papa Smurf drew a lot of attention. "When we started coming here there weren't a lot of kids," he said. "But now every time I turn around I see a kid."
Apps as Promo
Priest and Tron were two properties supported by iPhone/iPad apps during the show; we're sure there were others.
CBLDF Steps Up
With a new staff joining long-time Executive Director Charles Brownstein, the Comic Book Legal Defense Fund had a new look at its booth and a rocking party on Thursday night, where Paul Pope DJ'ed (and provided very cool video projected against the wall of an adjacent building), zombies provided photo fun, and a preview of the customized sneakers for Saturday night's auction provided a great environment for fun, industry schmoozing, and fundraising.
Institutionalized Promotion
We noted that the Warner Brothers bags, which had caused near stampedes during the daily giveaways from the booth the last few years, had become the official Comic-Con bags this year, providing a smoother distribution but giving challenges to those intent no collecting them all. Keys at nearby hotels were also sponsored by Warners. A hang-tag on hotel doors promoted The Vampire Diaries DVDs. We felt loved by all the cool schwag and messaging, but it's definitely turning into a more institutionalized thing this year, from the more chaotic giveaways of the past.
Comic-Con Is a Small City, with Press!
With 125,000 attendees, and its own press corps of thousands of journalists and bloggers, Comic-Con now has some of the attendant attention and problems of a small city. Crank demonstrators showed up outside, someone was stabbed (with a pen) in a scuffle over a seat in Hall H (see "Interview with Comic-Con's David Glanzer" for the lowdown on both), and the show was featured on magazine covers, in major newspaper coverage, on all the Hollywood TV shows, and on TV talkers before, during, and after the show.
San Diego Comic-Con has gone from being an object of derision by the mainstream press to a prime focus of summer media coverage, and coverage by fan press and bloggers has never been bigger.
The Greatest Show on Earth
Ok, we know that both Angouleme, in France, and Comiket, in Japan, draw kajillions of people, but we're hard-pressed to imagine an event with more going on than San Diego Comic-Con International, which has grown from a hotel ballroom with dealer tables into the biggest media event in the most media-saturated country in the world. We wouldn't miss it, and to those that decry the growth of the show and its importance to those interested in things other than comics, we say "feh." Every part of modern geek culture is represented at the show, and there's a huge presence for comics, on which the show is based, so it doesn't seem like comics are really losing anything from the growth of other categories.
From our perspective, the only downside to the growth of Comic-Con has been its increasing cost. It's now the most expensive show we attend on a cost-per-day basis, driven primarily by hotel prices, which are higher during the show than they are in New York City most of the year. That's a supply and demand issue, and it's hard to see how that will change because most of the year San Diego just doesn't need that many rooms.
For exhibitors, costs are going up because it's really tough to cut through the clutter at Comic-Con, and unless you've got a huge announcement or a ton of money, you can get buried there. Perhaps that's why we're starting to hear about some comic publishers that are intentionally moving announcements to other shows, and creators that are choosing to attend less frequently.
We know that the organization that runs Comic-Con is looking at the cost issue as an important one as it considers relocating the show, but there's not much it can do about the level of noise there, which it has to regard as a huge positive over-all.
Comic-Con's location after 2012 is going to be announced soon, and we look forward to hearing what's next for The Greatest Show on Earth.
See you next year!