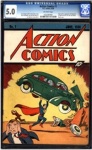 A struggling family that had taken out a second mortgage on their home to support a business venture that failed in the recessionary economy was saved from foreclosure when, in the process of packing up their belongings, they discovered a copy of Action Comics #1 in the basement.
The family, which lives in the South and wishes to remain anonymous, contacted Metropolis Comics and Collectibles in New York. According to a report on ABC News, their copy of Action #1, which graded out at a #5 VG (Very Good/Fine), is expected to bring upwards of $250,000 at auction.
The family, which had inherited the home when the wife's father died and had lived in it for years, was able to keep the house when representatives from Metropolis Comics were able to convince bank officials of the worth of the comic, which will be up for auction on ComicConnect.com from August 27th through September 17th.