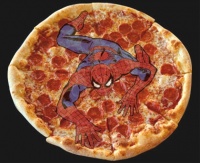 Marvel Entertainment has announced an expansion of its licensing agreement with Decopac of Anoka, Minnesota, which will now create a line of edible images that can be used to decorate pizzas. The first products in the line will feature classic Spider-Man images followed by products based on other Marvel stalwarts including Wolverine as well as Marvel Studios characters, Iron Man 2, Super Hero Squad, Thor, and Captain America: The First Avenger.
The Marvel Superhero Pizza Line will debut in November in grocery stores, price clubs, non-chain pizzerias, party supply stores, craft shops, and mass market retailers. No word yet on whether the products might be called "Marvel Supperhero Pizzas."
Under its current license with Marvel, Decopac has been producing a line of cake decorating products featuring the images of Marvel superheroes.