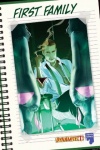 Dynamite and Liquid Comics are set to release two new titles in October: the graphic novel First Family and the one shot H20.
First Family concerns Nick and Lucy Balder and their attempts to fit in at their new school, the exclusive and prestigious Belmont Friends High. It's tough enough just being the new kids in class without having the extra added pressure of their father being the newly elected President of the United States. First Family is written by Gotham Chopra (The Sadhu) and drawn by Jeevan J. Kang (Spider-Man: India), is 56 pages and has a SRP of $5.99.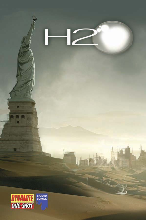 H20 is set in a future where a hundred years of global drought has caused nations to go to war over the last remaining supplies of water and the near collapse of civilization, but when volcanologist Aaron Turner discovers an untapped source in the form of a lost glacier the race is on to see which nation will possess it. H20 is written by Grant Calof, drawn by Jeevan J. Kang, is 72 pages and has a SRP of $6.99.