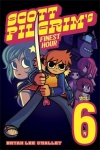 These are estimates of the sales on graphic novels by Diamond U.S. to comic specialty stores during July 2010.
For an overview and analysis of comic sales in July, see "
'X-Men' #1 Tops 140K
."
For an analysis of the dollar trends in July, see "Comics Slip, Graphic Novels Surge."
For our estimates of actual sales by Diamond
U.S.
from comic specialty stores on comic books shipped during July, see "
Top 300 Comics Actual--July 2010
."
TOP 300 GNs -- July 2010

Rank

Index

Title

Price

Pub

Est.Qty

1

27.89

SCOTT PILGRIM GN VOL 06 FINEST HOUR

$11.99

ONI

21,305

2

21.76

WALKING DEAD TP VOL 12 LIFE AMONG THEM

$14.99

IMA

16,627

3

17.11

BLACKEST NIGHT HC

$29.99

DC

13,069

4

10.75

BLACKEST NIGHT GREEN LANTERN HC

$24.99

DC

8,216

5

9.59

SCOTT PILGRIM GN VOL 01 PRECIOUS LITTLE LIFE

$11.99

ONI

7,329

6

8.79

BLACKEST NIGHT GREEN LANTERN CORPS HC

$24.99

DC

6,719

7

7.72

SCOTT PILGRIM GN VOL 02 VS THE WORLD

$11.99

ONI

5,895

8

7.35

SCOTT PILGRIM GN VOL 05 VS THE UNIVERSE

$11.99

ONI

5,616

9

7.22

SCOTT PILGRIM GN VOL 04 GETS IT TOGETHER

$11.99

ONI

5,517

10

7.17

SCOTT PILGRIM GN VOL 03 INFINITE SADNESS

$11.99

ONI

5,476

11

7.09

BLACKEST NIGHT BLACK LANTERN CORPS HC VOL 01

$24.99

DC

5,414

12

6.95

BLACKEST NIGHT BLACK LANTERN CORPS HC VOL 02

$24.99

DC

5,309

13

6.33

BLACKEST NIGHT RISE OF THE BLACK LANTERNS HC

$24.99

DC

4,834

14

6.29

BLACKEST NIGHT TALES OF THE CORPS HC

$24.99

DC

4,802

15

5.86

GREEN LANTERN RAGE OF THE RED LANTERNS TP

$14.99

DC

4,476

16

5.64

STAR WARS ADV TP VOL 04 WILL OF DARTH VADER

$7.99

DAR

4,308

17

5.35

SIEGE PREM HC

$24.99

MAR

4,085

18

5.26

BATMAN WHATEVER HAPPENED TO THE CAPED CRUSADER TP

$14.99

DC

4,019

19

5.19

BPRD TP VOL 13 1947

$17.99

DAR

3,967

20

4.26

ULTIMATE COMICS SPIDER-MAN TP VOL 01 WORLD ACCORDING

$19.99

MAR

3,252

21

3.96

SUPERMAN WHATEVER HAPPENED TO MAN OF TOMORROW TP

$14.99

DC

3,025

22

3.81

DARK AVENGERS TP VOL 02 MOLECULE MAN

$15.99

MAR

2,908

23

3.60

HOUSE OF MYSTERY TP VOL 04 THE BEAUTY OF DECAY (MR)

$17.99

DC

2,752

24

3.54

STAND SOUL SURVIVORS PREM HC

$24.99

MAR

2,706

25

3.34

MEGATOKYO VOL 06

$10.99

DC

2,548

26

3.29

NEW AVENGERS TP VOL 12 POWERLOSS

$15.99

MAR

2,514

27

3.23

JANET EVANOVICH TROUBLEMAKER HC BOOK 01

$17.99

DAR

2,469

28

3.22

X-MEN LEGACY TP EMPLATE

$14.99

MAR

2,462

29

3.18

HULK FALL OF HULKS TP RED HULK

$14.99

MAR

2,433

30

3.16

ABSOLUTE PLANETARY HC BOOK 02

$75.00

DC

2,417

31

3.10

SIEGE PREM HC DM ED LAND VAR

$24.99

MAR

2,372

32

3.07

BATGIRL BATGIRL RISING TP

$17.99

DC

2,346

33

3.03

REVOLVER HC (MR)

$24.99

DC

2,315

34

2.93

INVINCIBLE IRON MAN PREM HC VOL 04 STARK DISASSEMBLED

$19.99

MAR

2,240

35

2.93

MARVELS PROJECT HC BIRTH OF SUPER HEROES

$34.99

MAR

2,238

36

2.89

STAR WARS LEGACY TP VOL 09 MONSTER

$17.99

DAR

2,205

37

2.82

FULLMETAL ALCHEMIST TP VOL 23

$9.99

VIZ

2,155

38

2.82

SWORD TP VOL 04 AIR (MR)

$14.99

IMA

2,153

39

2.81

FANTASTIC FOUR BY JONATHAN HICKMAN TP VOL 01

$15.99

MAR

2,144

40

2.74

USAGI YOJIMBO TP VOL 24 RETURN OF BLACK SOUL

$16.99

DAR

2,092

41

2.71

SPIDER-MAN GAUNTLET TP VOL 01 ELECTRO & SANDMAN

$19.99

MAR

2,074

42

2.64

WOLVERINE WEAPON X TP VOL 02 INSANE IN BRAIN

$19.99

MAR

2,019

43

2.63

SHOWCASE PRESENTS SGT ROCK TP VOL 03

$19.99

DC

2,011

44

2.61

FRACTURED FABLES HC

$29.99

IMA

1,991

45

2.55

WALKING DEAD TP VOL 01 DAYS GONE BYE

$9.99

IMA

1,947

46

2.53

INFINITY GAUNTLET PREM HC

$29.99

MAR

1,932

47

2.51

INVINCIBLE PRESENTS ATOM EVE & REX SPLODE TP VOL 01

$14.99

IMA

1,916

48

2.51

FREDDY VS JASON VS ASH NIGHTMARE WARRIORS TP (MR)

$17.99

DC

1,914

49

2.42

VENGEANCE OF MOON KNIGHT TP VOL 01 SHOCK AND AWE

$15.99

MAR

1,847

50

2.37

CAPTAIN AMERICA PREM HC TWO AMERICAS

$19.99

MAR

1,811

51

2.35

CIVIL WAR TP

$24.99

MAR

1,797

52

2.34

SIEGE X-MEN PREM HC

$19.99

MAR

1,785

53

2.30

LEGENDS THE ENCHANTED HC

$19.95

RAN

1,754

54

2.20

FINAL CRISIS ROGUES REVENGE TP

$14.99

DC

1,682

55

2.19

HALO BLOOD LINE PREM HC (MR)

$24.99

MAR

1,671

56

2.10

WORLD OF WARCRAFT TP VOL 02

$14.99

DC

1,607

57

2.09

ABSOLUTE PLANETARY HC BOOK 01

$75.00

DC

1,594

58

2.06

SIEGE EMBEDDED PREM HC

$19.99

MAR

1,576

59

2.04

REALM OF KINGS HC

$39.99

MAR

1,557

60

2.03

SIEGE BATTLEFIELD PREM HC

$24.99

MAR

1,550

61

2.02

GROO HOGS OF HORDER TP

$17.99

DAR

1,543

62

1.99

DEADPOOL TEAM-UP HC VOL 01 GOOD BUDDIES

$24.99

MAR

1,521

63

1.94

MMW BLACK PANTHER HC VOL 01

$64.99

MAR

1,483

64

1.92

FLIGHT GN VOL 07

$27.00

RAN

1,466

65

1.89

X-MEN PIXIE STRIKES BACK TP

$14.99

MAR

1,442

66

1.85

SILVER SURFER REBIRTH OF THANOS PREM HC

$29.99

MAR

1,415

67

1.84

ESSENTIAL DEFENDERS TP VOL 05

$19.99

MAR

1,402

68

1.83

NGE SHINJI IKARI RAISING PROJECT TP VOL 05

$9.99

DAR

1,401

69

1.80

WALKING DEAD TP VOL 02 MILES BEHIND US (MR)

$14.99

IMA

1,375

70

1.79

MMW GOLDEN AGE HUMAN TORCH HC VOL 03

$59.99

MAR

1,369

71

1.78

VAMPIRE TALES TP VOL 01 GN

$19.99

MAR

1,363

72

1.73

BRODYS GHOST GN

$6.99

DAR

1,324

73

1.73

JSA VS KOBRA TP

$14.99

DC

1,323

74

1.73

ONE PIECE TP VOL 54

$9.99

VIZ

1,320

75

1.72

OURAN HIGH SCHOOL HOST CLUB TP VOL 14

$9.99

VIZ

1,316

76

1.71

X-MEN MUTANT GENESIS PREM HC

$24.99

MAR

1,310

77

1.71

VIKING PRINCE BY JOE KUBERT HC

$39.99

DC

1,307

78

1.67

SPAWN ORIGINS TP VOL 06

$14.99

IMA

1,274

79

1.64

X-MEN WE ARE X-MEN TP

$24.99

MAR

1,255

80

1.64

MMW MIGHTY THOR TP VOL 01

$24.99

MAR

1,254

81

1.62

INU YASHA TP VOL 50

$9.99

VIZ

1,235

82

1.61

WALKING DEAD TP VOL 11 FEAR THE HUNTERS (MR)

$14.99

IMA

1,232

83

1.61

SAM KIETH SKETCHBOOKS VOL 02

$9.99

IDW

1,230

84

1.60

NEGIMA GN VOL 27 (MR)

$10.99

RAN

1,219

85

1.54

FOUR EYES TP VOL 01 FORGED IN FLAMES

$9.99

IMA

1,177

86

1.54

AZRAEL DEATHS DARK KNIGHT TP

$14.99

DC

1,175

87

1.54

ABSOLUTION TP VOL 01 (MR)

$24.99

AVA

1,173

88

1.51

TRANSFORMERS BUMBLEBEE TP

$17.99

IDW

1,157

89

1.50

ANGEL IMMORTALITY FOR DUMMIES HC

$24.99

IDW

1,144

90

1.47

HULK PLANET HULK PRELUDE TP

$15.99

MAR

1,124

91

1.44

X-MEN POWERLESS TP

$16.99

MAR

1,100

92

1.40

GI JOE TP VOL 03

$19.99

IDW

1,068

93

1.38

RUNAWAYS PARENTAL GUIDANCE TP

$16.99

MAR

1,058

94

1.37

COMPLETE ALICE IN WONDERLAND HC

$24.99

DE

1,045

95

1.36

WALKING DEAD TP VOL 03 SAFETY BEHIND BARS

$14.99

IMA

1,036

96

1.36

YOUNG AVENGERS ULTIMATE COLLECTION TP

$34.99

MAR

1,036

97

1.35

HULK WWH TP

$24.99

MAR

1,034

98

1.34

AMAZING SPIDER-MAN BY JMS ULTIMATE COLL TP BOOK 04

$34.99

MAR

1,027

99

1.34

AVENGERS SEARCH FOR SHE-HULK PREM HC

$24.99

MAR

1,020

100

1.28

NANA TP VOL 21 (MR)

$9.99

VIZ

980

101

1.28

PLAYWRIGHT HC (MR)

$14.95

TOP

977

102

1.28

INVADERS CLASSIC TP VOL 04

$29.99

MAR

975

103

1.27

ARCHIE PUREHEART THE POWERFUL TP VOL 01

$19.99

IDW

971

104

1.26

AGENTS OF ATLAS VS PREM HC

$24.99

MAR

963

105

1.24

RASL POCKET ED TP VOL 01 (MR)

$17.95

CAR

947

106

1.23

BLACK LAGOON GN VOL 09 (MR)

$12.99

VIZ

942

107

1.21

WALKING DEAD TP VOL 10 WHAT WE BECOME

$14.99

IMA

926

108

1.20

BATMAN ARKHAM ASYLUM MADNESS HC

$19.99

DC

920

109

1.20

X-MEN DARK PHOENIX SAGA HC

$74.99

MAR

918

110

1.20

WALKING DEAD TP VOL 04 HEARTS DESIRE (NEW PTG)

$14.99

IMA

915

111

1.19

POKEMON DIAMOND & PEARL ADVENTURE GN VOL 07

$7.99

VIZ

906

112

1.16

FABLES TP VOL 01 LEGENDS IN EXILE

$9.99

DC

885

113

1.15

ROSARIO VAMPIRE SEASON II TP VOL 02

$9.99

VIZ

875

114

1.14

JOKER HC

$19.99

DC

871

115

1.14

HULK TP PLANET HULK

$34.99

MAR

871

116

1.13

AKIRA KODANSHA ED GN VOL 03 (MR)

$24.99

RAN

865

117

1.12

ESSENTIAL CLASSIC X-MEN TP VOL 01

$19.99

MAR

855

118

1.12

SHERLOCK HOLMES TP VOL 01 TRIAL OF SHERLOCK HOLMES

$19.99

DE

853

119

1.11

BATMAN AND ROBIN DELUXE HC VOL 01 BATMAN REBORN

$24.99

DC

849

120

1.11

WALKING DEAD TP VOL 05 BEST DEFENSE (NEW PTG)

$14.99

IMA

847

121

1.09

WALKING DEAD TP VOL 09 HERE WE REMAIN (MR)

$14.99

IMA

833

122

1.09

TSUBASA GN VOL 27

$10.99

RAN

833

123

1.09

RED TORNADO FAMILY REUNION TP

$17.99

DC

829

124

1.08

COVER RUN THE DC COMICS ART OF ADAM HUGHES HC

$39.99

DC

825

125

1.07

AMAZING SPIDER-MAN TP OFF INDEX MARVEL UNIVERSE GN

$19.99

MAR

821

126

1.05

THUNDA KING OF CONGO ARCHIVES HC VOL 01

$49.99

DAR

804

127

1.05

BATWOMAN ELEGY DELUXE EDITION HC

$24.99

DC

803

128

1.05

DEADPOOL CLASSIC TP VOL 01

$29.99

MAR

802

129

1.05

SHAMAN KING TP VOL 29

$9.99

VIZ

801

130

1.04

SECRET INVASION TP

$29.99

MAR

794

131

1.03

IRREDEEMABLE TP VOL 02

$16.99

BOO

784

132

1.02

MARVEL ZOMBIES TP SPIDER-MAN COVER

$15.99

MAR

776

133

1.01

CEREBUS GUIDE TO SELF PUBLISHING EXPANDED REG ED

$18.00

AAR

770

134

0.98

WALKING DEAD TP VOL 06 SORROWFUL LIFE (MR)

$14.99

IMA

751

135

0.98

WALKING DEAD TP VOL 07 THE CALM BEFORE (MR)

$12.99

IMA

748

136

0.98

WOMEN OF MARVEL TP CELEBRATING SEVEN DECADES

$24.99

MAR

747

137

0.96

CHEW TP VOL 02 INTERNATIONAL FLAVOR (MR)

$12.99

IMA

736

138

0.96

HITMAN TP VOL 02 10000 BULLETS

$17.99

DC

733

139

0.96

MARVEL ART OF JOE QUESADA HC

$49.99

MAR

731

140

0.95

WALKING DEAD TP VOL 08 MADE TO SUFFER (MR)

$14.99

IMA

729

141

0.95

Y THE LAST MAN TP VOL 01 UNMANNED

$12.99

DC

728

142

0.95

CHEW TP VOL 01 (MR)

$9.99

IMA

727

143

0.95

MONDO URBANO GN (MR)

$11.99

ONI

727

144

0.93

THE GOOD THE BAD & THE UGLY TP VOL 01

$19.99

DE

713

145

0.91

BLACKSAD HC VOL 01

$29.99

DAR

697

146

0.91

THOR BY J MICHAEL STRACZYNSKI TP VOL 03

$14.99

MAR

696

147

0.91

X-MEN TP MESSIAH COMPLEX

$29.99

MAR

695

148

0.90

GHOSTOPOLIS SC

$12.99

SCH

688

149

0.88

WOLVERINE ORIGIN TP

$16.99

MAR

675

150

0.88

STAR TREK DS9 FOOLS GOLD TP

$17.99

IDW

673

151

0.88

BATMAN DARK KNIGHT RETURNS TP

$14.99

DC

672

152

0.88

ZERO KILLER TP

$16.99

DAR

671

153

0.88

MYSPACE DARK HORSE PRESENTS TP VOL 05

$19.99

DAR

670

154

0.88

SHIELD KICKING DOWN THE DOOR TP

$19.99

DC

670

155

0.88

SOULFIRE HC VOL 01 PART 02

$24.99

ASP

669

156

0.87

ARMY OF DARKNESS ASH SAVES OBAMA TP

$14.99

DE

668

157

0.87

MARVEL 1602 TP

$19.99

MAR

664

158

0.87

WOMEN OF MARVEL CELEBRATING SEVEN DECADES HB TP

$19.99

MAR

662

159

0.85

MICKEY MOUSES WORLD TO COME TP

$9.99

BOO

652

160

0.85

BATMAN RIP TP

$14.99

DC

647

161

0.85

TANK GIRL TP SKIDMARKS

$16.95

TIT

646

162

0.84

SECRET WARRIORS PREM HC VOL 03 WAKE BEAST

$19.99

MAR

645

163

0.84

SPICE AND WOLF GN VOL 02

$12.99

HAC

642

164

0.84

DEADPOOL CLASSIC TP VOL 02

$29.99

MAR

639

165

0.82

BOYS TP VOL 01 NAME OF THE GAME (MR)

$16.99

DE

630

166

0.80

DEADPOOL CLASSIC TP VOL 03

$29.99

MAR

611

167

0.80

ALAN MOORE THE COURTYARD GN COLOR PTG (MR)

$7.99

AVA

608

168

0.80

BOYS TP VOL 06 SELF-PRESERVATION SOCIETY (MR)

$19.99

DE

608

169

0.80

STRAWBERRY 100 % TP VOL 13

$9.99

VIZ

608

170

0.77

DISNEY FAIRIES GN VOL 02 TINK & WINGS OF RANI

$7.99

NBM

591

171

0.77

FABLES TP VOL 02 ANIMAL FARM

$12.99

DC

588

172

0.77

BB WOLF & 3 LPS HC (NOTE PRICE)

$12.95

TOP

586

173

0.77

LOST AT SEA GN NEW ED

$11.95

ONI

585

174

0.76

CAPTAIN AMERICA TP VOL 01 DEATH OF CAPTAIN AMERICA

$14.99

MAR

581

175

0.76

KICK ASS PREM HC (MR)

$24.99

MAR

580

176

0.76

ARMY OF DARKNESS LEAGUE OF LIGHT TP

$24.99

DE

578

177

0.75

EXPENDABLES TP

$16.99

DE

570

178

0.74

FINAL CRISIS TP

$19.99

DC

568

179

0.74

AVENGERS X-MEN UTOPIA TP

$34.99

MAR

563

180

0.73

VAGABOND VIZBIG ED GN VOL 08 (MR)

$19.99

VIZ

555

181

0.72

ASTONISHING X-MEN TP VOL 01 GIFTED

$14.99

MAR

553

182

0.72

BAD PLANET TP VOL 01 (MR)

$19.95

RAW

553

183

0.72

MARVEL ZOMBIES TP VOL 02

$15.99

MAR

552

184

0.72

BATMAN HUSH COMPLETE TP

$24.99

DC

549

185

0.72

SANDMAN TP VOL 01 PRELUDES & NOCTURNES

$19.99

DC

549

186

0.72

ESSENTIAL CLASSIC X-MEN TP VOL 02 NEW PTG

$19.99

MAR

547

187

0.71

ARCHIE WEDDING TP ARCHIE IN WILL YOU MARRY ME

$14.95

ARC

543

188

0.71

CABLE DEADPOOL TP VOL 01 IF LOOKS COULD KILL

$14.99

MAR

540

189

0.70

NEW X-MEN BY MORRISON ULTIMATE COLL TP BOOK 01

$34.99

MAR

535

190

0.69

BATMAN THE LONG HALLOWEEN TP

$19.99

DC

525

191

0.69

DEADPOOL TP VOL 03 X MARKS SPOT

$15.99

MAR

525

192

0.68

Y THE LAST MAN TP VOL 02 CYCLES (MR)

$12.99

DC

523

193

0.68

DARK AVENGERS TP VOL 01 ASSEMBLE

$19.99

MAR

519

194

0.68

SA GN VOL 16

$9.99

VIZ

519

195

0.67

INVINCIBLE TP VOL 12 STILL STANDING

$16.99

IMA

515

196

0.67

BATMAN THE KILLING JOKE SPECIAL ED HC

$17.99

DC

514

197

0.67

BONEYARD TP VOL 07

$10.99

NBM

514

198

0.66

POKEMON ADVENTURES TP VOL 08 2ND ED

$7.99

VIZ

507

199

0.65

AVENGERS DISASSEMBLED TP

$15.99

MAR

500

200

0.65

SECRET WAR TP

$24.99

MAR

498

201

0.65

ARKHAM ASYLUM ANNIVERSARY ED SC (MR)

$17.99

DC

497

202

0.65

PREACHER TP VOL 01 GONE TO TEXAS NEW EDITION (MR)

$14.99

DC

496

203

0.65

CAPTAIN AMERICA TP VOL 02 DEATH OF CAPTAIN AMERICA

$14.99

MAR

496

204

0.65

CAPTAIN AMERICA TP VOL 03 DEATH OF CAPTAIN AMERICA

$14.99

MAR

495

205

0.65

YUBISAKI MILK TEA GN VOL 08 (OF 9) (MR) (NOTE PRICE)

$19.99

TOK

494

206

0.65

BOYS TP VOL 05 HEROGASM (MR)

$19.99

DE

493

207

0.64

DISNEYS HERO SQUAD SC VOL 02 RACE F/T ULTRAPODS

$9.99

BOO

491

208

0.63

BEASTS OF BURDEN HC

$19.99

DAR

483

209

0.63

FABLES TP VOL 03 STORYBOOK LOVE (MR)

$14.99

DC

483

210

0.63

SUPER PRO KO GN VOL 01

$11.99

ONI

483

211

0.63

BOYS TP VOL 02 GET SOME (MR)

$19.99

DE

481

212

0.63

EYESHIELD 21 TP VOL 32

$9.99

VIZ

481

213

0.63

DRAGONBALL Z VIZBIG ED GN VOL 08

$17.99

VIZ

480

214

0.63

MOOMIN COMPLETE TOVE JANSSON COMIC STRIP HC VOL 05

$19.95

DRA

478

215

0.62

FABLES TP VOL 13 THE GREAT FABLES CROSSOVER (MR)

$17.99

DC

475

216

0.62

BAKUMAN TP VOL 01

$9.99

VIZ

475

217

0.61

WHEN THE HEAVENS SMILE GN

$12.95

DIG

468

218

0.61

SKIP BEAT TP VOL 21

$9.99

VIZ

467

219

0.61

Y THE LAST MAN TP VOL 03 ONE SMALL STEP (MR)

$12.99

DC

466

220

0.60

MARVELS TP

$24.99

MAR

461

221

0.60

NEW X-MEN BY MORRISON ULTIMATE COLL TP BOOK 03

$34.99

MAR

460

222

0.60

HIKARU NO GO TP VOL 20

$9.99

VIZ

460

223

0.60

HULK TP VOL 01 RED HULK

$19.99

MAR

458

224

0.60

NEW AVENGERS TP VOL 01 BREAKOUT

$14.99

MAR

457

225

0.60

BATMAN BATTLE FOR THE COWL HC

$19.99

DC

456

226

0.60

CIVIL WAR AMAZING SPIDER-MAN TP

$17.99

MAR

456

227

0.60

REBORN GN VOL 16

$9.99

VIZ

456

228

0.59

KILL AUDIO HC VOL 01

$24.99

BOO

452

229

0.59

MARVEL ZOMBIES 03 TP

$15.99

MAR

448

230

0.58

ALICE THE 101ST GN VOL 01

$12.95

DIG

446

231

0.58

CABLE DEADPOOL TP VOL 02 BURNT OFFERING

$14.99

MAR

446

232

0.58

CROSSED TP VOL 01 (MR)

$24.99

AVA

445

233

0.58

BATMAN YEAR ONE DELUXE SC

$14.99

DC

440

234

0.57

V FOR VENDETTA NEW EDITION TP (MR)

$19.99

DC

437

235

0.57

NEW X-MEN BY MORRISON ULTIMATE COLL TP BOOK 02

$34.99

MAR

436

236

0.57

DRINK & DRAW HC VOL 02

$29.99

IDW

435

237

0.57

TREASURY 20TH CENTURY MURDER HC VOL 03 TERRIBLE AXE MAN

$15.99

NBM

435

238

0.57

DENGEKI DAISY GN VOL 01

$9.99

VIZ

434

239

0.56

ASTONISHING X-MEN TP VOL 04 UNSTOPPABLE

$19.99

MAR

430

240

0.56

HULK TP VOL 03 HULK NO MORE

$15.99

MAR

430

241

0.56

APPLE ANTHOLOGY GN VOL 01 (MR)

$34.95

UDO

430

242

0.56

LOST GIRLS HC

$45.00

TOP

428

243

0.56

BLACK BIRD GN VOL 05

$9.99

VIZ

428

244

0.55

PRINCE OF TENNIS GN VOL 38

$9.99

VIZ

422

245

0.55

COMPLETE JON SABLE FREELANCE OMNIBUS TP VOL 01

$29.99

IDW

420

246

0.55

STAR WARS FORCE UNLEASHED GN VOL 01

$15.95

DAR

417

247

0.54

PEEPO CHOO GN VOL 01 (MR)

$12.95

RAN

415

248

0.54

MIXED VEGETABLES GN VOL 08

$9.99

VIZ

415

249

0.54

MARVEL ZOMBIES 04 TP

$16.99

MAR

414

250

0.54

ULTIMO GN VOL 02

$9.99

VIZ

414

251

0.54

CABLE DEADPOOL TP VOL 03 HUMAN RACE

$14.99

MAR

413

252

0.54

BOYS TP VOL 04 WE GOTTA GO NOW (MR)

$19.99

DE

411

253

0.54

D GRAY MAN GN VOL 18 (MR)

$9.99

VIZ

411

254

0.53

BOYS TP VOL 03 GOOD FOR THE SOUL (MR)

$19.99

DE

408

255

0.53

HULK TP VOL 02 RED AND GREEN

$15.99

MAR

407

256

0.53

WOLVERINE TP ENEMY OF STATE ULTIMATE COLLECTION

$29.99

MAR

403

257

0.52

Y THE LAST MAN TP VOL 04 SAFEWORD (MR)

$12.99

DC

399

258

0.52

KINGDOM COME TP NEW EDITION

$17.99

DC

397

259

0.52

CABLE DEADPOOL TP VOL 06 PAVED WITH GOOD INTENTIONS

$14.99

MAR

396

260

0.52

CABLE DEADPOOL TP VOL 05 LIVING LEGENDS

$13.99

MAR

395

261

0.51

INVINCIBLE TP VOL 01 FAMILY MATTERS

$12.99