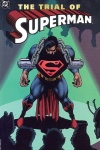 Marc Toberoff, attorney for the Siegel and Shuster heirs, has filed a response to the suit against him by Warner Bros. (see "Studio Sues Superman Mouthpiece"), charging that the studio is attempting to "re-litigate the issues that DC has already lost, disrupt the relationship between Mr. Toberoff and his clients, and delay the final reckoning between DC and Mr. Toberoff's clients," according to Variety.
The filing denied that Toberoff had acquired a 47.5% stake in the property, stating that he was simply on retainer to Superman's property owners.
It also denied that Toberoff had talked the Siegel heirs out of agreeing to a proposed settlement in 2002.
Toberoff is represented by high-profile attorney Richard Kendall (see "Supes Lawyer Lawyers Up"); DC is represented by former Goldman family attorney Daniel Petrocelli (who also defended Disney in one stage of its battle over Winnie the Pooh (see "OJ Trial Attorneys in Pooh Fight").
We're sure there is much, much more to come.